Laura M. Brotherson, Licensed Marriage and Family Therapist and Certified Sex Therapist shares insights with KSL Television's "Studio 5" host, Brooke Walker, on how couples can work to balance their intimacy needs — "His Needs. Her Needs. How to Balance Intimacy."
Some of the points Laura addressed are:
Spouses want the other to want to
His needs tend to be physical/sexual
Her needs tend to be emotional
Process accumulated resentment in order to connect genuinely
Sounds like "Studio 5" is planning to make this a monthly segment, so stay tuned for more tips on strengthening your marriage … intimately!
CLICK — to watch on KSL "Studio 5"
CLICK — to purchase Knowing Her Intimately 
CLICK — for ALL Laura's TV/Video Interviews
CLICK — to see details about this event and for ALL Laura's Events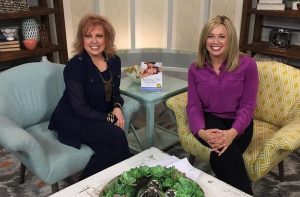 Additional Note from Laura:
How fun was that!! I stopped by the KSL TV studios this morning to record another Studio5 segment with the lovely Brooke Walker about balancing "His Needs and Her Needs… intimately" and ran into a bunch of fun people!
1) BYU Cosmo (I'm a huge BYU fan!)
2) Richard Paul Evans (author of the New York Time's best selling "Christmas Box" books) – he wrote one of the endorsements for my new book Knowing HER Intimately: 12 Keys for Creating a Sextraordinary Marriage!! and,
3) Last, but not least, I got to share the stage with one of Donny Osmond's daughter-in-law's. (I'm a huge Donny and Marie Osmond fan!!)
Related Videos: