The Dating Divas – Online Sex Seminar 2021
From the comfort of your own home, you'll have access to 14 "sexperts" to teach you everything you ever wanted to know about sex!
~ NOW AVAILABLE! ~
We've teamed up with The Dating Divas and other experts to put together an amazing online SEX SEMINAR! This fabulously incredible resource will help you figure out how to have your own "sextraordinary" marriage!!
Mis-matched sex drives, boring routines, unspoken desires, or even more serious issues can turn the bedroom into a source of stress & frustration. Above all, your marriage needs to be connecting and enjoyable! That's why we are so excited to share a BRAND NEW resource with you that will totally transform your sex life in the very best way!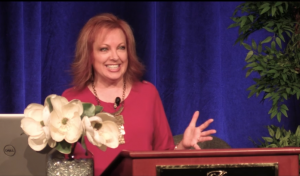 Laura M. Brotherson, LMFT, CST is one of the experts providing must-have insights into how to "want to!" Her topic is — "'I Want to Want to!' What Couples Need to Know & Do for HER to Want to." In addition to all the insights you'll get from 14 sex-perts, Laura will be addressing:
the intricacies of female sexual wiring
12 dimensions of female Sexual Wholeness
4 steps needed for women to warm up to Desire
What husbands need to know and do to help their wives to be able to genuinely Want To!
Here's what the incredible Tara Carson of The Dating Divas had to say on Instagram about Laura's webinar!!
Imagine a future with your spouse where your sex life is one of the very BEST parts of your marriage!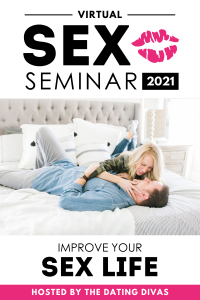 Does your love life need more:
Intimacy
Connection
Spice
Frequency
Passion
Excitement
FUN?
Whether you feel like you and your spouse are in a good groove, or this seems to be a major pain point in your marriage, there is always room for improvement!
Everyone has questions about sex. But where do you go for real answers?
The trickiest part is figuring out WHERE to turn for advice on ways to make sex a more enjoyable part of your relationship.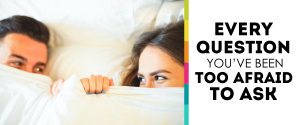 Where can you ask sex-related questions & get reliable, reputable answers?
How do you get accurate answers to those sensitive sex questions without all of the awkwardness? (And without having to shield your eyes and filter through the crass & crude content that comes up from internet search results.)
That's where we come in!
We put together a virtual SEX SEMINAR to answer every question & address every problem that you have about sex!
No weird internet searches here– just answers from professionals!
We have teamed up with 14 big-name sex and marriage experts to give you every piece of advice you never knew you needed about how to amp up your bedroom game.
Normally $35
ON SALE FOR ONLY $20!
($15 OFF discount automatically applied at checkout)

Or if you want DOUBLE the sexy goodness, grab the 2020 Sex Seminar videos too for JUST $30 total!
Normally $53
ON SALE FOR ONLY $30!
($23 OFF discount automatically applied at checkout)
Learn from the Experts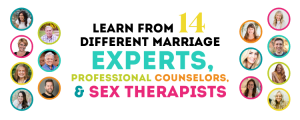 Leading experts in the field of marriage and sex are bringing you their best advice, practical tips, and steamy strategies that are available to TRANSFORM your sex life.
For a lot of couples, sex is a point of stress, tension, & frustration. It can be hard to navigate mismatched sex drives, unmet expectations, unspoken desires, bedroom boredom, or even more serious intimacy issues.
But we believe that physical intimacy in marriage should be: FUN, pleasurable, exciting, passionate, connecting, & fulfilling.
With education, effort, & intention- it can be one of the best parts of your marriage!
14 experts, including professional marriage counselors & sex therapists, will be presenting on 14 different topics.
Topics covered include:
How to Level Up Your Foreplay

How to Overcome Orgasm Obstacles

New Skills to Enhance Sexual Desire & Pleasure

5 Things Your Spouse Wants From You in Bed

How to Make Sex More FUN (and not a check-off on the to-do list)

Super Sexy At Home Date Ideas

How to Overcome Porn Problems

How to Boost Energy When You Feel Too Tired For Sex

AND MUCH, MUCH MORE!
Basically…
Everything you need to know about sex!
At-Home Sex Workshop
And the best part? You don't even have to leave your house! Plus, you can revisit it whenever you need for 1 full year!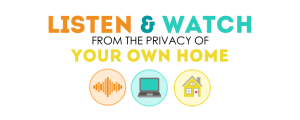 SEXPERT ADVICE – ONE LOW PRICE!
14 top-notch resources and ideas that will totally transform your sex life in the very best way!
This Seminar is usually offered at $35 (which is a total STEAL for all of this expert information), but if you grab your access pass RIGHT NOW, you can view all of these videos and resources for ONLY $20! We wanted to make this as affordable as possible for every couple!
Normally $35
ON SALE FOR ONLY $20!
($15 OFF discount automatically applied at checkout)

Or if you want DOUBLE the sexy goodness, grab the 2020 Sex Seminar videos too for JUST $30 total!
Normally $53
ON SALE FOR ONLY $30!
($23 OFF discount automatically applied at checkout)
Here's what's included:
#1 — "I Want to Want to!" by Laura M. Brotherson, LMFT, CST of Strengthening Marriage– What Couples Need to Know & Do for HER to Want to

Want to know the secret ingredients for women to enthusiastically want to be intimate with their husbands?! With sex as a "team sport," both husbands and wives have work to do for HER to genuinely want to! In this webinar, author, marriage counselor, and certified sex therapist, Laura M. Brotherson, LMFT, CST, shares specific sexual wiring intricacies identifying the 12 dimensions of sexual wholeness, plus the 4 specific steps needed to help women warm up to desire. Laura also shares what husbands need to know and do to help HER freely want to and together create a "sextraordinary" marriage. Don't miss Laura's 5 reasons why women struggle to "want to!"
BONUS – $50 OFF Laura's "Sexual Wholeness for Women" Online Course.
#2 — 5 Super Sext At-Home Date Ideas by Tara Carson of The Dating Divas– Creative & Fun Ways to Spice Things Up in the Bedroom

Miss the passion from your newlywed days? Has your sex life become a little boring or routine? Learn how to ban bedroom boredom and put the fun and excitement back into your love life with creative & SEXY date ideas! This class will share 5 FUN ways to spice things up in the bedroom! From bedroom bucks to creative, sexy bedroom games- you'll get all the tools, tips, and tricks you need to easily initiate & enjoy more intimate date nights!
#3 — Foreplay 101 by J Parker of Hot, Holy, Humorous– The Basics of Arousal and Beyond

Foreplay is defined simply as "erotic stimulation preceding sexual intercourse." But what erotic stimulation can and should you do? And is it only the appetizer, or can it be the main course? Learn how to level up your foreplay with specific tips to make it an experience you both desire and savor!
#4 — Stage 3 Sex & Whole-hearted Lovemaking by Dan Purcell of Get Your Marriage On!– How to Make Love With Your Heart (and Not Just Your Body)

What stage are you at? What will it take to get you to the next level? Sex at its very best is very intimate, yet it takes courage to be deeply intimate. In this seminar presentation, Dan Purcell from Get Your Marriage On! shares the concept of the 3 stages of lovemaking, and what it takes to get from one stage to the next. Learn how to make love with your heart and bless your spouse through your sexuality.
#5 — 5 Things Your Spouse Wants From You In Bed by Dr. Kim Kimberling of Awesome Marriage– Uncovering the Top 5 Things That Men & Women Say They Really Want When It Comes to Sex

Want to experience better sex? It starts with understanding each other better! When it comes to sex, men and women want different things, but maybe not as different as you think. So what are the top 5 things women crave? And what are the top 5 things men say they want? This message will help you understand yourself and your spouse better, making sex more connected, enjoyable, and fun.
#6 — The Five Gears of Touch by Amanda Louder– How To Get Your Sex Life Out of Neutral and Create Something That You Both Enjoy

Do you miss the hot and heavy passion you had when you were dating, engaged, and maybe even first married? Tired of your husband groping and grabbing you when sex is the last thing on your mind? Wondering why your wife doesn't respond to your advances? This class will teach you new skills focused on enhancing sexual desire and pleasure. It will help you increase awareness of where each partner is and how to move towards mutual sexual satisfaction together.
#7 — Seductive Confidence by Belah Rose of Delight Your Marriage– How To Feel Free in Intimacy

Have you tried but just felt silly rather than sexy? Have you struggled with comparing your body to others and not feeling good enough? Or maybe you're healing from the pain of his porn and trying to find your way back to confidence. This will not ignore the challenge but help you immediately gain confidence in intimacy–aligned with God's will–even in the midst of hard feelings. These are practical things you can do right away to get yourself feeling more confident and free even in the midst of a hard situation. It's worth it, let's do this together!
#8 — Making Love Intentional by Rhonda Farr– Stop Waiting for Love to Magically Happen and Start Creating it On Purpose, Every Day

Keep having the same old arguments over and over? Wish you could spend more time feeling love and connection instead of rehashing the same frustrations that never seem to end? I know why this keeps happening. I'll teach you exactly how to start calling out those old patterns and start creating new ones. Make love intentional and set yourself free of those old fights and frustrations.
#9 –From Boring to Soaring by Monica Tanner of On The Brighter Side Of Marriage– Becoming a Sexual Champion

They say that marriage is a marathon, not a sprint. In this presentation, I'll be using my experience training for and completing 3 full marathons as a metaphor for creating a healthy, thriving sex life. I'll be detailing my 5-step framework for becoming a sexual champion. Everything you need is already within you. It's time to start your training!
#10 — Beyond the Bedroom by Amberly Lambertsen of A Prioritized Marriage– Increasing the Intimacy in Your Marriage on a Deeper Level

Are you looking to improve intimacy in your marriage but want ideas other than having more sex? Being physically intimate with your spouse is just the tip of the iceberg when it comes to intimacy in marriage. Intimacy is built outside the bedroom, and that intimacy you build before you enter the bedroom will lead to a better and richer sex life in your marriage. In this class we will talk about the true meaning of intimacy and what you can do to deepen the connection you have with your spouse, creating a truly intimate relationship.
#11 — Porn Problems? by Nate Bagley of Growth Marriage– How To Restore Safety, Intimacy, & Trust To Your Marriage

Do you or your partner struggle with porn? Has it damaged the trust, connection, and intimacy you share? Do you want a strategy that will help you overcome your porn problems, and get your marriage stronger than it's ever been? These 6 conversations will change your life.
#12 — 4 Solid Principles Of Passion by Matt Eschler PhD, LMFT of Integrated Counseling and Wellness – How to Connect With Passionate Sex, Instead of Just Checking It off the to-Do List

What does your sex life communicate to your partner? Is it "I cant wait to get this over with"? Or is it "I love being with you, enveloped by you, connected to you"? Sexual Intimacy is a language that you create with your spouse that is unique to the relationship. This intimate language gives you the pathway to express your deeply personal sexual needs. It generates a connection that is both vulnerable & passionate.
#13 — Overcoming Orgasm Obstacles by Sarah Belzer of Coconu– Smoothing the Way to Newfound Bliss

Are you frustrated by the elusive big "O"? You are not alone! Join me for a reality check on what's "normal," the common barriers to climaxing, and proven strategies for getting "there" more easily. Whether you're inhibited physically, mentally, or emotionally, we will talk through some real-world suggestions for smoothing the way with your partner to newfound bliss.
#14 — Energy Hacks for When You're Tired of Being Exhausted by Dr. Meghan Schoening of Riverbend Wellness Center– Energy to Sustain the Marriage and Sex Life You Want

You want to have an amazing marriage with passionate sex, but you're tired. No, you're exhausted. Whether it's a little boost for the evening or a lifestyle change that can help long term join Dr. Meghan to learn ways to find the energy you're looking for. ENERGY to sustain the marriage and sex life you want!
The Greatest Sex Seminar to Ever Exist – True experts, real answers, one SUPER low price!!
This Seminar includes EVERYTHING you've ever wanted to know about getting that newlywed passion back and kicking boring routines to the dust.
Your sex life will never be the same!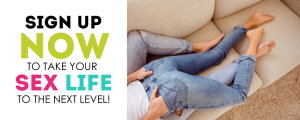 Click below in order to join this virtual seminar and put the sexual spark back in your relationship!
Normally $35
ON SALE FOR ONLY $20!
($15 OFF discount automatically applied at checkout using OUR LINK below)

Or if you want DOUBLE the sexy goodness, grab the 2020 Sex Seminar videos too for JUST $30 total!
Normally $53
ON SALE FOR ONLY $30!
($23 OFF discount automatically applied at checkout using our link below)
Discount not showing?
The sale price updates to the discounted $20.00 after clicking Checkout. Windows will look as follows:
1. After clicking on our LINK for the 2021 bundle, it will take you to the order page, showing the prince of $35.00: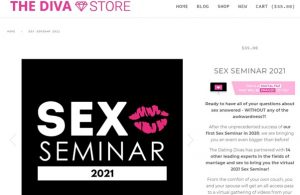 2. Scroll down on the page and click "Add to Cart." A new window will pop up: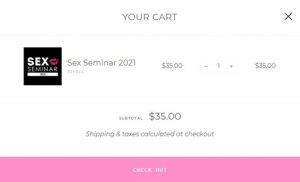 3. After clicking on the pink "Check Out" box, it will then show the discounted price on the payment page:

CLICK — to purchase the 2021 Sex Seminar
CLICK — to purchase the 2020 & 2021 Sex Seminar Bundle