| | |
| --- | --- |
| | Free audio podcasts from Laura's radio show segments with Dr. Liz Hale are now available! Dr. Liz Hale, marriage and family therapist, and Laura M. Brotherson, author and intimacy expert, discuss the delicate subject of sexual relations in marriage with both candor and reverence. |
Some of the many topics discussed in the following podcasts include:
Preparing for a positive honeymoon experience
Teaching children about sexual intimacy
Pornography's effect on marital intimacy
Reasons to make love
How to bring up the topic of intimacy with your spouse
How to answer what's okay and what isn't questions
Why you were attracted to your spouse and how it can lead to your healing and wholeness
Focusing on ourselves to improve our relationships
Sex after childbirth
Female sexual desire issues
~~~~~~~~~~~~~~~~~~~~~
"Sexual Intimacy in Marriage" —
Radio Show Podcasts
with Dr. Liz Hale & Laura M. Brotherson
**Right click on the link and select "Save Link As" to download these files onto your computer for faster and more convenient listening!
We apologize that online streaming of the shows has been temporarily disabled. You can still click to download.
#001 – May 26, 2005: Click here to download episode #001
#002 – June 2, 2005: Click here to download episode #002
#003 – June 9, 2005: Click here to download episode #003
#004 – June 16, 2005: Click here to download episode #004
#005 – June 23, 2005: Click here to download episode #005
#006 – June 30, 2005: Click here to download episode #006
#007 – July 14, 2005: Click here to download episode #007
#008 – July 21, 2005: Click here to download episode #008
#009 – July 28, 2005: Click here to download episode #009
#010 – Aug 4, 2005: Click here to download episode #010
~~~~~~~~~~~~~~~~~~~~~
Click here — To listen to Laura's NEW audio show
"The Marital Intimacy Show"
on The Women's Information Network (The WIN)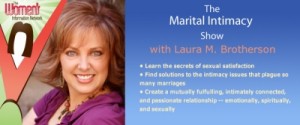 ~~~~~~~~~~~~~~~~~~~~~
Radio Show Feedback
"Laura, I heard one of your radio segments this morning. I just want to thank you for taking up such a taboo subject in our culture. It is so needed. Thank you and Dr. Liz for addressing this issue."

"When we saw that you weren't presenting at Education Week this time, we decided to bring a radio and listen to your radio broadcast as one of our classes for the day instead. We appreciate the powerfully positive way you present this very important aspect of marriage. Keep up the great work!"
100,000 Downloads
Thanks to you these "Sexual Intimacy in Marriage" podcasts have reached over 100,000 downloads on iTunes. You can subscribe to these shows through the following links:
iTunes
http://itunes.apple.com/WebObjects/MZStore.woa/wa/viewPodcast?id=211513810
Email/RSS Feed — "The Sexual Intimacy in Marriage Show"