Subscribe to Laura's "Straight Talk about Strengthening Marriage" Newsletter!
---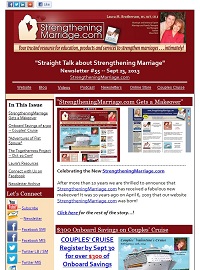 Get connected to StrengtheningMarriage.com by subscribing to our "Straight Talk about Strengthening Marriage" newsletter written by Laura M. Brotherson, marriage and intimacy expert, and author of the book And They Were Not Ashamed–Strengthening Marriage through Sexual Fulfillment. Strengthen your marriage by entering your email address above to begin receiving our free newsletter, which includes:
Marriage, sex and parenting tips and articles
Product sales and specials
"Straight Talk Q&A" about marriage, sex and parenting
News about upcoming events
StrengtheningMarriage.com updates
And other exciting information and insights…!
NOTE: To be sure your email filters and spam blockers allow you to receive these newsletters from us (since we often have "naughty" words in them), please add Info@StrengtheningMarriage.com to your address book and/or to your safe sender's list.
---
Strengthening Marriage E-Newsletter Archive