Laura M. Brotherson, Licensed Marriage and Family Therapist and Certified Sex Therapist sat down with KSL Television's "Studio 5" host, Brooke Walker, to share tips for young adults to prepare for a healthy sexual relationship in marriage.
In this clip "From No to Go: How to Prepare Young Adults for a Healthy Sex Life," Laura shares 5 tips that young people can take to get prepared for this important aspect of marriage. The topics include:
Getting Educated Sexually
Identifying and Overcoming Inhibitions About Sex
Learning to Talk Comfortably About Sex
Discussing Intimate Expectations
Seeking Pre-Marital Counseling
This is Part 1 of a 3 Part series on Millennials and Marriage.
CLICK — to watch on KSL "Studio 5"
CLICK — to purchase Knowing Her Intimately 
CLICK — for ALL Laura's TV/Video Interviews
CLICK — to see details about this event and for ALL Laura's Events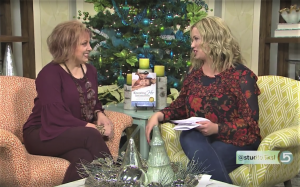 Related Videos:
#SEXtraordinaryMarriages