Sexual Wholeness for Women
(ONLINE COURSE)
"Embrace Your Sexuality & Create a Sextraordinary Marriage"
Register Now!! For a fun, educational and transformative experience!!
CONTENTS
Are you tired of sex being a constant source of contention in your marriage?!
Are you ready to learn how to embrace and nurture your God-given sexuality?!
Are you ready to take your sexual relationship to the next level?!
---

Are you ready to overcome the frustration and anxiety surrounding sex?!
Are you ready for "Awesomeness" in your marriage?!!
Many couples find that their sexual relationship is the main source of frustration and contention in their marriage. They don't know what they can do about it.
This course is the answer!!
It's a step-by-step guide to AWESOMENESS in your intimate relationship–embracing and developing your sexuality and creating a "sextraordinary" marriage but on your own time and from the comfort of your own home!
This "Sexual Wholeness for Women" – Online Course will shed light on how a healthy, mutually fulfilling sexual relationship is created and what women can specifically do to have it for themselves.
It's everything you need to know and do to have the intimate relationship you may now only dream of… Give yourself and your marriage the GIFT of Sexual Wholeness!! 
Maybe you've already developed your social self or your spiritual self. Is it time to work on developing your sexual self?
We'll walk you through the tools needed to transform your sense of self to include a healthy sexual self so that you can more fully embrace and nurture your God-given sexuality and create your very own sextraordinary marriage!  
This "Sexual Wholeness for Women" online course includes our live workshop recording, and a step-by-step process toward attaining sexual wholeness in your marriage! 
The 12 modules in this course are a deep dive into applying the 12 T's of female sexual wholeness addressed in Laura's book Knowing HER Intimately: 12 Keys for Creating a Sextraordinary Marriage.
NOTE TO HUSBANDS:  I know most men would be willing to walk through fire to have their wife do something like this. But guys, she's got to choose this for herself if you're gonna get the good kind of "I want you!" sex that we'll be working toward in this course. Your part is to NOT "mess with her agency" by putting any pressure on her. She's got to freely choose!
---
FAQs
How Do I Justify the Cost?
1) Cheaper Than Therapy. With sex therapy at $170+/hour, this step-by-step course may be worth more than 30 hours of counseling. Seeing Laura in direct counseling equivalent to what you'll get in this course would cost nearly $6000.
2) Cheaper Than Divorce. Many marriages subsist way below their potential. Sexual issues create significant susceptibility to divorce. This course is a lot cheaper than a disconnected and dissatisfied marriage… and definitely cheaper than divorce!!
Why Do I Need this "Sexual Wholeness" Course?
Don't Know What to Do? Many couples find that the sexual relationship is the main source of frustration and contention in their marriage. They don't know what to do about it. This course will walk women step-by-step through the process of embracing and developing their sexuality, but on their own time and at their own pace.
Don't Want to Wait for Help. Since Laura consistently has a waitlist of 9-12 months to get in to see her, this course provides a unique opportunity to get some intensive insights and direction without having to wait! Instead of waiting to see Laura for sex therapy, you can now do much of the work yourself. With this online course, you don't have to wait to embrace your sexual wholeness and create marital oneness as well!
Work at Your Own Pace. This course is self-help sex therapy! You can work at your own pace (lifetime access), and have the convenience and comfort of working from your own home. Many of the interactive exercises not only develop your own sexuality, but also invite joint exercises with your husband.
Can't Find Good Help. Finding wholesome, appropriate information and therapeutic help for one's intimate relationship facilitated by a licensed marriage and family therapist and certified sex therapist with a Christian perspective is nearly non-existent. Not everyone will go see a sex therapist, if they can even find one they can trust. Laura is one of few trusted, Christian resources for real help with the delicate, divine, and taboo topic of sex. This course provides a way to get an intensive, educational, and therapeutic experience toward "sexual wholeness" not available anywhere else!
Online Process Groups. Course participants will have the option of participating in a small "process group." There's such incredible power in a group coaching experience of learning together and transforming your self and your marriage with others who are also trying to do the same. It's often the final piece needed for women to create their own "sextraordinary" marriage.

---
Online Course Includes
This fabulous "Sexual Wholeness for Women" online course includes the following:
12+ modules (12 dimensions of "sexual wholeness") – LIFETIME ACCESS

6 hours of live workshop recordings

All relevant worksheets, assessments, and exercises (beyond what was part of the live workshop)

30+ hours of intimate learning and therapeutic processing (worth over $6000 in counseling)

Your own copy of Knowing HER Intimately

Additional (optional) small "online process groups" with Laura herself for online course participants! This will be a powerful addition given the unique environment of learning and discussing such intimate information in an open and wholesome interactive group setting. (There's magic in the group experience to transform you in ways not replicable elsewhere!!)

Insight, fun, transformation…and MUCH MORE!!
Purchase Laura's 12-week online course and begin your transformative journey toward embracing your sexuality and creating your own "sextraordinary" marriage!! Women have been mysteries to themselves (and their husbands) for too long! 
---
Online Course – Topics – "Sexual Wholeness for Women"
Some of the topics we'll discuss and work on during the course are:
The Spirituality of Sex

Sexuality and Wholeness

Developing a Healthy Sexual Mindset

The Good Girl Syndrome

Levels of Sexual Development

How To's for Embracing Your Sexual Identity

How To's for Developing Your Sexual Desire

Sexual Wholeness and "I Want You Sex!"

Body Image and Lovemaking

Creating Emotional Foreplay

Making Sex a Priority

Identifying Your Bridges to Desire

Arousal Helpers for the Mind

Auditory Arousal

The Bliss of a Kiss

Sexual Desire Discrepancies

Sexual Wiring Differences

Secrets of Female Sexual Desire

Understanding The Big "O"

Tuning In

Identifying Your Sexual Brakes and Accelerators

Differentiation of Self

Developing Your Fun and Flirty Self

Keeping the Spark Alive

Learning to Let Go
---
Registration Information
REGISTRATION OPTIONS – The following are the registration items you will find when you click on this REGISTRATION link and chose the "Sexual Wholeness for Women – ONLINE COURSE:"
#1 – $995 – one-time payment of $995 
#2 – $185 x 6 – six monthly payments of $185
Note from Laura: "If you're ready to experience sexual wholeness and awesomeness in your marriage this is the step-by-step blueprint to achieve the intimate relationship that you may now only dream of. I know 'cuz I've walked the path myself and know it works!!"
HAVE QUESTIONS?! 
Email us or Call/Text us at: (801) 709-0253
---
Online Process Groups
Want some extra help processing and applying this transformative information?
Exclusively for members of Laura's "Sexual Wholeness" online course, we are offering a unique opportunity to participate in Laura's one-of-a-kind "Sexual Wholeness Process Groups" in association with the Online Course. 
This process/discussion group is to help women process and apply the Online Course material, kind of like an "add-on" feature of the Online Course. 
You might think of this as a combination of a "support group," "book club discussion," and "group therapy" experience. It's a uniquely therapeutic and magical experience!!
It's an additional small process group online (Zoom video conferencing) to discuss and process your learnings from the course with other women who are also working toward similar goals. 
This process group provides an additional incredible opportunity beyond what the course itself provides to reduce anxiety surrounding sex and the frustrations many couples experience in the sexual dimension of their marriages.
DETAILS – Women's Online Process Groups
WHEN? – Group coaching sessions will likely be held on Thursday evenings for 2 hours (every other week), 7-9 pm (Mountain time) – 1st group will start when the group fills (January 2021)
HOW? – Groups accessed through our secure Zoom video conferencing system
HOW MANY? – just 8 women will be able to participate in each group
HOW LONG? – with 12 modules in the course plus an introduction module we're planning on 13 group sessions – 26 hours of group sessions (worth over $4000 in regular counseling fees!)
COST? – $125/2 hr sessions ($62.50/hr) – set up as a recurring charge that runs at midnight after each session
HOW DO I GET STARTED? – email us to reserve your spot in the group coaching – online process group!
With Laura's client wait list being 9-12 months out, participating in this group coaching will give you the immediate benefit of being able to ask her questions, resolve issues, and receive added support as you work through the 12 modules of your "Sexual Wholeness for Women" Online Course.
This group coaching provides a greatly reduced price of $125/2 hr sessions ($62/hr) compared to Laura's counseling cost of $170/1 hr session.
We're keeping these groups small to provide sufficient processing time for each woman. Only the first 8 women to sign up will be included in the first group. You don't want to miss this!! 
If you're interested in participating in these small process groups, please email us to reserve your spot in the upcoming group!
After participating in this course and the process group you will:
Create the intimate relationship you want for your marriage!

Feel more whole and complete personally and sexually!

Feel more confident and at peace personally and sexually!

Finally stop feeling anxiety and frustration around sex!
BENEFITS OF GROUPS
Meeting with a group of strangers to talk about sex may sound intimidating at first, but group work provides benefits that individual therapy may not…and you won't be strangers for long!
It's hard to explain how rewarding the group experience can be.
Here are just some of the awesome benefits of group work taken from Dr. Irvin D. Yalom's work on therapeutic principles of group therapy in The Theory and Practice of Group Psychotherapy:
1) Universality – helps participants feel that they are not alone in their feelings and frustrations. Groups put your problems in perspective relative to what others are also experiencing and instills hope as you see others overcoming their similar struggles.
2) Mutual Support – provides the opportunity to both receive support and to give support to others in an atmosphere of safety and respect. This altruism of sharing your strengths to help others boosts self-esteem and confidence. This giving and receiving is part of the "therapeutic alliance" and bonding that occurs in a group.
3) Therapeutic Alliance – participants develop a broad sense of connection and alliance with group members due to being united in a common goal to develop one's sexual wholeness and strengthen one's marriage intimately and the mutual giving and receiving that occurs in groups. Members gain a sense of belonging and acceptance that is particularly powerful regarding the topic of sexuality.
4) Mutual Growth – when participants give and receive support and encouragement it is corrective and creates an environment of exponential growth and learning due to the differing angles or perspectives shared and incorporated into one's lived experience.
5) Therapeutic – sharing one's thoughts and experiences with others with similar issues is itself therapeutic. The group experience provides a unique forum not easily replicated elsewhere to safely discuss sensitive topics (especially our topic of SEX) that women are otherwise hesitant to address. The interpersonal learning of learning from the course material, Laura's insights and each other's insights provides a powerful combination of therapeutic benefits.
6) Self-Awareness – groups allow participants to develop greater insight and self-awareness in an indirect way by hearing other's experiences and perspectives on similar struggles. It's a gentler way to learn about yourself and see yourself more accurately.
7) Modeling – with members at different stages and as they make progress they are able to model positive behaviors for each other which is a valuable form of learning and growth. This also fosters feelings of success and accomplishment.
8) Accountability & Motivation – groups provide built-in accountability and motivation to do the sometimes difficult work of personal growth…especially in the area of one's sexuality!
9) Expert Guidance – not all groups are led by someone experienced in facilitating group processing nor are they led by someone with the expertise Laura has as a licensed marriage and family therapist and certified sex therapist.
10) Less Expensive – group work is generally less expensive than individual therapy. Laura's counseling fees are $170/hr versus the group cost of just $62/hr ($125/2 hrs).
Potential Drawbacks of Groups
1) Direct individual attention is less but is often outweighed by the powerful indirect learning and growth that occurs in groups.

2) Confidentiality is less assured than individual therapy although all group members will be asked to sign a confidentiality agreement to protect each other's confidentiality.

3) Scheduling group times can be more challenging and less convenient than scheduling individual sessions.
For more information about group work check out these additional resources:
HAVE A QUESTION?! 
Email us or Call/Text us at: (801) 709-0253
---
Praise for Laura's Workshops
Here's what participants have to say about Laura's workshops and what you can expect by joining us for this "Sexual Wholeness" online course: 
"I love Laura's enthusiasm and spiritual understanding of the power of sexual wholeness in our lives and in our marriages! Her energy and enthusiasm is so contagious!! I especially loved the interaction among attendees and to know I'm definitely not alone!"

~~~~~~~~~~~~

"I've never heard sex spoken about in such a hopeful and wonderful way. I now understand that sex has been given to us as a gift! I now have a positive understanding of sex! This has changed the way I think about and approach sex. The impossible feels more possible now and even more desirable!"

~~~~~~~~~~~~

"The tools provided are amazing ways of achieving a higher degree of self-awareness and sexual wholeness."

~~~~~~~~~~~~

"This course will expand your entire being—not just your sexual self. It enlightens your knowledge and understanding of yourself, your spouse and your relationship. This workshop literally heals your soul—not just your sex life!"

~~~~~~~~~~~~

"I LOVED the focus on sexuality being about me and my sexuality. I loved that this was about me becoming more whole! That is a much better motivator and probably the only thing that would really empower me to work through this to develop my sexual wholeness!"

~~~~~~~~~~~~

"I loved how personable Laura was and that she knew my name and chatted with us! She made everyone feel so welcome. I love Laura's personality and passion for strengthening marriages intimately." 

~~~~~~~~~~~~

"This is the first time in my life that I've talked about sexuality and intimacy in detail when there was more than one other person in the room. It was refreshing to hear others ask questions and share comments in such a wholesome and candid environment."

~~~~~~~~~~~~

"I loved how this sensitive subject was discussed so easily and matter of factly. She made everyone feel comfortable with the subject matter and was so informative. Laura's knowledge of sexual topics (across the board) was amazing as was her willingness to talk about anything without hesitation or reservation."

~~~~~~~~~~~~~~~

"I loved getting to know other members of the group and to hear their perspectives and questions. It was so nice to be around so many women that are all wanting to improve their marriages. It was great to see that everyone has 'stuff!' The humor in the group was fun too."
Click Here – to learn more about Laura's presentation style!

HAVE A QUESTION?! 
Email us or Call/Text us at: (801) 709-0253
---
Video Testimonials
The following are some of the testimonials from the live workshop about what to expect and how it's blessed these women's lives. The live workshop recordings are part of this online course!
"I wanted to want to have sex more. So I have sex with my husband more times than not because he wants it. So I wanted to want it more."
"You can read it in text but until you have someone verbalizing it to you… I've just had a lot more light bulb moments." 
"Because sex has been so degraded through life, we need to make it a positive thing in the world." 
"I think she has just made me realize how important it is for us to see ourselves as a sexual being because it effects every other part of our life, and I had never thought about it like that." 
"It's given me a to-do list of things I can work on and not just blame everything on my spouse… It's made me be more accepting of who I am as well as knowing what things I can work on." 
"There was a questionnaire where we evaluated where we are on a scale of 1 to 10, and the areas where I felt I had lower rankings were actually the things that were more my responsibility, which surprised me… It was good to become aware of where I have more responsibility maybe in this department than I had given myself credit for." 
"She teaches 12 amazing tools that will transform your way of thinking about yourself and your spouse and sex…your way of being and connecting. It will help you to truly know yourself intimately and more fully." 
"I really appreciate that you've told us to take charge of our sex life and that it's not our husbands' responsibility necessarily to know what we need. So just having these points that I can touch on with him and have more clarity of what I should be asking for, what I should figure out about myself has been so helpful." 
---
About Laura M. Brotherson, LMFT, CST, CFLE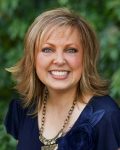 Licensed Marriage and Family Therapist, and Certified Sex Therapist, Laura M. Brotherson is the founder of "The Marital Intimacy Institute" with a mission to help couples create "sextraordinary" marriages.
She counsels with couples and individuals in private practice (and online) and is passionate about helping couples navigate the intricacies of intimacy–specializing in healthy sexuality, sex therapy, and sex addiction.
She is the author of the best-selling book, And They Were Not Ashamed: Strengthening Marriage through Sexual Fulfillment, Knowing HER Intimately: 12 Keys for Creating a Sextraordinary Marriage and now her latest book — From Honeymoon to Happily Ever After: 23 Keys to Prepare for a Sextraordinary Marriage.
As a Certified Family Life Educator, Laura is also actively engaged in helping to build strong marriages and families by providing marriage education through "Couples' Cruises," articles, newsletters, radio and television broadcasts, "The Marital Intimacy Show" podcasts, and presenting at conferences and workshops. Laura is a regular contributor to the KSL Television "Studio 5" morning show.
Laura and her husband, Kevin, are the parents of three grown children and are the founders of StrengtheningMarriage.com—your trusted resource for education, products and services to strengthen marriages … intimately!
---