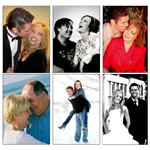 Grab your camera or get a special couples portrait taken, then send us your favorite husband/wife photo to be entered in our "Annual Valentine's Couples Photos Contest" held every February where you can win a romantic getaway to The Anniversary Inn.You don't have to have a perfect marriage, so send us your favorite uncropped photo (300dpi resolution) with your first names, (a phone number for backup contact) and how many years you've been married to this email.

We apologize that we won't be having a Couples Photo contest Feb 2014 due to too much going on at that time! 🙂

Congratulations to Lance and Natalie
for winning the Feb 2013 Contest and
a romantic getaway to The Anniversary Inn.

Tracy and Kimberly Married 22 years

Ty and Danielle Married 3 years

Ryan and Emma Married 3 years

Carl and Sarah Married 11 years

Travis and Jaime Married 15 years

Brian and Marci Married 9 years

Carl and Lynne Married 22 years

Michael and Lacey Married 4 years

Ryan and Stephanie Married 6 years

Covey and Shani Married 5 years

Ben and Valerie Married 32 years

Billy and Libby
Married 3 years

Lance and Natalie Married 14 years

Grant and Alena Married 14 years

Scott and Kimbur Married 10 years

Tracy and Wendy Married 16 years

Jerry and Karen Married 9 years

Dion and Kimberly Married 1 year

Shawn and Callie Married 6 years

Jody and Alicia
Married 14 years

Levis and Amanda Married 3 years

Shawn and Elaine Married 16 years

Josh and Alison Married 8 years

Anthony and Aimee Married 11 years

Michael and Amanda Married 10 years

Al and Margaret Married 54 years

Jason and Angela Married 22 years

Scott and Rebecca Married 19 years
Quinton and Jennifer Married 12 years

Terry and Casey Married 1 year

Rob and Lora
Married 6 years

Seth and Carolyn Married 9 years

David and Angie Married 13 years

Joey and Jasanna Married 3 years

Carlos and Desiree Married 17 years

David and Heidi Married 1 year

Lynn and Sara
Married 19 years

Todd and Aleesa Married 3 years

Heath and Melanie Married 16 years

Kent and Mariam Married 13 years

Rodrigo and Danyra Married 8 years

Keylor and Evelyn Married 5 years

Brent and Christie Married 18 years

Richard and Rachelle Married 15 years

Jared and Torri
Married 6 years

David and Kimball Married 3 years

Morgan and Jessie Married 15 years

Brett and Marci Married 28 years

Jeff and Tammy Married 7 years

Bill and Linda
Married 37 years

Seth and Andrea Married 10 years

Marcus and Mandi Married 13 years

James and Adriana Married 1 years

John and Lisa
Married 15 years

Brad and Becky Married 7 years

George and Laura Married 1 year
Ernest and Julie Married 7 years

Eric and Abigale Married 19 years

Jeremy and Lynn Married 4 years

Don and Ginny
Married 1 year
Joe and Vivie
Married 2 years
Val and Linda
Married 34 years
Bill and Sue
Married 50 years

Brad and Peggy Married 26 years

Geoff and Jody
Married 16 years

Jason and Angela Married 22 years

Justin and Jana Married 18 years

Dave and Shannon Married 31 years

Jason and Melissa Married 5 years

Dom and Lisa
Married 9 years

Myles and Melodie Married 3 years

Levis and Amanda Married 3 years

Trevor and Danielle Married 1 year

Val and Linda
Married 34 years

Wade and Katie Married 5 years

Shawn and Elaine Married 15 years

Seth and Carolyn Married 8 years

Chris and Bri
Married 11 years
Jim and Kim
Married 10 years

Tommy and Rachel Married 5 years

Cary and Jinny
Married 1 year

Charlie and Leann Married 1 year

Brad and Becky Married 6 years

Eric and Abigale Married 18 years
David and Melissa Married 1 year

Lance and LuAnn Married 23 years

James and Tracy Married 4 years

Jason and Jamie Married 7 years

Chris and Michelle Married 6 years

Chris and Mary Jo Married 1 year

Seth and Andrea Married 9 years

Willie and Trish Married 8 years

Ryan and Stephanie Married 4 years

John and Sherry Married 4 years

Michael and Kennalenia Married 24 years

Alex and Paula
Married 3 years
Ahmed and Stephanie
Married 8 years

Anthony and Vanessa Married 2 years

Gary and MaryKaye Married 35 years

Matthew and Kimberley
Married 1 year

Lloyd and Sandy Married 28 years

Cory and Jennie Married 6 years

Kye and Melissia Married 5 years

José and Selina Married 1 year

Don and Tracy
Married 19 years
Hene and Beth
Married 12 years

Sam and Andrea Married 8 years

Mike and Debi
Married 38 years
Clif and Syd
Married 2 years

Chance and Beth Married 6 years

Cade and Kelsie Married 3 years

Jared and Torri
Married 4 years
Dominick and Lisa Married 7 years

Jayrod and Jennifer Married 4 years

James and Misty Married 1 year

Eric and Terry
Married 33 years

Jamison and Larissa Married 2 years

Nathan and Polly Married 20 years

Phil and Krysti
Married 8 months

Kevin and Laura Married 20 years

Terrell and Kellie Married 2 years

Mike and Laurel Married 2 years

Monte and Lorrie Married 20 years

Cody and Kaylie Married 1 year

Chris and Aimee Married 9 months

Garrett and Karli Married 6 months

Blaine and Randee Married 12 years

Dusty and Kelsey Married 1 year

Erik and Amy
Married 1 year
Scot and Lisa
Married 5 years

Sean and Heather Married 3 years

Tom and Amy
Married 10 years
Jeff and Amy
Married 18 years

John and Michelle Married 6 years

Branden and Jessica Married 2 years

Thad and Siri
Married 15 years

Stuart and Tracy Married 16 years

Vince and Abbey Married 3 years

Mark and Kathleen Married 3 years

Tyson and Mindy Married 6 years
Travis and Saleena Married 12 years

John and Tara
Married 5 years

Randy and Laurie Married 18 years

Jody and Heather Married 10 years

Brandon and Alicia Married 1 year

Booker and Krystal Married 3 years

Daniel and Crystal Married 9 months

Conley and Dawn Married 10 years

Lee and Tiffany Married 2 years

Tim and Heather Married 18 years

Mike and Chrisi Married 26 years

Clancy and Cami Jo Married 6 years

Ammon and Melanee Married 6 years

Kirk and Leah Jane Married 43 years

Dave and Lynne Married 7 years

Douglas and Amanda Married 6 years

Jared and Charity Married 3 months

Greg and Hayley Married 17 years

Abdul and Shatema Married 4 years

Thad and Cyndy Married 14 years

Ron and Lara
Married 18 years
Sean and Joy
Married 15 years

Spencer and Nikki Married 6 years

Josh and Katie
Married 7 years

Bruce and Loralee Married 21 years

Steve and Andrea Married 12 years

Wayne and Audrey Married 5 years

Jason and Michelle Married 13 years
Cory and Megan Married 3 years

Scott and Nari
Married 15 years

Seth and Andrea Married 7 years

Derek and Charity Married 2 years

Guy and Jenn
Married 7 years

Delaney and Shandra Married 9 years

Rick and Rachel Married 2 years

Leon and Jennell Married 5 years

Scott and Devyn Married 5 years

Keith and Rachel Married 11 years

Joshua and Rachel Married 2 years

Ryan and Tosha Married 2 years

Colin and Kelly
Married 4 years

Steve and Britannia Married 4 years

Tom and Donette Married 7 years

Mark and Kjersti Married 2 years

Kevin and Jenny Married 13 years

Tige and Melissa Married 10 years

Brian and Jennifer Married 4 years

Jamichael and Shameka
Married 5 years

Robert and Natalie Married 3 years

Israel and Kristeen Married 9 years

Tim and Carrie Married 4 years

Rusty and Melissa Married 8 years

Brock and Brigit Married 10 years

Jordan and Stephanie Married 7 years

Mike and Emilee Married 7 years

Clive and Fran
Married 5 years
Korey and Laura Married 11 years

Bruce and Sharon Married 5 years

Tyler and Lacey Married 3 years

Greg and Debbie Married 29 years

Craig and April
Married 1 month

Craig and Bonnie Married 9 years

Kipp and Becky Married 30 years

Jared and Heidi Married 11 years

Robert and Hannah Married 16 years

Gary and Kandy Married 6 years

Nate and Camille Married 8 years

Chris and Shelby Married 7 years

Don and Laura
Married 28 years
Nate and Cindi
Married 9 years

Mark and Ashley Married 4 years

Brandon and Alisha Married 6 years

Tyler and Karen Married 5 years

Daniel and Annette Married 6 years

Cody and Stacey Married 4 years

Matthew and Kalli Married 3 years

Andrew and Danielle Married 1 year

Bill and Sue
Married 48 years

Branden and Kristi Married 6 years

Corey and Renette Married 19 years

Bill and Marina
Married 3 years

Scott and Valerie Married 19 years

Gene and Lyn
Married 35 years

David and Brandi Married 13 years
Bevan and Jacci Married 27 years

Thomas and Rebecca Married 25 years

Shawn and Kristy Married 13 years

Chris and Allie
Married 11 years

Adam and Shanna Married 2 years

David and Julie Married 17 years

Kyle and Ashly
Married 3 years

Rylan and Esther Married 2 years

Fred and Joan
Married 34 years

Michael and Megan Married 2 years

Matt and Chalyn Married 5 years

Rob and Beckie Married 2 years

Ryan and Alysha Married 3 years

Carter and Jordan Married 1 year

Steve and Andrea Married 11 years

Steven and Danielle Married 4 years

Shaun and Briann Married 3 years

Stephen and Alesha Married 5 years

Cory and Megan Married 3 years

Maciej and Teresa Married 2 years

David and Gabrielle Married 1 year

Jon and Andrea Married 13 years

Jamison and Larissa Married 1 year

Zack and Stephanie Married 6 years

Zeke and Lacy
Married 14 years

Drew and Natalie Married 1 year

Mike and Emilee Married 6 years

Nik and Dawna
Married 1 year
Phillip and Brittany Married 4 years

Andy and Jennifer Married 6 years

Bert and Kimberly Married 8 years

Chris and Marta Married 8 years

Mike and Katie
Married 2 years

Ryan and Jessica Married 2 years

Jason and Kelli
Married 15 years

Matthew and Tiffany Married 1 year

Tyson and Jaclynn Married 2 years

Karl and Kathy
Married for 29 years

Scott and Tiffany Married 1 year

Jake and Kelsey Married 5 years

Mike and Keri
Married 5 years

Shawn and Elaine Married 13 years

Joe and Liz
Married 9 years

Justin and Natalie Married 3 years

Mitch and Chelsey Married 1 year

David and Camillia Married 2 years

Nick and Kathryn Married 9 years

Jase and Whitney Married 1 Year

Ben and Cherese Married 5 years

David and Jessica Married 6 years

Bruce and Suzi
Married 12 years
Doug and Gina
Married 6 years

Joseph and Elizabeth Married 3 years

Brian and Shelly Married 6 years

Jonathan and Jessica Married 3 years

Doug and Charisse Married 1 year
Jason and Sage Married 1 year

John and Melissa Married 3 years

Joshua and Heidi Married 4 years

Nathaniel and Danielle Married 13 years

Jon and Cathy
Married 2 years
Kaleb and Meg
Married 13 years

Ryan and Valerie Married 13 years

Mike and Melanie Married 13 years

Scott and Malia Married 8 years

Rob and Melynee Married 3 years

Tom and Donette Married 6 years

Scott and Cindy Married 6 years

Scott and Nicole Married 14 years

Todd and Brittany Married 15 years

Todd and Amy
Married 20 years

Ryan and Liselle Married 3 years

Vic and Jody
Married 16 years
Dan and Lisa
Married 10 years
Josh and Emily
Married 5 years
Don and Laura
Married 27 years
Jason and Erin
Married 9 years

Christiaan and Anna Rose Married 4 years

Jason and Monique Married 2 years

Greg and Cheryl Married 3 years

Gary and Becca Married 9 years

Josh and Emily
Married 2 years

David and Julie Married 17 years

Kyle and Kami
Married 1 year
Casey and Kari Married 6 years

Taylor and Megan Married 6 months

Blaine and Randee Married 12 years

Kyle and Morgan Married 3 years

Curtis and Melissa Married 5 years

Ryan and Rebecca Married 3 years

Michael and Cambric Married 3 years

Justin and Becky Married 5 years

Chaz and Alisa
Married 2 years

Cory and Megan Married 2 years

John and Chris
Married 19 years

Devin and Lianne Married 2 years

Steven and Heather Married 1 month

Anthony and Carrie Married 8 years

Mike and Allyson Married 2 years

Brandon and Ashley Married 4 years

Brian and Chriss Married 3 years

Andy and Kizzie Married 5 years

Brian and Jessica Married 8 years

Bryan and Collette Married 3 years

Burke and Jenni Married 8 years

Cory and Jennie Married 4 years

Jeff and Heidi
Married 18 years

Mike and Stephanie Married 9 years

Alex and Marissa Married 5 years

Jim and Britanie Married 2 years

Dirk and Sara
Married 6 years
Ken and Carol
Married 30 years
Jared and Krista Married 1 year

JR and Laura
Married 1 year

McKay and Makana Married 3 years

Shawn and Callie Married 4 years

Matt and Morgan Married 2 years

Kevin and Heather Married 1 year

Nate and Cali
Married 1 year

Tyler and Aimee Married 8 years

Rick and Michelle Married 1 year

Ryan and Kylynne Married 3 years

Douglas and Connie Married 5 years

Robert and Hannah Married for 15 years

Zach and Sara
Married 1 year

Thane and Cynthia Married 4 years

Nate and Kris
Married 3 years
Alan and Katie
Married 4 years

Thayne and Kiama Married 4 years

Don and Dorothy Married 14 years

Josh and Brandy Married 8 years

Monty and Aimee Married 16 years

Judd and Staci
Married 6 years

Jared and Torri Married 3 years

Johnny and Tressa Married 1 year

Brian and Taunra Married 15 years

Kyle and Heidi
Married 9 years

Jon and Meagan Married 1 year

David and Wendy Married 2 years

Tim and Jenny
Married 3 years
Brad and Jamey Married 7 years

Mikel and Danika Married 1 year

Chris and Jamie Married 8 years

Brian and Kelsie Married 3 years

Britton and Ashlee Married 2 years

David and Shannon Married 29 years

Greg and Breanne Married 5 years

Kyle and Melissa Married 10 years

Mark and Jaimee Married 14 years

Nino and Camie Married 3 years

Dave and Maren Married 9 years

Steve and Kristin Married 6 years

Tyler and Tiffany Married 13 years

Chris and Jenelle Married 1 year

Chris and Deidra Married 4 years

Bradley and Amber Married 11 years

Steve and Jael
Married 2 years
Dave and Jodi
Married 27 years

Mark and Kaylene Married 20 years

Edward and Marsha Married 1 years

Chad and Nicole Married 4 years

Steve and Tiffanie Married 2 years

Carl and Diana
Married 5 years

Seth and Carolyn Married 6 years

Jace and Amy
Married 4 years

Ryan and Whitney Married 7 years

Mark and Bry
Married 1 years
Eric and Lori
Married 8 years
Lyman and Dee Married 30 years

Taylor and Nicole Married 5 years

James and Debbie Married 31 years

Bill and Lori
Married 22 years

Cory and Susan Married 15 years

Brian and Jennifer Married 3 years

David and Paige Married 24 years

Kelly and Annie Married 7 years

Adam and Alisha Married 3 years

Jason and Jen
Married 13 years

Craig and Marie Married 30 years

Jim and Cari
Married 31 years

Larry and Sandra Married 1 year

John and Cleo
Married 30 years

Thomas and Orianna Married 4 years

Jamie and Tara Married 2 years

Robbie and Natalie Married 1 year

Rod and Angela Married 12 years

Matthew and Jia Married 5 years

Morgan and Elisa Married 4 years

Chad and Naomi Married 6 years

Neil and Elysianna Married 10 years

Shane and Wendy Married 20 years

Gary and Valerie Married 18 years

Martin and Rachel Married 14 years

Fred and Analisa Married 30 years

Ralph and April Married 24 years

Emil and Teresa Married 13 years
Chris and Jackie Married 5 years

Ed and Margaret Married 47 years

David and Darcy Married 8 years

Geoff and Jody
Married 12 years

Robert and Hannah Married 15 years

Brian and Deby Married 17 years

Dave and Heidi Married 6 years

Andrea and Steve Married 9 years

Doug and Shauna Married 19 years

Josef and Krista Married 12 years

Chris and Heidie Married 12 years

Terry and Dolores Married 16 years

Eric and Terry
Married 30 years

Billy and Rhonda Married 26 years

Bob and Jocelyn Married 18 years

Nate and Amy
Married 12 years

Aaron and Deborah Married 1 year

Reed and Vicki
Married 23 years

Spencer and Emily Married 3 years

Kent and Jennifer Married 15 years

Wayne and Alicia Married 16 years

Rocky and Wendy Married 26 years

Brady and Jakki Married 14 years

Nathan and Heather Married 11 years

Richard and Camille Married 13 years

Micah and Jennifer Married 7 years

Greg and Meghan Married 16 years

Rich and Megan Married 7 years
Perry and Jackie Married 2 years

Steve and Melinda Married 18 years

Wade and Susie Married 23 years

Grant and Debbie Married 30 years

Chad and Kari
Married 15 years

Justin and Jana Married 13 years

Justin and Kristin Married 4 years

Tony and Jamie Married 10 years

Ryan and LeeAnn Married 3 years

TJ and Marcie
Married 9 years

Brian and Nicole Married 5 years

Jim and Kim
Married 6 years

Chris and Lauralyne Married 29 years

Scott and Jessica Married 2 years

Allen and Laura Married 19 years

Troy and Ashlee Married 16 years

Larry and Corrie Married 1 year

Greg and Brenda Married 26 years

Brad and Becky Married 2 years

Charlie and Sheila Married 22 years

Jason and Michelle Married 9 years

Barry and Dove Married 24 years

Garry and Carole Married 28 years

Daniel and Elizabeth Married 9 years

Pete and Angie
Married 16 years
Jim and Kim
Married 5 years

CW and Melissa Married 11 years

Jeff and Joanne Married 2 years
Mark and Jill
Married 38 years

Sean and Cindy Married 16 years

Scott and Tiffany Married 19 years

Jim and Karen
Married 15 years

Kevin and Laura Married 16 years

Russ and Debby Married 11 years

Jim and Irene
Married 3 years

George and Julie Married 22 years

Randy and Karen Married 30 years

Eric and Shanell Married 20 years

Dan and Vickie
Married 32 years

Kevin and Diane Married 1 year

Dean and Angie Married 16 years

David and Marcy Married 20 years

David and Patricia Married 16 years

Josef and Krista Married 10 years

Russell and Ann Married 7 years

Keith and Jayme Married 9 years

Kent and Tanya Married 10 years

Deane and Barbara Married 48 years

Bob and Linnea Married 32 years

Mark and Denise Married 24 years

Kent and Brittney Married 2 years

Joe and Lisa
Married 20 years

Jared and Sophia Married 17 years

Tim and Ruth
Married 5 years
Jim and Carla
Married 20 years

Gary and Kandy Married 2 years
Perry and Kristen Married 2 years

Jay and Vickie
Married 15 years

Terry and Kristina Married 17 years

Joe and Rhodonna Married 38 years

Kevin and Pam
Married 21 years

Matthew and Katrina Married 2 years

John and Debi
Married 31 years

Dan and Carina Married 2 years

Chuck and Laraine Married 29 years

Kevin and Karen Married 25 years

Don and Sherry Married 22 years

Tim and Sue
Married 10 years

Kevin and Diane Engaged

Dave and Chris Married 38 years

Michael and Ladawn Married 21 years

Sean and Kristen Married 15 years

Doug and Kris
Married 38 years
Rick and Amy
Married 10 years

Brett and Vanessa Married 9 years

Greg and Karen Married 11 years

Stan and Amy
Married 13 years

Randell and Brooke Married 15 years

Ed and Lori
Married 10 years

Justin and Jana Married 11 years

Nate and Dawn Married 14 years

Eric and Deana Married 10 years

David and Julie Married 13 years

Kari and Monica Married 5 years
Doug and Shauna Married 16 years

Mark and Cindy Married 16 years

Duncan and Fidelia Married 1 year

Preston and Jeremi Married 7 years

Bill and Katrina Married 1 month

Jack and Heather Married 7 months

Mike and Nibs
Married 23 years
Dwain and Jen
Married 13 years

Jason and Christa Married 8 years

Andy and Melissa Married 8 months

Steve and Lisa
Married 27 years
Jim and Kim
Married 4 years

Stuart and Martine Married 32 years

Jeremy and Laura Lee Married 5 years

Mel and Joneel
Married 27 years
Rob and Jenni
Married 13 years
Eric and Terry
Married 28 years
Ed and Stacee
Married 23 years

Steve and Andrea Married 6 years

Hart and Jory
Married 11 years

Tyler and Tanya Married 3 years

David and Shannon Married 25 years

Brent and Jen
Married 14 years

Kevin and Laura Married 14 years