** SOLD OUT **

Sexual Wholeness Workshop — for Women
Saturday, September 19, 2020
~ 10 a.m. – 6 p.m. ~
"Embracing Your Sexuality & Creating a Sextraordinary Marriage"
Workshop by certified sex therapist, Laura M. Brotherson, LMFT, CST
The Grand America Hotel – Salt Lake City
(hotel changed from The Little America Hotel)
555 South Main Street
Salt Lake City, Utah 84111
Register Now!! For a fun, educational and transformative weekend! Space is limited!!
CONTENTS
Are you tired of sex being a constant source of contention in your marriage?!
Are you ready to learn how to embrace and nurture your God-given sexuality as part of your wholeness?!
Are you ready to take your sexual relationship to the next level?!
Click Here — for a printable flyer
---
Ladies, this day is for YOU! Plan for a fun getaway with your girlfriends to talk about sex! How fun is that!? 🙂 Even if you attend alone, coming together with other brave women who are willing to take on the often taboo topic of sex will make the experience transformative. Women have been mysteries to themselves (and their husbands) for too long! Give yourself and your marriage the GIFT of Sexual Wholeness!! You won't want to miss this!
Join us for our first "Sexual Wholeness Workshop" specifically for women — Saturday, May 9, 2020 Saturday, September 19, 2020 in Salt Lake City, Utah. Bring your sisters, friends or make new ones as we shed light on how we as women can embrace our sexuality as God intended–delving deeper into Laura's 12 T's of female sexual wholeness addressed in her book Knowing HER Intimately: 12 Keys for Creating a Sextraordinary Marriage.
Maybe you've already developed your social self or your spiritual self. Are you ready to work on developing your sexual self? We'll give you the tools to transform your sense of self to include a healthy sexual self so that you can create your very own sextraordinary marriage! Ladies, we've got this!! We'll have a great time and you'll be amazed at how accessible and even comfortable the topic of sex can be when you're surrounded by good women who also want to develop their healthy sexuality and become more complete!
NOTE TO HUSBANDS:  I know most men would be willing to walk through fire to have their wife attend something like this. But guys, she's got to choose this for herself if you're gonna get the good kind of "I want you!" sex that we'll be working toward at this workshop. Your part is to NOT "mess with her agency" by putting any pressure on her to do this. She's got to feel like she can freely choose!
NOTE TO SINGLE WOMEN: For those of you not married or not yet married, while the general tenor of this workshop is for married women, feel free to be proactive and attend to better prepare yourself for a healthy and more fulfilling sexual relationship. 
Workshop Includes
This fabulous "Sexual Wholeness Workshop — for Women" will include the following:
7 hours of learning and therapeutic processing (worth over $1000 in counseling)

Workbook/exercises

Processing notebook

Your own copy of Knowing Her Intimately

Plated lunch and dessert

Break time snacks

Full-day parking at Grand America Hotel

…Fun and Transformation!! 🙂
Workshop – Itinerary
Saturday, May 9, 2020, Saturday, September 19, 2020 (10 a.m. – 6 p.m.)
All activities throughout the workshop will be held in the "Imperial Ballroom A" meeting Room located on the 1st Floor of the Grand America Hotel.
10:00 a.m. – 1:00 p.m. – Workshop (with activities and breaks)
1:00 – 2:00 p.m. – Lunch – Plated lunch of salad, entree and dessert
2:00 – 4:00 p.m. – Workshop (with activities and breaks)
4:00 – 4:30 p.m. – Snack Break
4:30 – 6:00 p.m. – Workshop (with activities and breaks)
Please plan to attend the FULL workshop and have some processing downtime before returning home for the greatest benefits!
Workshop – Topics – "Sexual Wholeness for Women"
Some of the topics we'll discuss and work on during the workshop are:
The Spirituality of Sex

Sexuality and Wholeness

Developing a Healthy Sexual Mindset

The Good Girl Syndrome

Levels of Sexual Development

How To's for Embracing Your Sexual Identity

How To's for Developing Your Sexual Desire

Sexual Wholeness and "I Want You Sex!"

Body Image and Lovemaking

Creating Emotional Foreplay

Identifying What Makes You Feel Truly Loved

Making Sex a Priority

Identifying Bridges to Desire

Arousal Helpers for the Mind

Auditory Arousal

The Bliss of a Kiss

Sexual Desire Discrepancies

Good Sex is a Learned Behavior

Sexual Wiring Differences

Secrets of Female Sexual Desire

Understanding The Big "O"

Tuning In

Identifying Sexual Brakes and Accelerators

Fun and Flirty

Intimacy vs. Desire

Keeping the Spark Alive

Learning to Let Go
Venue – The Grand America Hotel (Salt Lake City)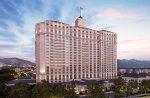 For this event, you'll love the beauty and comfort of the Grand America Hotel in the heart of Salt Lake City with its elegance, romance and many conveniences. Here are just some of the fabulous features of this serene four-diamond hotel. (Take a visual tour of this beautiful Grand America Hotel.) You have many different room options if you will be coming in from out of town. Make it a fun getaway experience and "Girl's Weekend" out as an extra treat! Reserve your room by clicking here!
Registration Information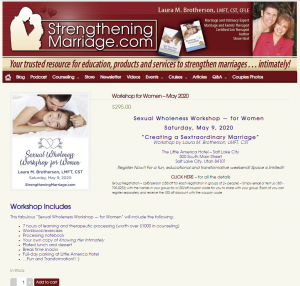 REGISTRATION OPTIONS – The following are the registration items you will find when you click on this REGISTRATION link:
#1 – Registration – $295/person (Includes: workshop, workbook, processing notebook, book, lunch, dessert, snacks, etc.)
#2 – Group Registration – $245/person ($50/off for each registration in groups of 2+ people) – Simply email or text us (801-709-0253) with the names in your group for a $50/off coupon code for you to share with your group. Each of you can register separately and receive the $50 off discount with the coupon code.  
#3 – Late Registration – $345/person (for registrations after Wed., September 9th – if any spots remain)
HAVE QUESTIONS?! 
Email us or Contact us at: (801) 709-0253 (voice or text)
COVID-19 Info
We are working closely with the Grand America Hotel to ensure safety guidelines are in place and implemented to host our "Sexual Wholeness Workshop" successfully during the pandemic. These guidelines include: seating spaced adequately apart; larger meeting and lunch rooms; constant cleaning and sanitizing of all public areas in accordance with current CDC Guidelines for disinfection. We will continue to actively work with the Grand America Hotel to ensure the best possible experience and safety for all participants.
Please Note: Masks are required (with the exception of lunch and snack break) since consistent social distancing may not be 100% possible during the event. Please bring a mask. We also ask that you refrain from attending if you are experiencing any symptoms and we will transfer your registration to the online course. For your information, you can find the latest information about COVID-19 guidelines (for Utah) by visiting the following websites:
State of Utah
Salt Lake County
FAQs
Why a "Sexual Wholeness Workshop–for Women?"
Many couples find that the sexual relationship is the main source of frustration and contention in their marriage. Women often don't know what they can do about it. This workshop will empower women to understand how a healthy, mutually fulfilling sexual relationship is created and what they can specifically do about it. You can stop the frustration and constant source of contention and instead transform your relationship into one dreams are made of. 

Not everyone will go see a sex therapist, so this one-day event makes it easy for women to get an intensive, educational and therapeutic experience that they wouldn't be able to get any other way. There's great power in the group experience of learning about and transforming your life and marriage in the context of others doing the same. 
How do I justify the time and money of participating in this workshop?
Finding wholesome, appropriate education and therapeutic help for one's intimate relationship facilitated by a licensed marriage and family therapist and certified sex therapist is nearly non-existent. With sex therapy at $150+/hour, this workshop and the exercises may be worth more than months of counseling given the unique environment of learning and discussing such intimate information in this open and wholesome interactive group setting.

Many people are looking for help with their intimate relationship but don't know where to find it. There are very few certified and trustworthy sources for marriage and sex therapy help, and since Laura consistently has a waitlist of 9-12 months for clients to get in to see her, this workshop provides a unique opportunity to get some intensive insights and direction both for creating personal wholeness AND making your marriage even better!

This workshop is a lot cheaper than a disconnected and dissatisfied marriage… and definitely cheaper than divorce!!
Praise for Laura's Workshops
Here's what participants have to say about Laura's workshops and what you can expect by joining us for this "Sexual Wholeness Workshop for Women:" 
"I loved how personable Laura was and that she knew my name and chatted with us! She made everyone feel so welcome. I love Laura's personality and passion for strengthening marriages intimately." 

~~~~~~~~~~~~

"This is the first time in my life that I've talked about sexuality and intimacy in detail when there was more than one other person in the room. It was refreshing to hear others ask questions and share comments in such a wholesome and candid environment."

~~~~~~~~~~~~

"I loved how this sensitive subject was discussed so easily and matter of factly. She made everyone feel comfortable with the subject matter and was so informative. Laura's knowledge of sexual topics (across the board) was amazing as was her willingness to talk about anything without hesitation or reservation."

~~~~~~~~~~~~~~~

"I loved getting to know other members of the group and to hear their perspectives and questions. It was so nice to be around so many people that are all wanting to improve their marriages. It was great to see that everyone has 'stuff!' The humor in the group was fun too."

 
Click here – to learn more about Laura's presentation style!
About Laura M. Brotherson, LMFT, CST, CFLE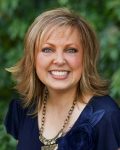 Licensed Marriage and Family Therapist, and Certified Sex Therapist, Laura M. Brotherson is the founder of "The Marital Intimacy Institute" with a mission to help couples create "sextraordinary" marriages. She counsels with couples and individuals in private practice (and online) and is passionate about helping couples navigate the intricacies of intimacy–specializing in healthy sexuality, sex therapy, and sex addiction. She is the author of the best-selling book, And They Were Not Ashamed: Strengthening Marriage through Sexual Fulfillment, Knowing HER Intimately: 12 Keys for Creating a Sextraordinary Marriage and now her latest book — From Honeymoon to Happily Ever After: 23 Keys to Prepare for a Sextraordinary Marriage.
As a Certified Family Life Educator, Laura is also actively engaged in helping to build strong marriages and families by providing marriage education through "Couples' Cruises," articles, newsletters, radio and television broadcasts, "The Marital Intimacy Show" podcasts, and presenting at conferences and workshops. Laura is a regular contributor to the KSL Television "Studio 5" morning show. Laura and her husband, Kevin, are the parents of three grown children and are the founders of StrengtheningMarriage.com—your trusted resource for education, products and services to strengthen marriages … intimately!
---