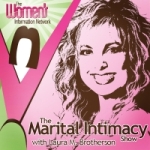 The Women's Information Network
(The WIN) — "The Online Home for All Women, All Ages" — is the premier media and social network for women. The WIN is strengthening women and families worldwide with a team of nearly 200 show hosts who are experts in their field covering nearly every imaginable subject.
The WIN will have hundreds of audio/video shows, well-written articles, safe social networking, The WIN Store, offline Conferences and Retreats, and much, much more! WIN participants can expect to: Get Solutions ~ Share Ideas ~ and Really Connect!
I have been asked to join this great organization as the host of a weekly online audio show entitled "The Marital Intimacy Show."
The WIN Official Launch
You are invited to join in the celebrations at the official launch of The Women's Information Network this Saturday, September 26 from 2 – 5:30 p.m. My husband and I will be there, so be sure to say hello! Click here for more information and to register.
Cost? Free!When? Saturday, Sept 26, from 2:00pm until 5:30pm ~ socializing at 1:30pmWhere? Auditorium, Salt Lake Community College, Larry Miller Campus
9750 South 300 West, Sandy, UT 84070
At The WIN Launch event you'll enjoy inspiring presentations and entertainment, and you'll receive a gift bag with books, chocolate, and much more! We'll be celebrating the Launch of The WIN and we'll have tons of FUN! So bring your sister, friend, mom, daughter ~ everyone is invited ~ and enjoy a wonderful afternoon with us. You'll be so glad you came!!
"The Marital Intimacy Show" on The WIN
At "TheMaritalIntimacyShow.com" you can download my online shows, listen to them online, or subscribe through RSS feeds and/or iTunes. By listening to "The Marital Intimacy Show" couples will:
Be inspired to elevate the gift of sexual enjoyment to its divinely intended place
Learn to fully embrace the God-given gift of sexuality
Learn the secrets of sexual satisfaction
Find solutions to the intimacy issues that plague so many marriages
Create a mutually fulfilling, intimately connected, and passionate relationship ~ emotionally, spiritually and sexually.