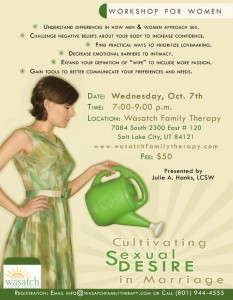 "Cultivating Sexual Desire in Marriage" Women's Workshop
Wednesday, October 7 (Salt Lake City, Utah)
Presented by Julie DeAzevedo Hanks, MSW, LCSW
If you're looking for an opportunity to learn how to strengthen your marriage intimately, my good friend, Julie deAzevedo Hanks, is holding a "Cultivating Sexual Desire in Marriage" workshop for women on Wednesday, October 7 from 7 – 9 p.m. in Salt Lake City, Utah (7084 South 2300 East #120).
The cost is just $50. Julie helps women awaken desire and find greater enjoyment in the intimate relationship of marriage.
Register today by calling 801-944-4555 or emailing info@wasatchfamilytherapy.com. For more information check out the online flier. Visit Wasatch Family Therapy to learn more.
If you can't attend this workshop, but would like to participate in the discussion please consider joining in on Julie's teleconference:
Wednesday Sept. 30, 7-8 p.m.
TELECONFERENCE — "Cultivating Sexual Desire In Marriage"
Women's Workshop
Led by Julie Hanks, LCSW
$25 pre-registration required
Download Flier for additional details
Register online here!