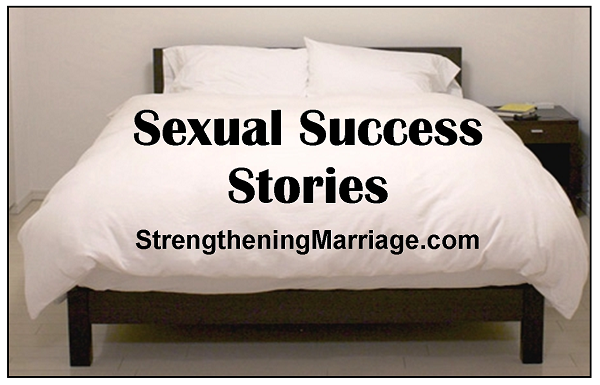 Bridling Your Passions and Her Agency
Definitely one of the hardest things men often have to face in order to improve the sexual relationship is bridling their sexuality (sexual self-mastery) and developing a relaxed state of spiritual surrender about sex… This is vital for creating an environment where a wife can freely choose to engage or not, or all she will be able to genuinely give is "duty sex." It often feels to men like we're asking them to "walk on water." It is asking a lot, but men might ask themselves: "What kind of sex do I want?! Duty sex or 'I want you' sex!?"
Without testosterone and/or the feeling that they actually have the freedom to choose, women have a tough time getting to what men want most… to feel enthusiastically wanted and desired–NOT just "serviced" out of obligation! Women can't freely "want to" if they just feel pressured or hounded to "put out!" It's one of the toughest conundrums in the sexual relationship.
Bridling and Surrender Success Stories
The following are just a few of the many success stories where men have mustered the wherewithal to develop the necessary surrender to dramatically change the sexual relationship in their marriages. This is part of the husband's soul-stretching work toward creating a "sextraordinary" marriage.
CLICK — for more Sexual Success Stories
CLICK — HANDOUT – "First Steps for Him & Her in Creating a Sextraordinary Marriage" – (additional help with bridling and surrender)
CLICK — HANDOUT – "Bridling and Spiritual Surrender – (Sexual Self-Mastery for Men)"