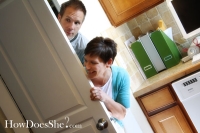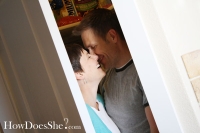 One affectionate couple found themselves being shoved into the kitchen pantry by their grossed-out children who didn't want to see their parents kissing! (That's a separate issue to tackle, if your children have a negative response to your PDA!)
This was the beginning of this couple's regular romantic rendevous in their "Kissing Closet." (Click here for their story.)
What a fabulously fun idea for couples!
Do You Have a Kissing Closet?
The kissing closet is a great idea for any couple to add a bit of fun and flirtatiousness (is that a word?) to their relationship. Do you have a "kissing closet?"
If you do or like the idea of creating a kissing closet in your home, we'd love to have you send us your kissing closet pictures for us to share them here on our "Strengthening Marriage Blog."
Kissing Closet or Kissing Pantry?
Our kids took issue with the fact that this kissing "closet" idea was technically a kissing "pantry," and thought we ought to move it to the real closet in our bedroom. But what fun is that?
The whole point of a kissing closet (in the kitchen) is to publicly torture your kids (even though we know they think it's cute and funny), and to have quick and easy access to steal a kiss.
Kissing Closet Photo Session
As you can see from our kissing closet photo session below, there are functional purposes of the kissing closet for my husband and myself…
He happens to be a foot taller than I am, so the fact that there is a step-stool in the closet makes our kissing closet an extra fun way for me to be able to more easily reach my honey's lips without straining myself! (…looks like I still need a taller stool!)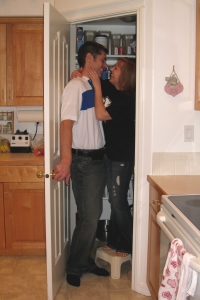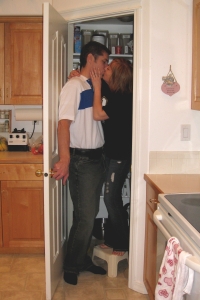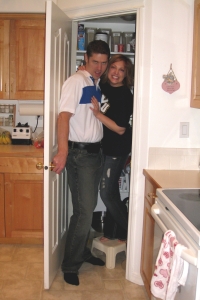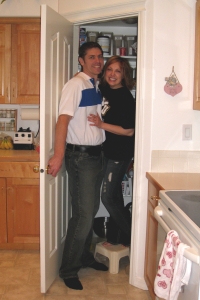 (Seriously, my husband thinks he's quite the character. Please don't anybody tell him I'm actually posting these photos! ; )
Keep the Spark Alive
We hope you'll consider creating a kissing closet in your home and see how much fun it will be! It's a great way to add a little spice to your relationship and keep that spark alive!
Don't forget to send us your photos!
Share your kissing closet pictures here!
~~~~~~~~~~~~
NOTE: If you're not a big fan of kissing, be sure to listen to the following audio episodes of Laura's "Marital Intimacy Show" to help you change your tune:
#026 The Bliss of a Kiss–Restoring the Lost Art of Kissing, Pt 1
#027 The Bliss of a Kiss–Restoring the Lost Art of Kissing, Pt 2
#028 The Bliss of a Kiss–Restoring the Lost Art of Kissing, Pt 3