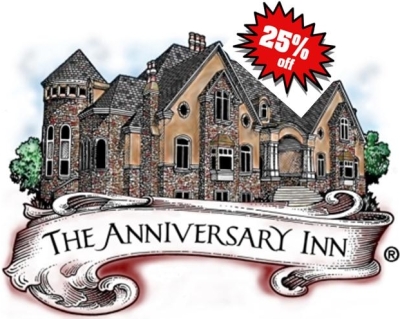 We are thrilled to announce that The Anniversary Inn is now offering our StrengtheningMarriage.com fans a fabulous discount at all their Anniversary Inn locations in Salt Lake City, Utah, Logan, Utah and Boise, Idaho!
You can now enjoy a 25% off discount on any romantic, luxurious Anniversary Inn suite (any night, any location, Sappire level suites excluded)! Check out all fun themed suites by Clicking Here!
To reserve your romantic getaway you can either call 1-800-324-4152 to reserve your suite and ask for the "StrengtheningMarriage.com" discount or make your reservation online then call to have the "StrengtheningMarriage.com" discount added to your account.
Some of my favorite things about The Anniversary Inn:
The sparkling cider!
The delectable cheesecake desserts!
The jacuzzi!
The fireplace!
The free in-room movies!
The warm delicious breakfast (a warm cinnamon roll and ham and cheese croissant with yogurt parfaits and juice) delivered right to your door at the time you specify…in case you want to sleep in! : )
The big-screen TV with free movie rentals!
The romantic ambience of the Anniversary Inn suites! : )
Fun Anniversary Inn Photos
(Click on any image to enlarge and arrow through…)