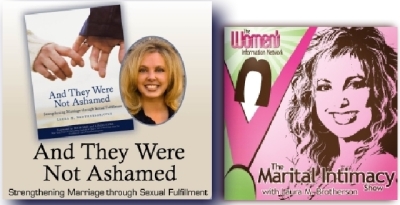 Now that I am pretty heavy into counseling and therapy in my practice I am finding it difficult to find enough time to help everyone that is requesting my services. In addition, there are some who may not be able to afford counseling or who have spouses that won't talk to anyone about it…at least at this point.
So, the purpose of this post is to provide some first steps for individuals or couples while they are waiting for additional help (particularly those on my current waiting list) or for those who are on their own in trying to improve their intimate relationship.
1. Read and Do the Homework in And They Were Not Ashamed
Step 1 of your self-help sex therapy is definitely to read (either together or on your own) my book And They Were Not Ashamed—Strengthening Marriage through Sexual Fulfillment and do the homework suggested at the end of each chapter. This is similar to the kind of counseling work I would do with clients in sessions (and the homework I would give as well) to help clients identify what is getting in the way of them enjoying the sexual relationship as God intended it.
One of the reasons I wrote this book was because many people unfortunately wont go see a sex therapist, but they will read a book in the privacy of their own home. My book is available on CD or at Audible.com for you to listen to. It will soon be available as an ebook in it's various formats. Yay!
2. Listen to The Marital Intimacy Show Podcasts
Step 2 is to listen to as many of my short and sweet Marital Intimacy Show podcasts as you can, and do at least a brief writing afterwards of the highlights and/or anything that caught your attention as applicable to your situation. These episodes are like FREE mini self-help counseling sessions that I would be having with you and/or your spouse if we were in a session together.
3. Utilize my Other Resources
Step 3 is to be sure you are utilizing the other resources I have for addressing your sexual questions and issues. In addition to the MIS audiocasts, other resources I have include:
My blog – Laura's Strengthening Marriage Blog. You'll find many articles and posts that address the common issues couples face. My blog here also has a great reservoir of conversations between myself and our fabulous blog followers asking questions and trying to help each other out with their marital and intimacy challenges. You can find that information in the Open Forum sections on this blog.
My Articles. I've written over 50 articles available on my website strenmarr.com to help you think through some of the challenges you may be facing. I generally provide some suggestions or action items for you to actively work on various dimensions of your life and your relationship.
Facebook and Twitter. Social media is another great resource for information sharing, so be sure to join us on my Marital Intimacy Show page and my Strengthening Marriage, Inc. page on FB or follow me on Twitter @LauraBrotherson or @MaritalIntimacy to receive daily insights and motivation to help you strengthen your marriage.
Newsletter. My "Straight Talk about Strengthening Marriage" newsletter is another resource to provide help in strengthening your marriage.
Straight Talk Q&A — In my "Straight Talk Q&A" I've answered a lot of common questions that I've received over the years that can also help you figure out some helpful solutions for your own situation.
More Books on the Way. Since there is no chance I'll ever be able to help all those who may want or need my individual time and services, I am working on my next two books that again are very much what we would be working on together in counseling sessions. One of these next books will encapsulate the key secrets of female sexuality and the other will highlight the important aspects of male sexuality. These will be additional valuable resources for couples to have for additional self-help sex therapy.
4. Get Professional Help
Step 4 is to get professional help if the above steps are not enough.
I was telling my husband the other day that I just had to get doing my podcasts more frequently and to get our next two books written because I'm just not being able to reach enough people who want my help and he said, "You know Laura, that may be true, but I'm not sure any of those things can actually replace someone talking with your directly." It was certainly a sweet thing for him to say, but it is also kinda true.
There's a magic that happens in the process of counseling together that you really can't recreate any other way. So, do get some help if the above suggestions are not enough. Thankfully for many couples it is enough to help them shift their sexual relationship! But that won't be true for everyone.
So, to recap, (1) read my book And They Were Not Ashamed, (2) listen to my podcasts, (3) read and use the other resources on my website StrengtheningMarriage.com, and then (4) seek out professional help in the form of counseling or even just a couple consultations.
I hope this gives you some guidance as you engage in your own self-help sex therapy and work toward creating a wonderful, mutually fulfilling sexual relationship in your marriage!
Related Resources: