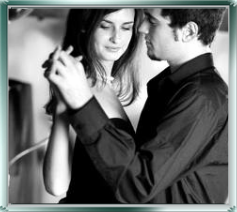 "I remember one evening when I could see in my husband's eyes that he was not exactly 'in the mood.' The cares of the day and the weight of work pressures were heavy on his mind, not to mention the fact that he was just plain tired. All of a sudden it dawned on me that I was seeing my husband the way he usually sees me, in a  not- or 'pre-interested-in-sex' state of mind.
It was a weird sensation to be on the other side of the coin. It was a strange new concept to imagine my husband not being automatically ready and interested in sex. That's when I realized that if there was going to be any 'intimate activity' that night then it would take some effort to help him shift gears from thinking 'sleep' to thinking 'sex.'"
~~~~~~~~~~
Men Need Foreplay Too
Men need foreplay too. Foreplay is something that helps prepare the mind and body for sex. Sometimes women like to think that they have the corner on the market when it comes to needing some help to shift from daily cares to more sensual activities.
But as evidenced by this woman's relationship, it was the husband (not the wife) that particularly needed some foreplay to get his mind headed in the right direction.
Foreplay for Both Husband and Wife
The truth is that some men are never privileged to be on the receiving end of sexual foreplay. It's often directed solely towards the wife. Men, too, like to be touched and kissed and caressed with words and hands in order to transition into lovemaking mode and sexual arousal…especially when stressors are heavy on their mind.
It also isn't just women who long for emotional intimacy prior to and within the lovemaking experience. And don't think that men don't also need the same courtesies (foreplay) throughout the day that women do. Sex does begin at breakfast for both husband and wife.
Increased Need for Foreplay
As couples age, foreplay becomes even more and more important for arousal and orgasmic expression to occur. Lovemaking may become a little less automatic and require that we be a little more intentional.
Maybe our new marital motto should be "foreplay for all." In-bedroom and out-of-bedroom foreplay (mental, emotional and physical) applies to both husband and wife.