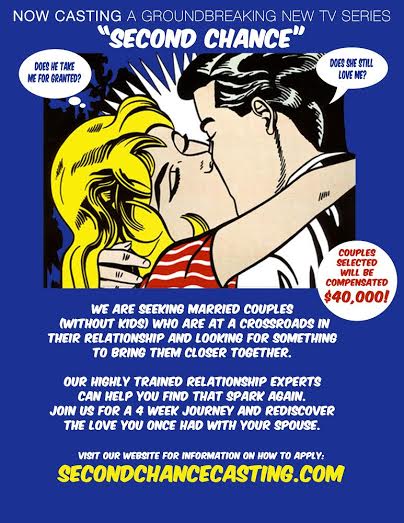 Would you like to make $40,000 and rekindle the spark in your marriage at the same time?! You might want to check out this new marriage reality show "Second Chance." They are looking for couples (without kids) to be a part of this upcoming television project.
Casting Duo and Kinetic Content are currently casting a docu-series for married couples for a major cable network called "SECOND CHANCE." They cast such shows as The Biggest Loser for NBC, Top Chef on BRAVO and The Taste on ABC. They are looking for married couples with no children (due to the sensitive nature of the project), who feel as if they have lost their connection but truly want to stay together and rekindle the romance.
The couples chosen will receive $40,000 for a month of filming. They are finalizing the couples by the 2nd week of January 2015, so don't delay if you'd like to be considered. There would be a four-week commitment for filming for couples beginning in March 2015. They will have two relationship therapists guiding each couple through the experience — two weeks of filming at home with the couple and two weeks of filming in Los Angeles, CA.
If you think this might be for you and your spouse click here to fill out some information in order to be considered! Could be fun! I'd also recommend checking out the therapists once they are determined to see what their counseling style is and to see if the project looks like it will be a good experience overall! 🙂