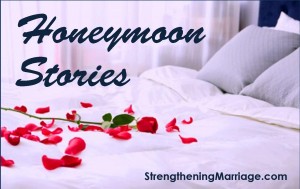 Our Honeymoon Story
When we got to the hotel room after the reception, I started freaking out. How could what I was expected to do now possibly be okay? It had been bad and wrong for so long!! I actually ended up being curled up in a ball in the corner of the room…sobbing.
Thankfully my husband was very comforting and assured me that nothing needed to happen until I was ready. That night we just shared a bed without doing anything. I was so grateful for his patience and understanding.
The next morning I was fine and we had our "honeymoon night" that morning. We then spent the first several years of our marriage studying the differences in how men and women communicate, and worked to cultivate a safe space where we could talk about sex and our needs and desires.
No Preparation
Unfortunately neither of our parents had talked to either of us about anything regarding a marital relationship–especially the sexual stuff, so now we are a lot more open with our kids. We answer their questions and make sure to let them know it's not evil — but rather it's special and sacred. THAT is the reason to wait until marriage to share something so intimate and sacred.
What certainly could have been a honeymoon horror story, turned out to be a happy honeymoon story instead thanks to my good husband and his willingness to calm my fears and have faith enough to be patient with me.
~~~~~~~~~~~~
Share Your Honeymoon Stories
We're excited to gather and share happy honeymoon stories, as well as honeymoon horror stories. We hope to provide some important information to better prepare couples for a positive and fulfilling honeymoon experience, and a better beginning to their sexual relationship.
Those who send in the first 10 honeymoon stories will receive a free copy of our Love 101: Learning to Love More Meaningfully CD and a $25 off coupon to The Anniversary Inn for any suite, any night! So, act fast to get these great gifts!
Whether your honeymoon was happy, or kind of horrible, we'd love to hear what you learned, and what you recommend others do or not do in order to have a great sexual start in their marriage.
Simply email the stories to us with "Honeymoon Story" on the subject line and your real name and address somewhere in the email so we can mail you your CD and gift certificate. Please keep them brief and anonymous (change names or identifying info). We especially hope you will share at least a few things you did well in anticipation of your honeymoon, and/or a few things you'd recommend to couples to help them be better prepared. The stories will be posted here on our website.