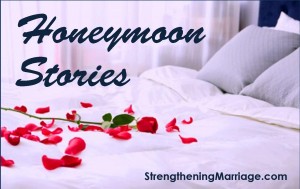 Honeymoon Happy Story
Wow! What a great topic to add to your website. My daughter is getting married, and she is, of course, curious, interested, and a little worried about what her honeymoon night will be like. This is so important that women especially understand how vital and wonderful sexual relations is to their marriage. I feel that sexual relations in marriage is the atonement for marriage. It heals, it comforts, it binds, and it brings joy!
So here is my husband's and my story.
My husband and I have been married for more than 25 years. We have a wonderful marriage, but like a lot of newly engaged young women, we had a lot of worries about our honeymoon night beforehand!
I had grown up in a high school where everyone was sexually active, and I had heard a lot of first-time-sex horror stories of pain from other girls. When it came time for me to be married, I was concerned that our honeymoon night was going to be a painful experience.
My mom and I had a lot of talks which was very informative and helpful, and my husband and I talked about it before our honeymoon as well. He knew I was looking forward to it, but that I was worried it would be uncomfortable for me or that it might even hurt the first time.  He came into our marriage fully aware of how careful he needed to be.
As I look back on that first time, the only negative aspect for me was what was in my head. I was worrying and didn't need to. Yes, my husband had to go slow, which we talked through, but I don't remember any pain. The next morning I was sore, like I had just done an aerobics class with sore muscles, but it was a great experience and we fondly think back on it. I only wish I wouldn't have been so worried about it.
~~~~~~~~~~~~
Share Your Honeymoon Stories
We're excited to gather and share happy honeymoon stories, as well as honeymoon horror stories. We hope to provide some important information to better prepare couples for a positive and fulfilling honeymoon experience, and a better beginning to their sexual relationship.
Those who send in the first 10 honeymoon stories will receive a free copy of our Love 101: Learning to Love More Meaningfully CD and a $25 off coupon to The Anniversary Inn for any suite, any night! So, act fast to get these great gifts!
Whether your honeymoon was happy, or kind of horrible, we'd love to hear what you learned, and what you recommend others do or not do in order to have a great sexual start in their marriage.
Simply email the stories to us with "Honeymoon Story" on the subject line and your real name and address somewhere in the email so we can mail you your CD and gift certificate. Please keep them brief and anonymous (change names or identifying info). We especially hope you will share at least a few things you did well in anticipation of your honeymoon, and/or a few things you'd recommend to couples to help them be better prepared. The stories will be posted here on our website.
Click Here — for all Honeymoon Stories and Resources!
Related Resources: