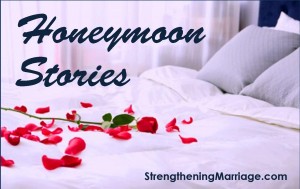 Honeymoon Horror Story
I have struggled with sexual intimacy since getting married almost 10 years ago. We have only had intercourse a handful of times since getting married–something I am pretty embarrassed about. I feel so guilty that this area of our relationship is not very functional. It feels like it is this deep, dark secret that I am finally starting to uncover and start healing from. Right now I am ready to leave the past behind me and move forward with a hope that in my marriage we can have a healthy relationship, including sexual intimacy. I feel discouraged about how challenging this area of my marriage has been and how far I have to go to not only create healthier thought patterns about intimacy, but to act in healthier ways. I feel like I am broken. However, I am sincerely willing to do whatever it takes to feel better for myself, for my husband, and for our family. My marriage and family is that important to me.
Not What I Anticipated
The wedding night was not like anything I had anticipated and from the first time of insertion I felt a lot of pain and not a lot of positive feelings. I went to a sex therapist to receive help with vaginismus after a few frustrating months of marriage. I had never been able to insert a tampon before and it wasn't until after we were married that I found out about vaginismus. I learned some kegel exercises for the P.C. muscles down there, and how to use a dilator to help stretch me out a bit. That sex therapist told us not to have intercourse for a year, which didn't get our physical intimacy off to a great start. When we finally tried intercourse after that my husband was of course fearful of causing me pain again. It's been stressful for him ever since to try and keep an erection for fear of hurting me. I have started using the dilator again because my vaginal muscles still feel tight and I am still afraid of pain during intercourse, so I try to avoid it.
Negative Feelings about Sex
I was pretty clueless about sex when I got married, even though I had read the book "The Act of Marriage." It was pretty disturbing to me at the time. I remember crying after reading the chapters on how to have sex and thinking things like "how can this be ordained of God and be ok?" I felt like sex was dirty and that somehow I wouldn't be living a morally clean life if I participated in such an act.
I have struggled with these negative feelings about sex for many years but growing up I just shoved the thoughts aside and thought "I will stay morally clean and will deal with these feelings later."
Needed more Education
Growing up, my parents hardly ever talked to me about sex. I remember having my mom sign a permission slip for 6th grade Health class to allow me to learn about the reproductive system. All she said was "do you want to learn about this?" I said I did but oh how I wish she and my dad would have taught me about sex before that class! It was a basic unit but everything was totally new to me and I had no idea about anything being taught. I have tried to forgive my parents for not teaching me more about the sacred relationship between husband and wife, but sometimes I still feel bitter inside about that. I wish my parents had been open about sex and talked to me about it and its sacredness. That would have made a big difference for me.
My mom did once tell me that when I get married you love your spouse and you respect and love their body and that sexual intimacy is sacred and special. And she said that if I ever had questions about anything I could come to her. That's all I ever remember her telling me about sex. I think I was high school age then.
Sex is Bad
I remember feeling very upset when my brother got married during high school because I knew that on his wedding night he would have sex with his wife. I remember crying and telling my dad about how upset I was feeling. I told him how weird it seemed that a couple could be married and sealed in the temple and then be permitted to do something so awful as having sex. He basically told me the same thing my mom had told me – that the sexual relationship is good and ordained of God when used properly. Somehow in my mind the thought that sex was bad just kept getting stuck there.
I still struggle with negative thoughts about sex–how it isn't clean, proper, good, etc. I also struggle to love myself and I feel like I am broken because I don't have a strong sex drive. In fact, often I don't want anything to do with sex. It makes me sad to admit these things, especially because of how much it hurts my husband. I love my husband very much and he is one of the main reasons I am now working through some of these challenges in our marriage. I do also want to work through these challenges for myself.
~~~~~~~~~~~~
Share Your Honeymoon Stories
We're excited to gather and share happy honeymoon stories, as well as honeymoon horror stories. We hope to provide some important information to better prepare couples for a positive and fulfilling honeymoon experience, and a better beginning to their sexual relationship.
Those who send in the first 10 honeymoon stories will receive a free copy of our Love 101: Learning to Love More Meaningfully CD and a $25 off coupon to The Anniversary Inn for any suite, any night! So, act fast to get these great gifts!
Whether your honeymoon was happy, or kind of horrible, we'd love to hear what you learned, and what you recommend others do or not do in order to have a great sexual start in their marriage.
Simply email the stories to us with "Honeymoon Story" on the subject line and your real name and address somewhere in the email so we can mail you your CD and gift certificate. Please keep them brief and anonymous (change names or identifying info). We especially hope you will share at least a few things you did well in anticipation of your honeymoon, and/or a few things you'd recommend to couples to help them be better prepared. The stories will be posted here on our website.
Click Here — for all Honeymoon Stories and Resources!
Related Resources: