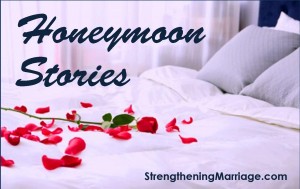 Honeymoon Happy Story
In preparation for our honeymoon we spent a lot of time talking about things, but not as much in person as most people. We met online and talked morning and night for months. Thankfully it worked out! (We just celebrated our 15th wedding anniversary.)  I was so sick because of the birth control pills that I couldn't eat at the restaurant, and I was pretty disappointed about it.  I threw up every month I was on that particular type.
After we got married, we had a short stop before the reception and decided to make the most of it. I felt peaceful about getting undressed because we were married now.  I was surprised to feel so comfortable.
After the reception we stopped at our apartment for some more hands on. My husband was a little underwhelmed because of some expectations he had, but later found more what he was looking for! We had brought some relevant reading material with us to try to learn. We had been given money for the honeymoon, so we were able to stay in a lovely room with a big hot tub. I am so glad we stayed in a nice place.
We traveled a lot, and it would have been nice to stay in a local place for a bit to keep things simple and unrushed. I always recommend that couples drink a lot of water on their honeymoon because I got dehydrated, and it was very uncomfortable. Luckily I had read an article about how sex shouldn't be painful, so I was able to remedy things quickly by following their recommendations. I definitely recommend couples have something like KY Jelly for lubrication if needed.
On our honeymoon we ended up spending some solid alone time (3 or 4 days) before interacting with people we knew in addition to doing some fun activities, and seeing family.
I'm thankful my husband took some time before our wedding to let me know how special I was to him and how important it was to him that we were getting married. Spending a lot of time together in the days and weeks before the wedding also helped me feel close to him. In addition, I felt a calm, peaceful feeling that getting married to him was a good thing to do, so that made sex easier for me as well.
We're still working on this area of our relationship, but are grateful that we had a good start.
~~~~~~~~~~~~
Share Your Honeymoon Stories
We're excited to gather and share happy honeymoon stories, as well as honeymoon horror stories. We hope to provide some important information to better prepare couples for a positive and fulfilling honeymoon experience, and a better beginning to their sexual relationship.
Those who send in the first 10 honeymoon stories will receive a free copy of our Love 101: Learning to Love More Meaningfully CD and a $25 off coupon to The Anniversary Inn for any suite, any night! So, act fast to get these great gifts!
Whether your honeymoon was happy, or kind of horrible, we'd love to hear what you learned, and what you recommend others do or not do in order to have a great sexual start in their marriage.
Simply email the stories to us with "Honeymoon Story" on the subject line and your real name and address somewhere in the email so we can mail you your CD and gift certificate. Please keep them brief and anonymous (change names or identifying info). We especially hope you will share at least a few things you did well in anticipation of your honeymoon, and/or a few things you'd recommend to couples to help them be better prepared. The stories will be posted here on our website.
Click Here — for all Honeymoon Stories and Resources!
Related Resources: