Get your cameras ready!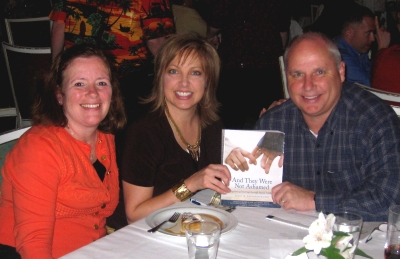 We're excited to announce our 7th annual Couples Contest / Valentine's Giveaway to the romantic Anniversary Inn. And to celebrate the release of And They Were Not Ashamed in eBook form (Kindle, Nook, etc.) we are adding a "prop" to the couples photos for you to send us.
Just send us a photo of you and your spouse with a copy of our book or eBook And They Were Not Ashamed: Strengthening Marriage through Sexual Fulfillment for a chance to win a fabulous ~ FREE ~ one-night getaway to the delicious Anniversary Inn of your choice, in the suite of your choice! (Valued up to $289!) …and that's any Anniversary Inn in any state!
The book-prop in your picture can be the print version or if you want to show the eBook just pull up the cover on your eReader and put that in the photo too.
After last year's creativity we can't wait to see what this year brings with the added prop!  You're only limited by your imagination…! : )
We will still take your favorite husband/wife photos without the prop/book, of course, but we may have the couples photos with the prop count as two entries for the romantic giveaway to encourage y'all to be brave! : )
Contest Details
To enter the drawing, send us your favorite husband/wife photo by Saturday, February 18th, 2012 to this email.
All photos will be posted on our Couples Photos page. So, send us your uncropped, 300 dpi/high res photo with your first names, and how many years you've been married.
Even if you've sent us a photo before, you are welcome to send us a new one! You can see all the fabulous couples photos from previous years here.
The lucky couple will be drawn and contacted by the end of February through email, and also announced on our website. Let the picture taking begin! : )
You Can All Be a Winner!
Even if you aren't selected as the winner of this Valentine's Day giveaway, you can still be a winner by reserving a room at The Anniversary Inn for you and your honey! (Don't forget to ask for the 25% off StrengtheningMarriage.com discount!)
You'll love the in-room jacuzzis, complimentary sparkling cider, and cheesecake, as well as the delectable complimentary breakfast. It's one of my favorite places to stay for a romantic getaway!
p.s. Feel free to share this contest if you have a blog or Facebook Page.
Related Resources: