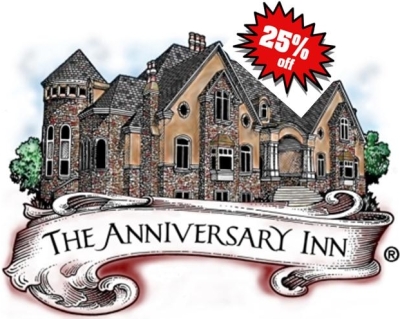 Soooo thrilled to finally get out for a super fun Date Night getaway to The Anniversary Inn!! If any of you need a getaway from all of the craziness going on in the world, this is one of my FAV places! They are clean, private and open! And just for our followers we have an awesome 25% OFF DISCOUNT (click for discount details)!!
Visit AnniversaryInn.com to check out all the cool suites and make your reservation. They have fun and romantic themed suites (locations in Salt Lake City & Logan, Utah; and Boise, Idaho) and each stay includes sparkling cider and a to-die-for breakfast in bed!! It's the perfect honeymoon or anniversary getaway!!! LOVE, LOVE IT!!!
This is one of my favorite places because it provides such a unique, romantic opportunity to rekindle the flame in your marriage. With wedding season upon us, this is the perfect honeymoon getaway or romantic anniversary celebration!! Definitely take advantage of this if you can!!
CLICK — for more fun Pics and Discount Details
(Click on any image to enlarge and arrow through…)