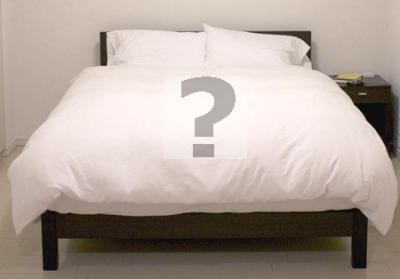 Right up at the top of the list of things I get asked about the most are all of the what's okay and what isn't types of questions. I have addressed this topic fairly extensively in the writings mentioned below, but I do have a few additional thoughts for people to consider as they work together as husband and wife to determine what is right for them and what is in keeping with God's plan for sexual relations in marriage.
Needing Approval
First of all I have some concerns about those of us who feel the need to get approval for a certain behavior or confirmation of "something we've heard" that's okay or not okay in the bedroom. I guess I can understand where people are coming from though. Many of us just want to do what's right and proper in God's eyes and would rather err on the side of being extra cautious than not. I can certainly relate. I too always want to do what's right.
Spiritual Confidence
My concern comes in when I see how many of us are not well versed in the language of the spirit of God and/or are not confident in our ability to receive divine guidance on this delicate subject. Some of us simply don't want to put in the extra effort required to study it out and gain insight directly from the Lord on the matter. I do hope we will all strive to be better connected to the Source of divine guidance and less dependent on human validation.
Questions to Consider
In the meantime, I've identified a few questions and a quote that may help each of us in our marriages as we sort out the many what's okay and what isn't questions that abound.
Let's say you want to add such-and-such to your lovemaking and really wonder if it's appropriate or not. Here are some questions to ask yourself and to discuss with your spouse:
What is the purpose or intent of the behavior, etc. that you are wondering about?
What are the short-term and long-term outcomes of adding this to your intimate relationship?
Is the marriage relationship more likely to be strengthened or might it be weakened?
Yardstick for Appropriate Sexual Behavior
This quote by Susannah Wesley (mother of John Wesley) is an excellent yardstick by which we can measure anything we are wondering about regarding sex in marriage:
"Whatever weakens your reason, impairs the tenderness of your conscience, obscures your sense of God, or takes off your relish for spiritual things, whatever increases the authority of the body over the mind, that thing is sin to you, however innocent it may seem in itself."
I love that statement. What an wonderful measure for us to use to determine for ourselves the goodly or not-so-goodly behaviors we may want to consider in our intimate relationship. What might be okay for some couples might not be for others, and these questions can help us identify our uniquely individual answers.
Additional Information on What's Okay and What Isn't
You can find additional information about "What's Okay and What Isn't" in our book "And They Were Not Ashamed" (pg 135 – pg 142).
You can also listen to The Marital Intimacy Show episode #056 "Healthy Sex" where I share some key information to help couples understand the difference between healthy sex and unhealthy or pornography-related sex
In our Straight Talk Q&A I also address the the issue of oral sex.
Some of the issues I address in these various resources are:
Couples should feel free to express and develop their lovemaking within the intimate sanctuary of marriage.
Teaching correct principles — Not needing a laundry list of do's and don'ts.
Common beliefs that can be detrimental to a healthy relationship.
The idea that once you're married anything goes.
The suggestion that if you're concerned about any particular behavior you should discontinue it.
Principles and teachings to help couples determine what's okay and what isn't.
We do not need to be commanded in all things.
We cannot possibly address all the ways to sin.
We need to follow the spirit of the law.
Couples can learn line upon line.
The Savior used parables and symbols to teach, allowing for individual understanding.
Dealing with sexual differences in marriage.
How to distinguish between godly and sinful behavior in the sexual relationship of marriage.
Understanding negative sexual conditioning.
Understanding divine guidance.
Identifying negative beliefs and developing spiritual sensitivity.
Why couples need to determine their answers for themselves.
Using someone's opinions about what's okay to badger one's spouse.
I hope this information helps couples answer some of the many questions they have!