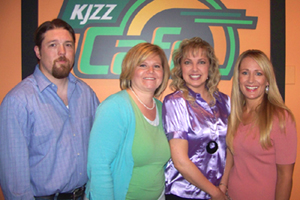 Laura was recently interviewed on the KJZZ TV "The Home Team" show with host Julie de Azevedo Hanks. She was asked to do a second show as well that was pre-recorded then broadcast on Monday, September 15, 2008.
We had a great discussion about why sex is such a taboo subject, and how to get past the taboo to talk to our kids about sex. We appreciate the courage and candor of our special guests Chris and Heidie.
You can watch these two additional segments by clicking on the video screens below. Feel free to leave a comment and share these clips with friends and family.
VIDEO CLIPS
Why Is Sex Such a Taboo Subject
Sex is one of the single most difficult subjects for couples and families to discuss comfortably and confidently. Author and intimacy educator, Laura M. Brotherson, discusses with Utah's KJZZ "Home Team" host Julie de Azevedo Hanks why sex is such a taboo subject for couples and how they can overcome this difficulty. (9/08)
How to Talk to Your Kids about Sex
Author and intimacy educator, Laura M. Brotherson, shares insights with Utah's KJZZ "Home Team" host Julie de Azevedo Hanks to help parents learn how to talk to their kids about sex. They discuss the four steps of: (1) Preparing to teach; (2) What to teach; (3) When to teach; and (4) How to teach. Learn what the four "have-to-times" are for talking to your kids about sex. Parents can prepare themselves and their children for a relationship-building experience discussing sex and intimacy in preparation for a positive and fulfilling intimate relationship in marriage. (9/08)
Click here for "Laura's Strengthening Marriage Videos" web page
Click here for Laura's "StrengthenMarriage" YouTube Channel