2/23/11 UPDATE — All Couples Photos for the annual Anniversary Inn giveaway have been posted on the Couples Photos Page. Congratulations to Chris and Shelby for winning the random drawing. We had over 100 entries this year! Thank you to everyone for sharing your fabulous photos!
————————————————————————————————-
We're excited to announce our annual Valentine's Giveaway to the romantic Anniversary Inn. Just send us your favorite photo of you and your spouse for a chance to win a FREE one-night getaway to the delicious Anniversary Inn of your choice, in the suite of your choice! (Valued up to $289!)
Contest Details
To enter the drawing, send us your favorite husband/wife photo by Tuesday, February 15th, 2011. Even if you've sent us a photo before we'd love to see your new favorite photos. All new entrants will be added into this drawing.
All photos will be posted on our Couples Photos page. So, send us your uncropped, 300 dpi/high res photo with your first and last names, and how many years you've been married. You can see all the fabulous couples photos we've previously received here.
The lucky couple will be drawn and contacted by the end of February through email, and also announced on our website.
We Can All Be a Winner!
Even if you aren't selected as the winner of this Valentine's Day giveaway, you can still be a winner by reserving a room at The Anniversary Inn for you and your honey! You'll love the in-room jacuzzis, complimentary sparkling cider, and cheesecake, as well as the delectable complimentary breakfast. It's one of my favorite places to stay for a romantic getaway!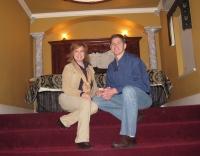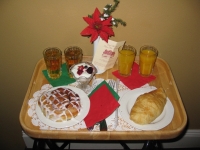 Click here — "Couples Photos" page
Click here — previous Valentine's Giveaway information