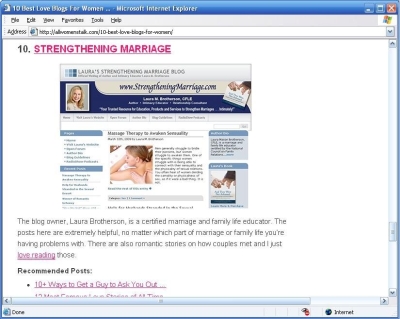 What a delightful surprise to find that "Laura's Strengthening Marriage Blog" was selected as one of the Top 10 Best "Love" Blogs for women by the AllWomenStalk.com website. I was in good company with other blogs from "Understanding Men" to Glamour magazine.
Here's what they had to say about our blog:
The blog owner, Laura Brotherson, is a certified marriage and family life educator. The posts here are extremely helpful, no matter which part of marriage or family life you're having problems with. There are also romantic stories on how couples met and I just love reading those.
Considering that our purpose is to strengthen as many marriages as possible, it's wonderful to see the expanded reach and continual growth of our efforts here at StrengtheningMarriage.com.