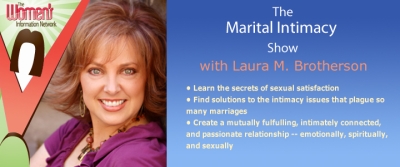 Things are rolling along with our new online audio program "The Marital Intimacy Show" part of the fabulous Women's Information Network (The WIN). Check out our current shows and watch for many more exciting shows to come. We'll be discussing:
Steps to Strengthen Your Marriage Sexually
Affair Proofing Your Marriage
Overcoming Obstacles of the "Big O"
Jumpstarting Your Marriage
Secrets of Sexually Satisfied Wives
Divorce Proofing Your Marriage
…and much more!
Become a fan of "The Marital Intimacy Show" Facebook page to stay current on the latest happenings with "The Marital Intimacy Show." You'll get regular updates about the latest episodes as well as helpful tips to make your marriage great.
This is must hear stuff for all those who want to have an intimately connected and passionate relationship — emotionally, spiritually and sexually!