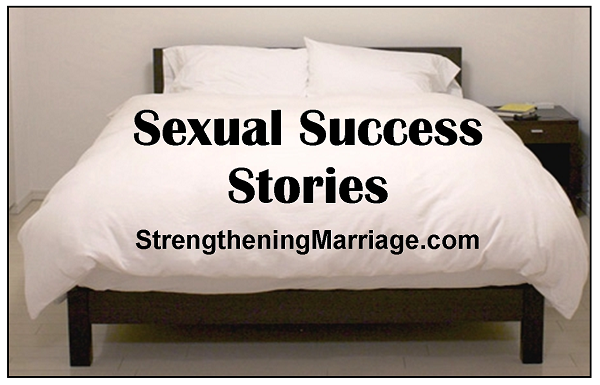 I Now Understand Her Sexual Inner Workings — Success Story #11 — StrengtheningMarriage.com
(Sexual Success Stories … from "HIS" Perspective)
Laura,
First of all, I want to thank you for what your books and advice have done for our marriage and especially for our sexual life. When we were first married, my wife wanted to read your book And They Were Not Ashamed, and at that point in my life I thought I knew better and didn't need to read books like that. I was very immature and not humble.
Well, fast forward to about three years ago and was really wanting things to be better in our marriage and our intimate life. I decided to read your books. I am kicking myself for not doing it sooner. I am married to such an awesome woman. She is my rock. She is always hungering for knowledge and she has helped me gain that desire to learn by her example.
As I started to read your books, I quickly saw what I needed to do as a husband to help her feel loved and sexually satisfied. It also helped me understand her sexual inner workings and helped me practice focusing on her pleasure. All I can say is the rest is history!
We have been married for 20 years and we now have the best marriage and intimacy that we have ever had. I just feel bad for my wife for the first 15 or so years that I wasn't humble enough to learn how to please her emotionally or sexually.
I know that you probably get these emails a lot but I just wanted to thank you for writing these books to help others discover what sexual ecstasy can feel like. Also, we liked your first book so much that we bought the Knowing HER Intimately book and even though I didn't think it was possible it helps us find even more pleasure.
It is mind-blowing how following your suggestions have help us reach a place we never thought possible. That inspired us to buy your new book as well From Honeymoon to Happily Ever After.  They are all AMAZING. Thank you for all you do.
~Sincerely one VERY satisfied reader
————————————
Share Your Sexual Success Story
We're excited to provide a helping of hope to our readers through these success stories. We'd love to hear your stories of success in improving your own intimate relationship. You can email them to us here with "Success Story" on the subject line. We'll make them anonymous by changing names and identifying info. They will be posted here on our website, or used in other ways to help encourage and inspire others to strengthen their marriages sexually.
Click Here — to read all our Sexual Success Stories!
————————————