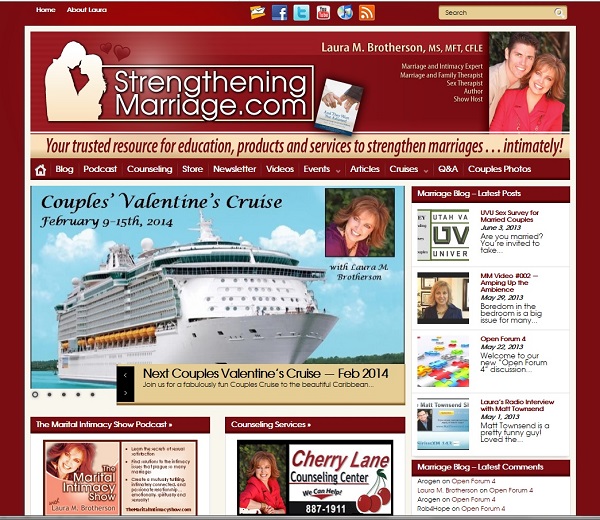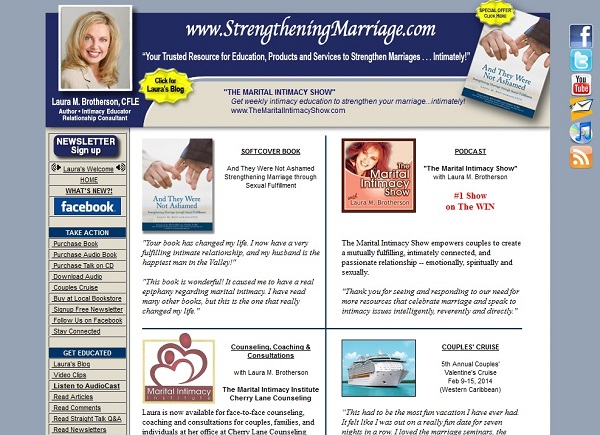 NEW — StrengtheningMarriage.com               OLD — StrengtheningMarriage.com
Celebrating the New StrengtheningMarriage.com
After more than 10 years we are thrilled to announce that StrengtheningMarriage.com has received a fabulous makeover! It was 10 years ago on April 6, 2003 that our website StrengtheningMarriage.com was born!
Under One Roof
We're excited to get everything together under one roof, so that you'll find it even easier to utilize our many resources for strengthening marriages intimately! We hope you'll take a look around and see what you can find:
Our Story
Thanks to my brother Jared Mason for being my fabulous, original website developer, who has faithfully and fervently worked to figure out how to do almost everything I have asked him to (…and at a great price no less! It's the family discount!)
Thanks to my darling husband, Kevin, who is also a computer programmer/software developer and has done a lot of the upkeep for me over the years. While he too has given me a great deal on his computer programming services, I do try to pay him well! ; ) …our accountant referred to him as my "highly compensated research assistant!" ; )
This new website wouldn't have been possible if it weren't for the skills and willingness of web developer Nathan Coffey who encouraged and willingly took on this major overhaul of StrengtheningMarriage.com. He too has worked tirelessly at finding solutions to problems until we get it right and get it done! He's been a godsend!
Stacia Hopkins has been invaluable as my virtual assistant helping with many of the final details of the website….though we may have a little polishing yet to do. (Just so you, our website visitors, won't quite expect perfection yet!) And David Malmstrom has taken great care of our Marital Intimacy Show podcasts and RSS feeds! Thank you! Thank you!
We're now ready to move onward and upward into the next century to even more new and exciting adventures! (…like our next book and other ways to reach more couples than I can feasibly see in my counseling office!)