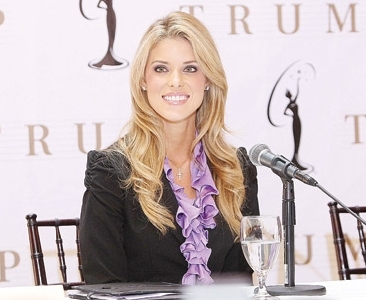 Carrie Prejean, Miss California USA, gave an honest answer to a politically charged pageant question more than three weeks ago, and has been viciously attacked ever since.
I've been appalled and disgusted by all who have sought to ruin the life and reputation of one who chose to voice her honest and widely held, yet "politically incorrect" opinion about the nature of marriage.
It warms my heart to see her courage and conviction in the face of such an overwhelming onslaught of contempt. Her experience has encouraged and inspired me immensely to continue to stand firm for marriage.
I am heartened to hear of the hundreds and thousands of people who have offered their support for Carrie and her views during the character assassination she has regrettably had to endure.
It's unfortunate that we have had to learn from Carrie's experience that intolerance for Christian or conservative beliefs runs rampant. It's interesting that such a level of intolerance even exists given the ardent pursuit of "tolerance" championed by the left.
We have seen that an outright effort to search and destroy often takes place when religiously based views are publicly expressed. That critics would stoop to the depths of digging up dirt from Carrie's parents' divorce is unconscionable.
Defenders of Marriage Need Not be Perfect
Carrie Prejean is not perfect. None of us are. She's done some things I don't necessarily agree with. But, let's be clear that defenders of marriage or any other religious belief need not be perfect to speak up or stand up for that which they believe is right and good for society.
I've said it before that I'm not a big fan of pageants or modeling, as I believe they increase the chances of having to compromise one's standards and beliefs. It's not a career choice for those concerned about modesty.
But this notion held by some that those who profess religious beliefs must somehow be perfect in order to express an opinion is an unacceptable standard that must be rejected outright.
Carrie was unwittingly forced into a public firestorm after expressing her sincere belief that marriage is the union of a man and a woman. (Incidentally, expressing one's opinion is still a constitutional right in this country, though it will be seriously weakened if so-called "gay marriage" advocates have their way.)
It's quite telling that you simply never see anything like the kind of attack Carrie has endured when the comments voiced are left leaning.
Thankfully many have risen to the occasion to offer support even amidst Carrie's mistakes of the past. Maybe other young women will learn that posing for any questionable photos is not a good idea.
Still Standing Strong
In a press conference on May 12, 2009 Miss California, Carrie Prejean, shared some of her story since standing up for marriage:
Being at the center of a media firestorm is not something that I had planned or signed up for. But the days since have taught me to stand up for what you believe in regardless of the consequences, personal attacks, or disagreements…. I am not an activist, or anything, nor do I have a personal agenda. I was thrown into this firestorm from the time I was asked the question on stage. I have become an advocate for the importance of not redefining marriage based upon my own upbringing and beliefs. While I am not the most vocal proponent of traditional marriage, it appears that by my singular response I have become the most visible.
Carrie went on to say, "Young adults and teenagers are greatly impacted by both media and culture, and I want to encourage them to maintain their integrity and not concede their values because of what they see or hear going on around them."
Never Back Down
Carrie went on to tearfully express her pride in America and her appreciation for those who have fought for her freedom of speech (which has been under attack):
I am proud to be an American. I am proud of the freedoms we enjoy because of the brave men and women serving this great country and who have served. My grandfather served under General Patton during World War II and is someone I admire greatly…. He did speak about the freedoms he fought for, and taught me to never back down and never let anyone take those freedoms away from you. On April 19 on that stage I exercised my freedom of speech, and I was punished for doing so. This should not happen in America. It undermines the Constitutional rights for which my grandfather fought.
Although her life has been significantly altered since that fateful question weeks ago, Carrie Prejean expressed her newfound understanding of the purpose of the nasty experiences she has endured since speaking in support of marriage.
She has been strengthened by the ordeal, and has developed a passionate conviction for encouraging us all to stand for our values and beliefs. She stated:
I am convinced now more than ever of the importance of standing up for your beliefs and convictions. For everyone out there listening—Do not be silenced! Take this story of mine and apply it to your own life. I hope I have inspired others to maintain compassion, civility, respect and tolerance while staying true to your convictions, and to never, ever compromise your beliefs in the pursuit of his or her own goals—regardless of the consequences.
We Can Agree to Disagree
In her closing comments, Carrie Prejean made another great point suggesting that we all show respect for each other's differing views, and simply agree to disagree on the issue of marriage. She said, "Think about how much better out society would be if we could just agree to disagree and show respect."
In all my study and pondering on the subject thus far, simply agreeing to disagree seems to be the only viable option.
Contrary to some opinions, standing up for marriage has nothing to do with "hatred" toward anyone, and everything to do with a belief in marriage and it's vital role in raising children and sustaining civil society. This is not about being against anyone or anything. It's about being for marriage.
Why Marriage Matters
A well-known media personality recently commented on how public opinion had significantly shifted on a politically charged issue in favor of the conservative perspective. He noted that it was because of constant effort to teach the truth about the issue.
Taking the time to reinforce the importance of and truth about marriage allows hearts and minds to be proactively influenced for good. Protecting the definition of marriage holds within its grasp the keys to protecting our freedom to speak and our freedom to live by our religious beliefs.
The marriage debate often gets muddled with a lot of secondary distraction. So, I reiterate here what's at stake in the marriage debate. The issue is threefold:
Marriage is a sacred institution for rearing children. It is not up for redefinition.
Freedom of speech is at stake.
Freedom of religion is under attack.
Marriage as a sacred institution. Marriage is a sacred institution instituted by God for the procreation and ideal rearing of children by a biological mother and father. As it states in "The Family: A Proclamation to the World," "Marriage between man and woman is essential to [God's] eternal plan. Children are entitled to birth within the bonds of matrimony, and to be reared by a father and a mother who honor marital vows with complete fidelity."
Marriage is the best method for raising healthy, happy and well-adjusted children even though we all fall short of perfection in marriage and parenting. The definition of marriage—divinely designed by God—is not up for human redefinition. People may have the right to live as they choose, but they don't have the right to redefine marriage for the rest of us.
Freedom of Speech. As Carrie Prejean's chilling experience so well illustrates, one's belief in God's design for marriage puts you at risk of being silenced in the public arena. If marriage were to be officially redefined, we might all be accused of "hate-speech" in speaking out for traditional marriage. It's already been happening around us.
On the side of teaching children, you can bet that our children will be taught that a man and a man or a woman and a woman (or whatever combination they come up with next) will be an acceptable alternative to a husband and wife. The inevitable message will be sent that a father or a mother is unnecessary and/or unimportant in raising children if same-gender couples become redefined as equal to a mother and a father.
Freedom of Religion. According to the National Organization of Marriage (NOM) prominent religious liberty scholars have warned that any legislation changing the definition of marriage to include same-sex couples would weaken religious liberty.
Imagine a Christian minister being forced to perform a same-sex ceremony against his beliefs. Religious beliefs supporting traditional marriage would no longer be sufficient protection.
For a country founded on the freedom to worship and live by religious principles, religious freedom must be protected.
Fear Not
In watching the ongoing drama surrounding Miss California and the issue of marriage, it has at times seemed disheartening. The hate and contempt displayed has been astounding.
Although the battleground for marriage may seem particularly rancorous at times, I take comfort and direction from the scripture, "Fear not: for they that be with us are more than they that be with them" (2 Kings 6:16).
The issue surrounding marriage is not just about two individuals and their private lives. It's about the future for our children, for civilization, and for our freedom of speech and religion. The issue of marriage has become Satan's latest battleground to weaken marriage, family and society.
I join Carrie Prejean in her call to stand for marriage, and never back down. We must not ever allow ourselves to be silenced. What's at stake is simply too great.
~~~~~~~~~~~~
VIDEO – May 12, 2009 Press Conference with Carrie Prejean
For more information: