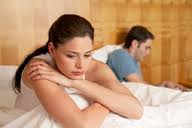 Sexual incompatibility is pretty inevitable in marriage. Because of some recent emails, I wanted to make sure we are clear on the fact that marriage will inevitably have some challenges for couples to overcome in the bedroom.
When we hold the notion that we won't have any differences or incompatibilities in marriage it can set the stage for marriages to break up unnecessarily. Here's what got the conversation going:
"With sex being one of the major causes of divorce this seems to be the great paradox of the law of chastity. If I ever am in a position to get married again, due to divorce or death (of course I hope that neither of those things happen), I will only marry someone who has been married before, so I can be sure they like sex at least as much as I do."

"The single thing that is forbidden before marriage seems to be the first cause of marriages to break up. What do we expect of couples who marry as virgins and find themselves completely sexually incompatible? Is there a way to prevent this from happening without premarital experiences?"
Here are some of my thoughts in response:
Any couple that gets married would be wise to expect that there will be some degree of sexual incompatibility. It's a myth to think that if people just had sex before they got married then they wouldn't have any incompatibility problems. It's not true. It's also a dangerous lie that Satan would love (and does) perpetuate.
Sexual Compatibility Test
Some have wondered about some kind of a premarital "sexual compatibility test." While there is no "test" you can give someone prior to marriage to guarantee they will turn out to think and feel like you do concerning sex, there's a lot couples can read, learn and discuss before marriage that can give them a much better idea of their future sexual relationship (…just as they would discuss finances, having children, and future household responsibilities).
Parents and others aren't always helpful in preparing couples sexually for marriage when they don't teach their children about sex, nor do they make it a welcome subject of discussion.
Sexual Incompatibility is Built in
My opinion is that God designed husbands and wives with sexual "incompatibility" that was intended to be overcome through marriage.
Sexual compatibility is a learned behavior…NOT something you can "test" for. It is the opportunity and responsibility of husbands and wives to learn and grow together sexually, and in all other dimensions as well, throughout the adventure of marriage.
Even if someone has been married before there is still absolutely no guarantee that they will know how their sexual relationship will be with a new spouse. They may tell you whether they liked sex in their previous marriage, but it's not like they're definitely going to tell you if they didn't, anyway.
And since sex is about more than just the "physicalness" of the relationship, they would have no way of knowing how your new relationship and the emotional connection would affect their sexual feelings down the road anyway.
Do You Like Sex?
When you get the fact that it's the emotional wiring and interpersonal connectedness of the whole relationship coupled with mostly unconscious sexual attitudes and beliefs that really determine much of the sexual relationship, then you'll see that it's less about whether they've ever "liked sex in the past" anyway.
I don't think a lot of people are self-aware enough to accurately answer the question of "Do you like sex?" anyway. Most everyone will say that they do. People in a the dating and courtship stage of a relationship are not likely to say they don't.
In addition, there are too many other variables that can change things in a new relationship, such as life-altering challenges of various kinds, that can affect one's sexuality. Even just having a baby, comes to mind, as something that can significantly affect the sexual relationship.
Growth Required in Marriage
The psychological journey of marriage suggests that each of us are only going to be attracted to someone that will require us to grow.
We are divinely designed to be attracted to people who's psychological makeup is such that they will unconsciously and consciously demand us to grow in ways that we may not want to and may be particularly difficult as well.
Men and women are simply different–emotionally, mentally, sexually. Even if two people both love sex in the beginning of their marriage things can change as life comes along, i.e children, health challenges, career changes, etc.
I'm convinced that the divine designs of marriage specifically include the inherent sexual INcompatibility that a husband and wife will inevitability experience at some point in their marriage.
What is Sexual Incompatibility Anyway?
Sexual incompatibility at it's most basic level is the inability of one or both spouses to make the necessary changes to grow and develop in the ways that are needed, coupled with a basic lack of understanding of the ways men and women are sexually wired differently.
And, of course, at the root of incompatibility is that we always want the other person to do the changing! They should change this, or they should be more interested, or they should be nicer, or they should … the list goes on forever!!
When we finally get the fact that it is from a state of trusting in a "smarter-than-us" God, with great faith and humility, that we will realize that we can only directly change ourselves, and then if we get busy doing that, then we'll be able to get rid of sexual incompatibility in marriage.
Greater Purposes of Sexual Incompatibility
I can't help but wonder if developing faith and patience and charity and compassion are really what sexual incompatibility in marriage is all about anyway. I can't think of a greater motivator for people to have to learn to develop these Christ-like characteristics than struggling with some sexual incompatibility issues.
Don't buy the lie that "if we'd just had sex first" we'd know if we were sexually compatible. The implication is that with premarital sex could somehow tell ahead of time what things are going to be like sexually in our marriage.
My experience as a marriage counselor has taught me that premarital sex often results in guilt and shame that are difficult to shake.
Marriage is by divine design a surprise grab bag. The pseudo-relationship of sex outside of marriage is not even close to the real thing anyway. So what might happen outside of marriage sexually is not an accurate indicator of what the sexual relationship will be once true commitment of heart, mind and soul occur within marriage.
Get Educated and Better Prepared for Sex in Marriage
Certainly I'm all for getting educated sexually and discussing the future sexual relationship and each other's expectations prior to marriage, but within marriage our job is to then work with what we have, and find ways that we personally can make things better!
I know it's easier said than done to really work on your side of the sexual relationship issues. For many people they'd rather stew in the fantasy that someone "out there" is a better sexual match for them.
By accepting the fact that sexual incompatibility is inevitable in marriage, we can then be empowered to shift our energies from wallowing in what we don't like about our sexual relationship to proactively changing what we can.
A sulking spouse is not very attractive. Instead that spouse can begin to change his or her responses, behavior and attitudes toward their spouse. It's amazing how one person can shift the dynamics of the relationship when they decide to engage in more positive behaviors. It's the best way to move forward and upward in your marriage.
Can Sexual Incompatibility Be Prevented?
So my answer to the question, "Is it possible to prevent sexual incompatibility?" is "Yes," it can be prevented or at least reduced by better preparation for marriage, but the answer is also, "No," in that there will still be some degree of incompatibility once you put all the pieces of marriage together.
By all means discuss it ahead of time with a potential spouse. Go with your gut feeling of whether this might be a major issue in your marriage.
But once you get married, whatever the sexual situation is that you end up with — that's what you have to work with, as well as you possibly can, with the assumption that YOU will need to learn some things and change some things, whether it be your attitude, your responses, your patience level, your level of patience and understanding, your thoughts and core beliefs, or your degree of faith, etc.
Chastity Creates No Paradox
Regarding the comment about the law of chastity …there is no paradox in the law of chastity. In fact, the law of chastity has no direct relation to the degree of "sexual compatibility" (or incompatibility) you'll find in a future marriage (as some might suppose), except maybe that the lack of premarital chastity has the potential to cause all kinds of additional problems.
Sexual incompatibility is inherent in a marriage between two different people. It's what we do with it in our marriages that matters!