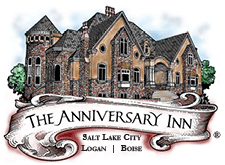 The Anniversary Inn, my favorite couples getaway, is holding their annual "Christmas at The Inn" event December 1st – 3rd where you can reserve a romantic one night's stay in any of their beautiful themed suites for only $159. This is a once-a-year opportunity to get an incredible price on a night's stay in the exquisite Anniversary Inn.
Rooms regularly cost up to $289/night. With this Christmas special, you can reserve any room, any night good up to a year in advance for $159 ($149 if you bring in a toy or food bank donation during the event).
You can bring in your whole family to enjoy some cookies, cider and free pictures with Santa. While you're there enter to win a night's stay. Reserve your room, or get a gift certificate for your honey. You've got to see these fabulous suites for yourself (or check them out online)!
These suites are all elegantly designed, and include a two-person jetted tub, cheesecake desserts, and a delicious breakfast brought right to your door. Check out all the fun rooms at www.AnniversaryInn.com or call them for additional details.
I just got back from the Boise event where I reserved our Christmas getaway to The Anniversary Inn. I'm not sure if this is my husband's Christmas gift or mine, since I love getting away from it all at The Anniversary Inn. So, if you're stumped on what to get your honey this Christmas, consider a romantic getaway to The Anniversary Inn.

Here are the "Christmas at The Inn" dates (though the $159 special offer is good anytime between Dec. 1 – 3, 2009):
December 1st 1-9 p.m. 1575 South Lusk Avenue in Boise, Idaho. Check out the new Bronco suite.
December 2nd 1-9 p.m. 460 South 1000 East in Salt Lake City, Utah. Check out the new Romeo's Retreat and the two Twilight suites.
December 3rd 1-8 p.m. 169 East Center Street in Logan, Utah. Check out the 13 new suites.