BOOK REVIEW — Ridiculously Happy! The Secret to Manifesting the Life and Body of Your Dreams by Carol Whitaker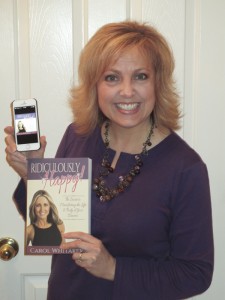 What a breath of fresh air this book is for those wanting to change their default thought processes about themselves, their body and their life. With body image a major issue for women and having a big effect on the intimate relationship of marriage, I regularly recommend that my clients get this book through audio download and listen to it everyday as they are getting ready in the morning or whenever else they can.
It's difficult to change the stinkin' thinkin' that tends to run rampant in our minds. Most of us can use a shot in the arm everyday to keep our thoughts moving in a positive direction. I'm a huge fan of this book Ridiculously Happy by Carol Whitaker and try to listen to a bit of it every day myself!
Here's what else I had to say about Carol Whitaker's book in my own endorsement:

"By connecting with one's Divine Self, Carol has captured the essence of transformation from within. Like a diet for the mind, Ridiculously Happy guides you on a spiritual journey allowing you to harness the power of the mind, body and spirit to achieve a level of mental and physical wellness one may not have thought possible. I'm a big fan of energy therapy and love that Carol shares the EFT tapping technique, which anyone can quickly and easily use to find peace and healing in their lives. This book is a must-have!"

~ Laura M. Brotherson, MS, MFT, Marriage and Family Therapist, Author of And They Were Not Ashamed–Strengthening Marriage through Sexual Fulfillment.
For more information about Carol Whitaker, her book and her coaching services visit — CarolWhitaker.com