"The Dating Divas" SPECIAL! Get Laura's Book!
50% off … just $9!
And They Were Not Ashamed–Strengthening Marriage through Sexual Fulfillment
(only thru Fri 3/22 at 12 midnight MST)!
~ SUBSCRIBE to Laura's Newsletter! ~
Below you'll find the presentation slides for Laura's "Meeting Each Other's Intimate Needs" tele-seminar on Thursday, March 21st, 2013 at 7:30 p.m. (Pacific Time) / 8:30 p.m. (Mountain Time) for The Dating Divas 3rd semi-annual "Successful Marriages Tele-Retreat!" We'll also add to the bottom of this post any resources that we discuss during the Q&A portion of the call. So be sure to Subscribe to Laura's "Straight Talk about Strengthening Marriage Newsletter" to make sure you get the additional information!
If you missed the call, but want to hear it you can access the recording of the seminar by signing up for The Dating Divas Marriage Club for a small fee. You can learn more here on The Dating Diva's "Meet the Expert — Laura Brotherson" post!
ENJOY the show!!! : )SEMINAR SLIDES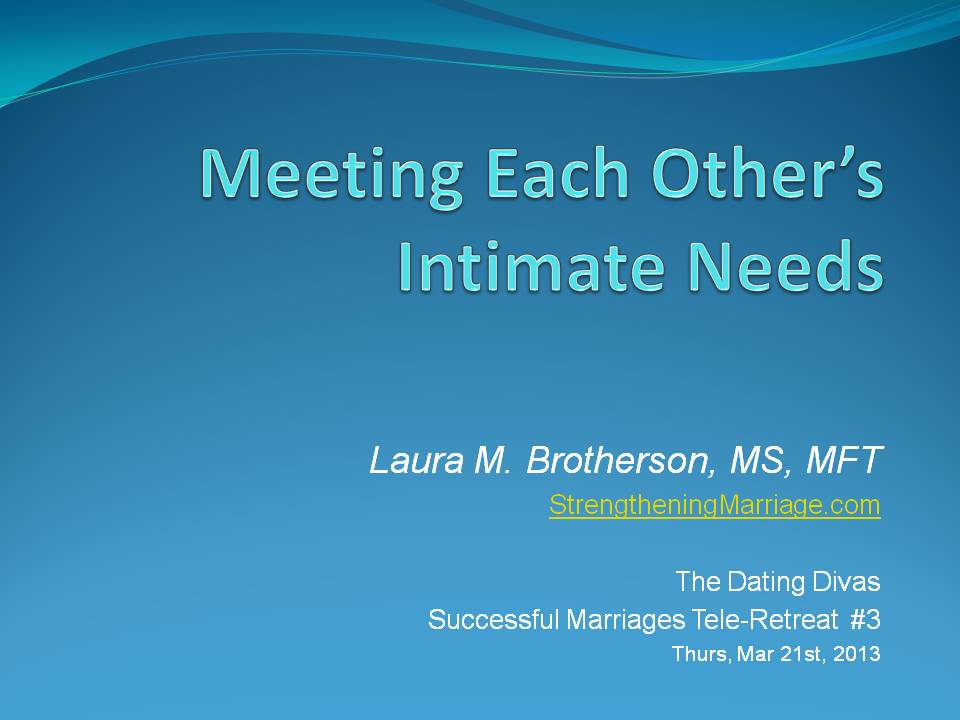 1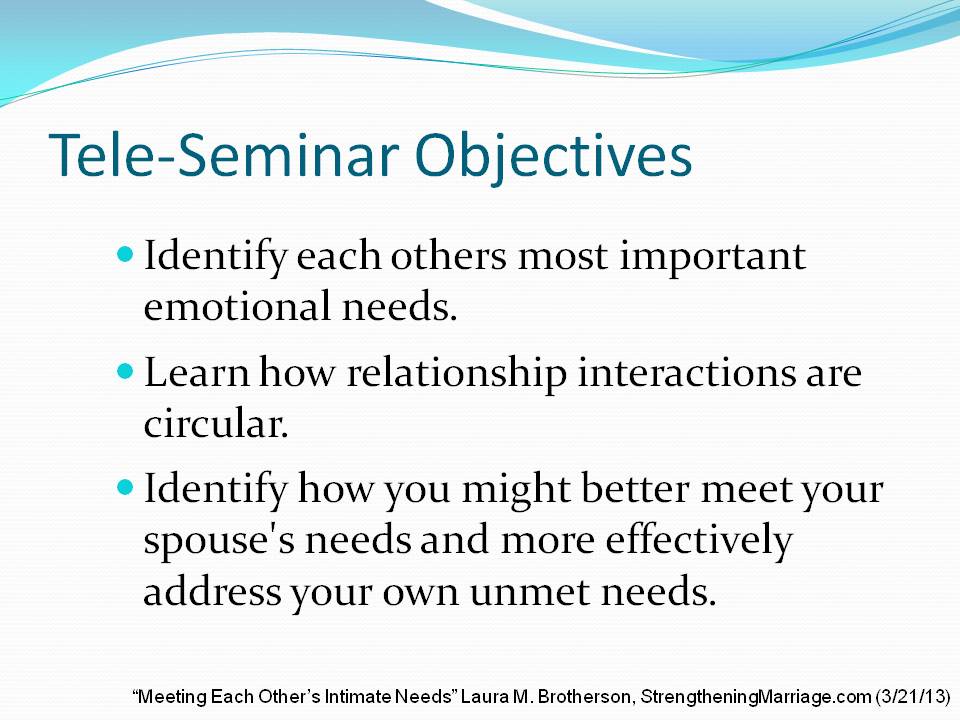 Related Resources (discussed during the seminar and Q&A segment):
ARTICLE — "Daddywork — A Great Aphrodisiac for Wives"
LAURA'S WEBSITE — StrengtheningMarriage.com
LAURA'S PODCASTS — The Marital Intimacy Show by Laura M. Brotherson
BOOK — The 5 Love Languages: The Secret to Love That Lasts by Gary Chapman
BOOK — His Needs, Her Needs: Building an Affair-Proof Marriage by Willard F. Jr. Harley
BOOK (Stepfamilies) —  How To Win As A Stepfamily by Emily & John Visher;  Strengthening Your Stepfamily by Elizabeth Einstein, Linda Albert — Review: "This is the perfect resource for all who are considering stepfamily living or have already committed. It is not just a book about stepfamilies, but instead a detailed manual on how to create a strong stepfamily unit. The ideas and strategies are clear and compelling. Be prepared to enjoy coming home!" – Jon Carlson
BOOK (Stepfamilies) —  Remarriage Checkup, The: Tools to Help Your Marriage Last a Lifetime  by Ron Deal, David Olson — Review: "Ron Deal, the leading Christian remarriage authority, and David Olson, a seasoned marriage and family expert, give couples hope that they can have strong, healthy marriages. Their advice grows out of Olson's National Survey of Couples Creating Stepfamilies, the largest study of its kind ever conducted. As couples work through the chapters in conjunction with an online Couple Checkup, they'll discover ways to improve all aspects of their marriage and build on its strengths."
SEMINARS — All of Laura's Dating Diva Seminars, etc.
Past Seminar #2 — "Emotional Foreplay" (Sep 26, 2012)
Past Seminar #1 — "Three Keys to Spicing Up Your Sexual Relationship" (Apr 18, 2012)
CARTOON — Everyone wants to change their spouse, but no one wants to do the hard work of changing themselves.