We've received nearly 700 responses from our Male Sexuality Survey thus far (1/10/19 thru 2/1/19). How awesome is that?! If you haven't yet taken our Male Sexuality Survey, there is still time as it will stay open for at least a few more weeks. You can find out how to take the survey by scrolling to the bottom of this page. Here are just some of the initial results from the survey:
(Click on the images to view full size)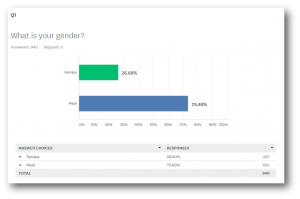 It's nice to have some insights from women as well!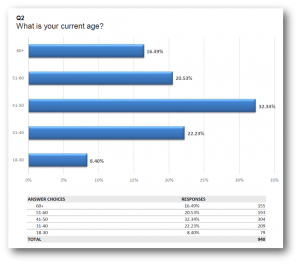 It is nice to have a full range of ages that have responded to this survey.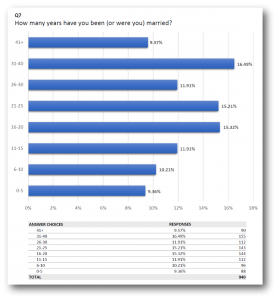 It's also cool to have respondents with such a full range of "years married."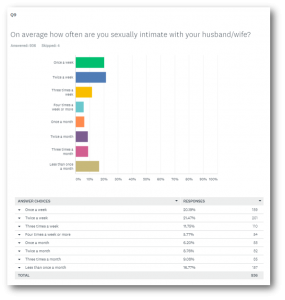 59% respondents are having sex 1-4+ times/week while 41% are having sex 3 times/month or less.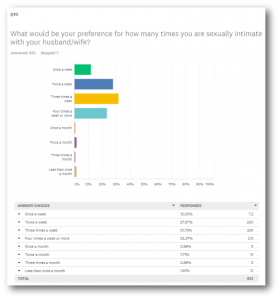 95% of respondents would prefer to be having sex 1-4+ times per week; while 5% would prefer to be having sex 3 times a month or less.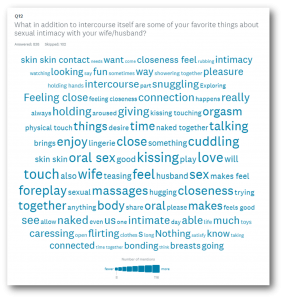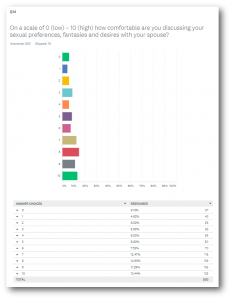 That's quite a range of comfort levels in discussing sex with one's spouse.
Interesting to note that most men rated themselves and their "elevator music" an 8 on the scale (21%) with 81% of men rating themselves at a 5 or higher on the 0-10 scale.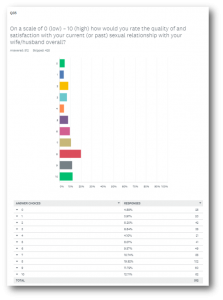 That's pretty impressive that over 54% of respondents rated their satisfaction with their sexual relationship at a 7 or higher on the 0-10 scale.
~~~~~~~~~~~~
*The survey is now closed*
Stay tuned for additional survey results in our upcoming newsletters and in our next book!