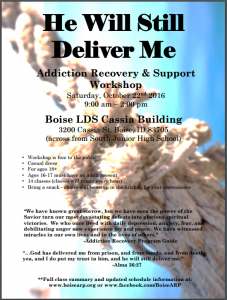 LDS Addiction Recovery Conference
Saturday, Oct 22, 2016, 9 a.m. – 2 p.m. (Boise, Idaho)
Presentations by Laura M. Brotherson:
"Spiritual Surrender – How to be Okay when you're not Okay"
"Addiction Recovery – Keys to Success"
If you or someone you love is dealing with compulsive or addictive behaviors, you'll love this excellent conference and find much help and healing. It's FREE and well worth any travel!! This conference is designed to help educate individuals about pornography addiction and other compulsive behaviors, pointing all to Christ for hope and healing.
Click Here – for class schedule and presenter information!
Click Here — for more information about LDS Addiction Recovery