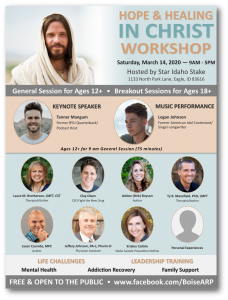 Hope and Healing in Christ Workshop
Saturday, Mar 14, 2020, 9 a.m. – 5 p.m.
1133 N Park Ln, Eagle, ID 83616
FREE & Open to the Public
Don't miss this excellent and free workshop on education and support for Addiction Recovery, Family Support and Mental Health! Join Laura at this annual "Hope and Healing in Christ Workshop," featuring Tanner Mangum, former BYU Quarterback, as the keynote speaker and music performance by Logan Johnson, former American Idol contestant and singer/songwriter. Listen to Laura present on the following topics:
Topic 1: "Your Toolbox for Tackling Depression"
Topic 2: "Spiritual Surrender: How to Be Okay When You're Not Okay"
You'll learn about addiction recovery, support for family members, and get help with mental health challenges! This is for you whether you have personal experience with addiction or mental health issues or know someone who does and want to better understand how to support them. Get all the details here!
Schedule Coming Soon!