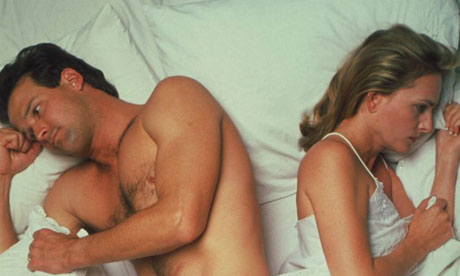 Help for Husbands Stranded in the Sexual Desert
by Mark Chamberlain
Aaron was crying, too, as he drew Katy close to him and held her. Then he looked her in the eyes and said, "I hope that in time you'll find it in your heart to forgive me for how immature I was back then. I'm sorry that my eagerness and sense of entitlement wounded you so deeply. I was wrapped up in what I wanted and thought I "deserved."
LAURA'S NOTE: After some talk of the interesting discussion going on here in the Open Forum Discussion of this blog regarding husbands who find themselves in a sexual desert in their marriages, my good friend and fellow author, Mark Chamberlain, penned some suggestions below that may be of benefit to the many couples who long to find greater intimate and sexual fulfillment in their marriages. Here is an overview of his suggestions:
Stop fanning the flames of frustration
Replace certainty with curiosity
Consider how you might unintentionally be making things worse
Listen to and address your spouse's concerns
Reawaken gratitude and positive perceptions
Build the foundations that support sexual intimacy
Identify and address any effects of trauma
Identify and address hormonal contributions
~~~~~~~~~~~~~~~~~~~~
Many and varied are the challenges that can prevent couples from enjoying a mutually fulfilling sexual relationship. Each marital union has a one-of-a-kind personality, owing to the individuality of each spouse and complicated further by the interplay when they come together. Because of unique histories, tastes, and idiosyncrasies, each marriage is a chemical combination heretofore untried–an experiment in the truest sense of the word.
While this kind of dynamism adds to the mystery and beauty of marriage, it can also give rise to differences of opinion, misunderstandings, and hurt feelings. Too often, wounds fester instead of fade. Couples end up stuck in a negative cycle, each partner unintentionally performing his or her own steps in an unfulfilling but persistent dance. Some couples spend years of their lives stuck in ruts of bitterness or silent frustration.
Effects of Mutual Respect
Couples in which both spouses are highly satisfied with their sex lives have some of the same differences dissatisfied couples have. Instead of considering themselves incompatible sexually, they respect each other's attitude and approach to sex. Their differences are treated as complimentary rather than competitive in nature.
The less interested spouse (more commonly the wife) is able to take her husband's greater intensity as a compliment and an honor to her attractiveness. She can say no at times to his advances without degrading him or his spirituality in her own mind.
Her husband is able to take no for an answer and continue to treat her lovingly and affectionately. He sees her sexual sharing as a prize he is willing to pursue patiently. He exercises the kind of self-restraint that permits him to view the delaying of his gratification in this area of life as a worthy endeavor, not a frustration that just shouldn't be occurring.
When spouses show the utmost mutual respect, they don't demonize each other for their differences. She doesn't see him as perverted because he's more sexually-oriented. If she's not interested in sex, she is conscientious about staying connected in other ways that are meaningful to him.
He doesn't see her as frigid or blame her for his own sexual temptation or inappropriate thoughts or behavior. Rather than view their drier times as impositions, he takes them as opportunities to exercise his creativity to show affection, love, and esteem in other ways. He willingly takes advantage of the opportunity to practice and perfect his mastery of self.
Of course, I've just described an ideal that even the well-adjusted couples may waver from at times. However, too many good and well-intentioned individuals find that their relationship is far from this ideal.
Fortunately, if this is the case for you, there are some things you can do to reverse negative patterns and help awaken—or reawaken—your spouse's sexual desire.
Stop fanning the flames of frustration
Replace certainty with curiosity
Consider how you might unintentionally be making things worse
Listen to and address your spouse's concerns
Reawaken gratitude and positive perceptions
Build the foundations that support sexual intimacy
Identify and address any effects of trauma
Identify and address hormonal contributions
Stop Fanning the Flames of Frustration
A husband's sexual frustration may be understandable, but for the sake of the future of the marital relationship it needs to be contained and reversed. Husbands must stop justifying their negative internal and external reactions. Husbands may feel like they "have the right" to continue to be frustrated, but it's sort of like having the right to take out a pistol and shoot yourself in the foot. Just because you can, doesn't mean you should.
It's important to interrupt overt and unseen frustration reactions. Whether you realize it or not, whether they seem to or not, whether it feels like you're keeping your feelings to yourself or not, such reactions are toxic and inevitably infect the relationship. When a woman senses that her husband is frustrated, and then on top of that feels like she's being blamed for it, her instinct is usually to draw away from him rather than to draw nearer to him.
It may seem to her that the only way out from under the blame that he is heaping upon her "unjustly" is to see him as the source of the problem. She becomes motivated to see him as being in the wrong—or perhaps even flawed as a person, and may "build a case" for that in her mind. This is the death knell of her intimate desire. She may feel compelled to view him, his expectations, and his very sexuality as distasteful, off-base–even extreme.
Replace Certainty with Curiosity
Confidence in your negative assessment of your spouse is the enemy of curiosity. Once we think we see "how things really are" and conclude that that's exactly how they're going to stay, we close ourselves off to understanding and growth. We no longer remain open to discovery and learning.
Unfortunately, at this point, the genuine reasons behind our spouse's reactions can't get through the wall of our certainty. Our spouse usually has very good reasons for responding the way they do, but we'll never discover those reasons unless we humble ourselves enough to admit that perhaps we don't know what's behind their reaction.
A more helpful approach is to assume that there are good, reasonable explanations as to why your spouse shuts down sexually. Assume that, if you could fully empathize with your spouse, experience her life the way she has, you would be responding exactly the way she does.
Assume that what she wants and needs feels just as important to her as what you want and need is to you. Assume that she may feel just as hopeless of attaining it, and that it causes her just as much distress as you feel over what you're missing in the relationship.
Consider How You Might Unintentionally be Making Things Worse
Unfortunately, the way we instinctively react when things don't go the way we want them to may exacerbate the very situation we find troubling. For instance, a husband who feels deprived sexually may begin to see his wife as asexual. When he feels frustrated by her unresponsiveness he may pull back from her emotionally. As a result, she may feel cut off, judged, and reticent to express any kind of physical affection out of fear that "it's never enough for him."
Keep in mind, as well, that the emotional connection between a husband and wife is what usually feeds female sexual desire.
She may also see her husband as oversexed and may even questions his righteousness. The more bothered she is by his actions and words, the more reactive she is in response. His "pathology" seems to grow in the same proportion as her concern over it. At the same time, her "pathology" (in his eyes) seems to grow in proportion to how threatening it feels to him.
Indeed, the proportions of each spouse's "pathology" do tend to match, since they're both contributing to the dynamics that are bringing about the very reaction in the other that they don't want. Each partner's role in the downward spiral is unintentional and often subconscious. In fact, couples are expert at seeing the other person's role in a problem clearly, while being woefully inept at identifying their own.
The problem between them was clearly evident two years into Ivan and Clara's marriage. When he climbed into bed, he often rolled toward her side of the bed and put his hand on her waist or hip. Over the months, Clara had become wary of any kind of touch. She felt that if she responded favorably, Ivan would almost always push for more.
When she wasn't in the mood for lovemaking, it seemed to her that she had to lie very still so that he didn't mistake her movement for responsiveness to an implied invitation. When Clara lied very still or seemed to be asleep, Ivan worried that perhaps his bid for her attention hadn't gotten through. He'd start to caress her or ask if she was still awake.
By the time they'd been together four years, they were stuck in a tug-of-war that neither of them would have predicted during their courtship. Clara always dressed out of Ivan's sight because she knew that her unclothed body turned him on.
She was very gun-shy about getting him excited, not because she didn't like sex but because she didn't like the way their interactions went when he was pushy or pouty—the only two modes he seemed capable of these days once the topic of sex came up.
Ivan was so hungry for affection that he felt desperate. He was on the lookout for any indication from Clara that today might be one of those extremely rare days in which she might be interested.
One morning, he was still in their bedroom when he heard her turn off the shower. He should have been out the door and headed to work by then, and usually would have been. However, he just couldn't pass up the opportunity to at least try to spark something that might turn into something more.
He walked into the bathroom. As he opened the medicine cabinet to grab his toothbrush (which was still wet from 20 minutes earlier), he looked in the mirror at Carla. "You are very sexy," he said with a smile. Carla sighed, seemed to roll her eyes, and quickly covered herself with her bathrobe. Ivan quickly re-brushed his teeth and left, feeling more hopeless than ever.
Listen to and Address Your Spouse's Concerns
In a tender moment with her husband Aaron, Katy admitted that the entire arena of sexuality had come to feel like an unfair playing field. How could she enter into that realm with him without feeling intimidated.
She knew that he had been disappointed early in their marriage because she'd had more reserved sensibilities about sex. With tears welling up in her eyes she admitted how painful it had been to realize that he wished he had married a girl more "like that"—meaning more sexually daring and provocative.
She felt that he would rather be married someone else. At first, Aaron couldn't believe what he was hearing. He remembered expressing to her some of his disappointment in how their love life was going, but he had no idea that it had affected her so deeply.
Yet here Katy was, describing how heartbreaking it had been to discover that she was a disappointment to him in this most intimate area of life. He had assumed that she didn't care about sex. He wondered now if at some point she had concluded that she couldn't afford to keep caring, when she felt like such a failure.
Aaron was crying, too, as he drew her close to him and held her. Then he looked her in the eyes and said, "I hope that in time you'll find it in your heart to forgive me for how immature I was back then. I'm sorry that my eagerness and sense of entitlement wounded you so deeply. I was wrapped up in what I wanted and thought I "deserved"—consumed with what I thought marriage was all about.
I was selfishly disappointment that you weren't more into sex, but I've never wanted to be married to anyone other than you. Over the years I've only developed a greater love and deeper bond to you. Despite everything, I've become ever more committed to you—to us."
After wiping away some of Katy's tears, Aaron continued, "I wish we could go back and start over in this one area of our relationship. I'd be so much more patient and tender with you. I wish I could prove to you that it's okay for you to be exactly who you are sexually. If that's 'nervous' for now, I want to be with a nervous Katy; if that's 'timid,' then I want to be with a timid Katy. I don't want anything more than being with you exactly as you are."
This is the kind of heart-to-heart clarification and discovery process that can help couples remove old impediments, clarify misunderstandings, heal emotional injuries, and close the distance that has left each of them feeling separate and alone. Things aren't going to be resolved for Aaron and Katy overnight, but interactions like these can at least get the momentum going in the right direction.
Reawaken Gratitude and Positive Perceptions
So how do you reverse the cycle and start a new one, if conflict or stagnation has been the norm? Instead of focusing on what's missing, you can start paying more attention to what is available. Often, even when important relationship elements are missing, there remains an abundance of ways to connect.
Keep track of what you enjoy about each other. Rehearse in your mind those things that you appreciate in your spouse and think about them when you're not together. You may even choose to write them in a journal or keep some other record. As your list of positives lengthens, your attitude toward your spouse will soften.
For years Greg and Jodi had been living more like roommates than a married couple. Early on, they struggled bitterly over sex. As their intimate relationship deteriorated to nonexistent, their friendship seemed to die with it.
When Jodi decided to start doing graphic design work again for online clients, Greg could have continued to keep his distance. However, he could see how excited she was and it made him miss being more a part of her life.
He made a point of going to find her at the end of the day when he got home from work, wherever she was in the house, and check in with her about her day. She would excitedly show him projects she was working on. She'd ask his opinion of design options and sought his guidance on financial decisions or with legal considerations.
Later, after their entire marriage had gotten back on track, both Greg and Jodi looked back to that time as a key turning point. When asked about what had made the difference, Jodi responded that each of them had somehow been able to make a fresh start. They both tried to interact in positive ways and didn't let themselves get emotionally swamped by resentments over the past.
Build the Foundations that Support Sexual Intimacy
If you remained chaste while dating, chances are you didn't feel miserable and deprived all the time. You enjoyed hand holding, being physically near each other, the scent of her perfume, or the way she looked at you in those moments when you felt close to each other. Those bridges of connection may not have seen much traffic recently, but that doesn't mean they no longer exist.
Take time to kiss her before you part in the morning, to touch her on the shoulder or hug her when you arrive home at the end of the day. Take a half-step into her personal space when you're talking about something important. Hold her gaze more often when you're conversing.
Some couples find that it's helpful to temporarily remove sexual intercourse as a consideration and go back to the kind of intimacy they shared when they were first dating.
Wanda remembered that she and Ken had plenty of desire for each other before they got married. They kept their relationship in-bounds according to their religious beliefs, but they felt a building sense of yearning for each other.
Since then, things had deteriorated to the point that they felt very little spark for each other, so she suggested that they go back to doing what they were doing when their passions were at their hottest.
They decided to take sexual intercourse out of the equation for a time. They spent more time gazing into each other's eyes. They kissed and kissed and kissed, rediscovering the art of light, tender kisses and "all-out making-out."
In fact, now that they kissed more and could be physical in ways that they had tried to avoid when they were dating, they stumbled upon some things that were quite titillating and erotic. They went on more dates. And they were excited to see each other at the end of the day.
They more thoroughly enjoyed the time they spent together and longed for more. They didn't rush their way back to intercourse, but built toward it incrementally, as they came to cherish each other more and more. As a result, sex became more meaningful, more charged with emotion. It became a way to convey caring and feel closer to each other.
Identify and Address the Effects of Trauma
Olivia remembered being warned that her relationship with her husband might be affected by the sexual abuse she had suffered as a child. However, when things seemed to be going fine seven years into their marriage, she figured she had dodged that bullet because Trent was such a great guy and she trusted him so much.
It wasn't that big a deal to her that she had never experienced an orgasm—or at least she didn't think she had. And Trent didn't seem to mind that it usually required quite a bit of advance notice for them to have a successful intimate experience. Katy didn't know that many women didn't have it as hard in "working themselves up for" and prepare themselves mentally for lovemaking the way she did.
It was Trent's concern that finally convinced Olivia to seek treatment. Over a three month period, she talked with a counselor about the abuse she had suffered and some of things that had long troubled her about it. She had been molested by a brother who was three years her senior. He came into her room at night and touched her genitals while she pretended to be asleep.
This went on over a two-year period, and toward the end he began to get more aggressive. It was then that Olivia knew she had to build up the courage tell her parents. Sitting at the kitchen table and telling them that night was the hardest thing she had ever done. The abuse stopped immediately and her brother was required to leave the family home for a time and get treatment.
The counselor asked Olivia to describe the abuse she had suffered. It was the first time she had talked out loud about some of the things that had happened. The counselor listened and asked questions. At the end of the second session, he said, "It can be important to get these things out in the open. It is a shame that all of that happened to you, a real shame. However, those events, those acts, are not yours to be ashamed of."
Perpetrators commit destructive acts in a shameless way. Sometimes victims, sensing the vile nature of the behavior, end up taking on the shame that should belong to the perpetrator. It feels as though someone needs to feel guilty about what happened. And if the perpetrator is not taking responsibility or feeling an appropriate sense of shame, the victim becomes a scapegoat for all those bad feelings.
Throughout the following week, Olivia had a flood of memories of events and the guilt and shame she had felt over them. Feelings, she could now see, that had been displaced from where they really belonged. She had felt ashamed of the bodily maturational changes that had seemed to attract her brother, ashamed that some of the things he did had felt good to her, and embarrassed that she had not opened up to her parents sooner.
She felt ashamed that she "let it go on" for almost two years before putting a stop to it. She felt guilt over the anguish and distress the revelation had caused her parents, guilt that her brother had had to leave the home, shame over experimenting with masturbation and succumbing regularly to that habit during her teens and early twenties at times of stress, and even guilt over the money her parents had spent on her brother's treatment, which meant that her family kept driving their old car because they couldn't purchase the van they'd been saving for.
It felt good to Olivia to unload these feelings of guilt and shame during her counseling sessions. She was also able to cleanse her soul by writing these things in a notebook between sessions. She started to feel lighter and more carefree in her everyday life.
A month and a half into counseling, Olivia began to focus on the impact the abuse may have had on her sex life with her husband. Although she felt secure with Trent, she did not feel completely safe and comfortable when they began to interact sexually. She realized that her feelings would shut down when things started to get sexual.
She noticed herself beginning to feel detached and disconnected. This was the survival reaction that had enabled her to endure and survive the ongoing molestation when she was younger, but now it was disconnecting her from her emotions and awareness of her body and bodily sensations.
That natural protective reaction was actually keeping her from being able to engage and interact in a sexually intimate way with her husband.
Olivia learned a simple breathing technique to help her relax, as well as some meditation skills to help her "stay in the here and now" when she and her husband were making love. This kept her from escalating into a busy-minded pattern of worry, fear, or embarrassment. She became more and more able to enjoy the experience and at times even "lose herself" in the pleasure she was beginning to feel.
When anxieties would arise or she found herself getting distracted, she'd take some nice, full breaths and focus again on whatever bodily sensations were occurring.
Olivia felt that counseling had not only helped her climb out of the emotional valley she'd been in as a result of the abuse, but was helping her and Trent climb to even greater heights as a married couple.
[LAURA'S NOTE: Many husbands make an automatic assumption that if their wives are not into sex like they are, then they must have been sexually abused. This is simply not an accurate assumption for many women. Effects of the "Good Girl Syndrome" (And They Were Not Ashamed, Chapter 1), relationship issues, physiological issues, and a plethora of psychological (mental/emotional) issues are enough to bring about an inhibited response without the added effects of sexual abuse.]
Identify and Address Hormonal Contributions
It's not uncommon for women to have a low libido even if they don't have any of the concerns described above. On average, men have 10-20 times more testosterone than women. This difference helps account for the desire gap that seems evident in many marriages.
Some women have testosterone levels that are low even when compared to other women. They may have little or no desire for sex. Shifts in estrogen, progesterone, and other hormones that occur with the menstrual cycle and with aging may also interfere with sexual desire.
Hormonal factors are best addressed with the help of a physician. Some women have benefited from taking testosterone or using testosterone cream. Others who have sought help for diminished sexual desire have discovered other hormonal concerns, such as problems with thyroid production.
If your wife is affected hormonally and by some of the emotional and relationship factors listed earlier, the process of developing a more satisfying sexual relationship may be all the more challenging. Nevertheless, rich rewards await those couples who succeed, and they will taste even sweeter given the effort and patience that went into their attainment.
[LAURA'S NOTE: Keep in mind that research has shown that approximately 75 percent of sexual dysfunctions have a psychological rather than a physiological origin. A friend who has a thriving medical practice as an OBGyn sees many couples with sexual concerns. He too supports the notion that most sexual issues are not medically or physiologically based. He fears that many husbands (and wives) are quick to jump on something like a pill or a patch that seems like an easy fix, instead of doing the more difficult and often necessary work of identifying and addressing underlying relational or psychological issues.]
~~~~~~~~~~~~~~~~~

Mark Chamberlain is a psychologist specializing in the treatment of sexual issues and addictions. He received his Ph.D. from Brigham Young University. Before beginning his private practice he worked at Utah Youth Village, McKay-Dee Hospital's drug and alcohol treatment program, and taught psychology at Brigham Young University-Idaho. He has served on the boards of trustees for a domestic violence shelter, the Association of Mormon Counselors and Psychotherapists, and Evergreen International. Over the last several years he has travelled throughout the United States providing continuing education training for therapists on treating pornography addiction and other sexual problems. Mark is the author or coauthor of several books including Willpower Is Not Enough: Why We Don't Succeed at Change, Wanting More: The Challenge of Enjoyment in the Age of Addiction, and Confronting Pornography. He and his wife, Jenny, are the parents of seven children.