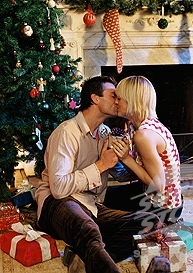 Don't make your husband last on your list this Christmas. Make the holidays a little happier for your honey by paying attention to the Four A's: Appreciation, Admiration, Attention and Affection.
~~~~~~~~~~~
Julie and April were helping in their children's kindergarten class a few weeks before Christmas, as they discussed all the antics they had been through to get their kids the perfect Christmas gifts.
They laughed and giggled about all they had done to find just the right gifts, and to make their kids' Christmas extra exciting. One of them had driven to four different locations of the same store just to find the specific longed-for remote control car that was a must-have on her son's Christmas list.
The tone changed a bit when Julie said, "So, what are you getting your husband?" They both chuckled when they simultaneously quipped, "We know what they want, of course." This was quickly dismissed as they pondered the necessary and practical gifts they needed to find for their husbands' Christmas.
Upon further reflection it disturbed them to realize that their husbands' gifts had been mostly an afterthought, eliciting nowhere near the same level of excitement and anticipation of their gift-giving to their children. It was alarmingly clear where their hearts and minds were. They had reveled in the anticipation of their children's reactions to their Christmas creation, but thought little of their husbands' response.
They determined that their husbands' Christmas gifts would be something that evoked at least as much excitement and eager anticipation as they felt in giving to their children.
They knew that what their husband's really wanted and needed the most was their time and attention. The desired gift may not even be tangible, but instead be gifts of Appreciation, Admiration, Attention and Affection.
The Four A's — Appreciation, Admiration, Attention and Affection
Over the course of her marriage, April had identified the four A's as vital to marriage. She came to realize that if any one of those areas was lacking in her relationship with her husband, her marriage was running a deficit that over time could have damaging effects.
She rated herself as doing pretty well in the areas of appreciation, admiration, and affection, but really wasn't giving him much of her time and focused attention. Life had a way of consuming her attentions, leaving little for her husband.
Attention
What can you do to assure that you are giving the needed gift of attention? Maybe just making sure you stop what you are doing to kiss your sweetheart when he gets home from work would help diminish an attention deficit towards your honey. Date night is always an excellent choice to be sure your focused attention goes to the man of your life. Especially when talk of kids or finances are off limits then a couple's attention can be focused on each other, even if only for a few hours each week.
Cutting back on a Christmas project or doing one less Christmas gift per child could ease the holiday hurryness habit, leaving time and space to make your honey a little happier this holiday season. The possibilities are endless when a shift in focus to your favorite person is made.
Appreciation
If you were to ask your husband which of these gifts he would be most happy to receive this holiday season, what would he say? What if it's appreciation? What could you do express your appreciation more fully? How does your spouse most hear those words or feel the expression of appreciation?
Does he need to hear the words, "Thank you honey for going to work today, when I know you're having issues there right now?" Does he need to feel the kiss on his cheek after finishing up the dinner dishes? Does he need to hear you rave about him to your friends? What would make him really feel appreciated by you this Christmas?
Admiration
Admiration is a beautiful gift. I remember a disturbing realization of the vulnerability that can be created when admiration is absent in a relationship. A friend had told me to turn on a talk show where the guests were discussing their infidelity.
One husband vividly described the admiration he saw and felt through his lover's eyes that drew him in. He hadn't seen that look in his wife's eyes for a long time. Admiration was the unchecked window that had been left open in the intimate relationship with his wife.
Since that day I have personally made it a point to see my husband through loving eyes. The loving and longing that can be communicated between husband and wife can fill that need for admiration in a powerful way. What are some other ways to show your admiration for your sweetheart?
Compliments and playful teasing are some great ways to keep a measure of tantalizing excitement in the relationship. One woman playfully fawns over her husband's muscles. Another husband repeatedly reminds his wife that to him she is HOT, reinforcing his love and admiration for only her!
Highlighting your husband's admirable qualities not only provides encouragement to him, but also keeps these qualities forefront in your own mind. These messages as well as many others can regularly remind your honey that he is the one and only for you.
Affection
Physical affection is often high on the priority list for many husbands. There are few things that communicate to a man your love, appreciation, admiration, and attention than physical affection. April and Julie took their commitment to giving love and attention to their husbands to the next level by creating delightful gift sets for other wives to more easily give the gift of affection to their honeys during the holiday season.
I was delighted to be a test case for their Love2Romance Christmas Deer kit. I felt like a kid again to be surprising my sweetie with unsuspected opportunities for romance amidst the holiday hustle and bustle. It wasn't always easy to make the extra effort, but it was worth it.
Husbands know how much time and effort go into holiday preparations. Any extra act of love toward them is often seen in light of the sacrifices it may require. The sacrifice makes the gift all the more sweet.
This holiday season I hope we will all reflect on the need to make our partners a priority, especially during such a busy time. It is the marriage first and foremost, that makes a family strong. By strengthening your marriage you naturally strengthen the whole family.
The best gift you can give your kids is for them to see their mom and dad in love with each other. Putting your time and effort into making the holidays happier for your husband inevitably makes the holidays happier for you and your children as well.
~ Happy holidays to you and yours during this special Christmas season of love! ~
For more information visit DefinitionofLove.com (was Love2Romance.com).