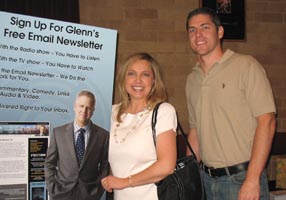 My husband and I had a hilariously fun time at a Glenn Beck show when he was in town a while back. That guy cracks me up! Glenn Beck has a TV show on CNN and a talk radio show as well. His show was a mix of comedy, hilarity and politics. It was great!
"Bonnet Movies"
His marriage-related tirades were side-splitting. One of his marital rants involved "bonnet movies," and I knew exactly where he was going to go with this. I've heard it too many times before.
I knew full well he was getting ready to go on a tirade about chick flicks…and not just any chick flicks, but my absolute favorite chick flicks by Jane Austen, such as "Pride and Prejudice," "Sense and Sensibility" and "Emma."
But what could I do but feel sorry for the poor sap who apparently has little understanding of the female psyche. Unfortunately many of his male species are in the same boat (though I'm doing what I can to remedy that!).
How could any man be expected to endure a "bonnet movie" on a date night with his wife? Oh the pain and torture of it all that he must endure if he hopes to get what he really wants…Sex! (which Glenn Beck proudly confessed–like we don't already know that! Duh!)
He's come up with a clever little scheme that involves selecting specially designed DVDs at your local Blockbuster store that surreptitiously begin playing some big action flick after your wife has been put to sleep by the first 20 minutes of her bonnet movie.
Just as his action movie ends, it magically switches back to the closing credits of Pride and Prejudice just as your wife begins to awaken from her peaceful slumber.
Oh brother! He's really going out on a limb here, because I don't know any women that are that clueless, or any that could possibly fall asleep during a Jane Austen movie. And women catch on pretty fast.
Chick Flicks and Foreplay
If only Glenn Beck and other poor guys better understood the connection between "chick flicks" and foreplay for women. I could see that this guy definitely needed my chick flick lecture.
I'm convinced that if more men understood the emotional nature of women's sexuality they would shape up their attitudes about chick flicks, and maybe even learn to enjoy them just as they are all longing for their wives to enjoy sex more!
In my book "And They Were Not Ashamed–Strengthening Marriage through Sexual Fulfillment" I take two full chapters to go through the intricacies of the female sexual response. One of the key points is that most women need to be warmed up emotionally and feel connected and romantic towards their spouse before their mind clicks in and agrees to let their bodies engage sexually.
Sex Begins in the Mind
For women sex begins in their heart and mind. Wise husbands learn to include this in their foreplay not just focus on the body. Chick flicks are just one of the many ways for women to stir up those romantic feelings that are necessary precursors to her desire to be intimate.
Unfortunately I wasn't able to give Glenn Beck my chick flick lecture personally, but I did see that he got a copy of my book. We'll see if we can help him out a bit! If he'll read it and apply it…he might just get lucky!