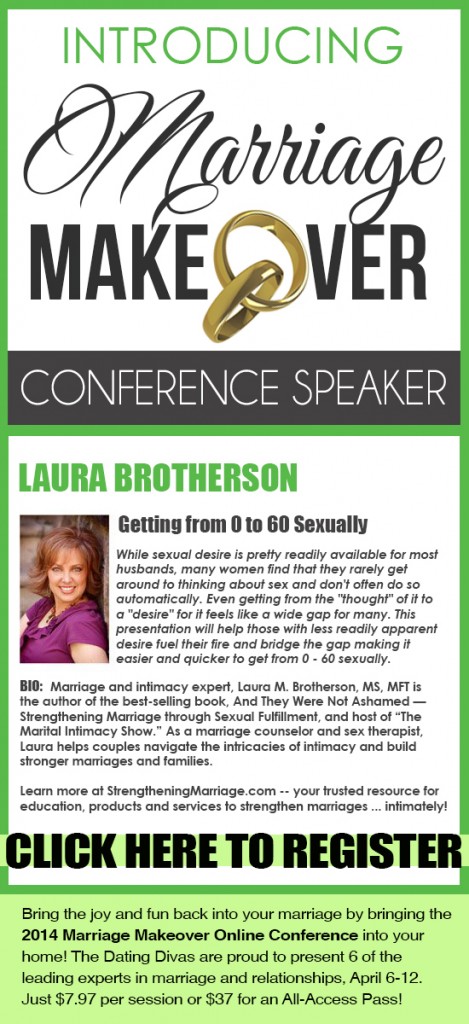 "Getting from 0 – 60 Sexually"
Laura M. Brotherson, MS, MFT
April 8, 2014
The Dating Divas
Marriage Makeover Conference
April 6 – 12, 2014
Join me for my 4th Dating Divas tele-conference seminar (on April 8th) talking about good stuff like "Getting from 0-60 Sexually!" 😉 Register Today!
How would you like to completely makeover your marriage in less than a week… all from the comfort of your own home?!  That's right! I will be speaking at the brand-new online Marriage Makeover Conference by The Dating Divas in which some of the TOP experts in marriage, parenting, intimacy, communication, and overall happiness will be speaking!!
You don't want to miss this! Register for this life-changing event today! (This low price is only for a limited time.)
In my "Getting from 0-60 Sexually" online seminar here's what we'll be discussing: While sexual desire is pretty readily available for most husbands, many women find that they rarely get around to thinking about sex and don't often do so automatically. Even getting from the "thought" of it to a "desire" for it feels like a wide gap for many. This presentation will help those with less readily apparent desire fuel their fire and bridge the gap making it easier and quicker to get from 0 – 60 sexually.
Related Resources: