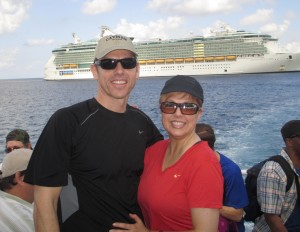 What a wonderful Couples Cruise we had again this February. Couples from all over the country joined us for a wonderful week of fun, sun and…well, lots of other great stuff! 😉 Below are some of the highlights from the cruise! You can check out all the fun photos here!
As you can see this is more than a cruise, more than a marriage workshop/retreat, more than a great adventure, more than a romantic getaway! This unparalleled experience is all that and more! You'll have to experience it to believe it! Whether you come alone or with friends, we all become a big group of new friends by the end of the week!
Marriage Seminar Topics
Some of the topics we discussed during the seminars during the days at sea were:
1.    Couple Communication
2.    Big Picture Keys to Thriving in Marriage
3.    Sexual Self-Eval (for wives)
4.    Bridges to Desire
5.    Sexual Accelerators and Brakes
6.    Common Concepts in Counseling with Couples
7.    Identifying What Makes You Feel Loved
8.    Q&A
We always have a great time discussing the many anonymous questions everyone submits during the Q&A portion of seminars. It's a great way to get all those questions answered without having to ask them publicly. We'll also be doing monthly Online Group Q&A sessions starting in March 2014, so be sure to join us whether you have a burning question or just want to eavesdrop! ; )
Couples Cruise "Homework"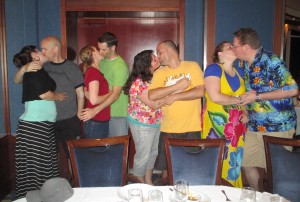 To give you an idea of some of the more specific things we talked about in the marriage workshops, here are some of the suggested homework items. Some of these were for the couples to try to do while on the cruise and some were to do when they got home! You'll notice from the pictures that most everyone diligently did their "kissing in public" homework!
Practice being more affectionate in public
Find opportunities to kiss in public…(that's kiss NOT make out!)
Listen to The Marital Intimacy Show podcasts "The Bliss of a Kiss" — #026 , #027, #028
Do "The Bliss of a Kiss" kissing exercise: Wife sits on hubby's lap and initiates kissing for 5 minutes; hubby may respond, but not 'engage.'
Listen to The Marital Intimacy Show podcast "I Am a Sexual Being, and It's Good–Developing a Sexual Identity" — #030
Work on incorporating auditory arousal into your lovemaking.
Add to your "Bridges to Desire" worksheet and choose a few to start incorporating.
Write in your Gratitude Journal (at least 5 items per day).
Make additional copies of and use the Sexual Satisfaction Evaluation (for wives) to identify what you like and areas to work on.
Find a good make out spot and enjoy just making out every now and then! 😉
Find out your spouses top three favorite lovemaking positions.
Do the Sexual Accelerators/Brakes worksheet separately and then share your lists with each other.
Wives (or lower-desire spouse): Initiate sex at least once!
Complete your Love Language worksheet of specific things that make you feel loved and share them with each other.
Next Couples Cruise — Sept 2016

So that you can start saving, we are tentatively planning our next Couples Romance Cruise for September 2016! This will be our first non-Valentine's cruise (until our kids finish having their basketball season during that time), and we're planning to take on Alaska this time! We hope you will plan now to join us! It's gonna be Awesome!
We'll make an official decision on the specific cruise and cruise line in September 2015 when we see what our cruise options are. Be sure you are receiving our newsletters so you'll be the first to know!
Couples Cruise Comments
Laura, you have an excellent presentation manner, humor and wit mixed in with well-documented and clearly presented materials. I really enjoyed how you involved the audience, as we all gradually began to become acquainted with each other in the group. It was a highlight to me to see the number of couples anxious to improve their relationship in all aspects.

I really enjoyed the seminars and felt like I took a lot away from it. You do so much good with your work with married couples. I loved what you said about being in that top 15% of married couples and being a positive example to those around us.

This cruise has been the best thing we've ever done for our marriage. I truly feel we were led to your cruise by Divine direction. Thank you for being the answer to my prayers! 

This has been a fabulous experience–So motivating, uplifting, empowering, liberating! Thank you, thank you for offering this opportunity. We've loved it all! 

I so appreciate how you have started an "intimacy conversation" in our marriage. That conversation has been so healthy and helpful in our relationship and in others lives as well. Thank you for being "all in" with your calling to strengthen marriages.

Thank you for helping me to feel like I'm normal! Thank you for helping me realize that "sex is a decision" for us women. Thank you for the mantra "I absolutely believe that it will happen, but I'm absolutely okay if it doesn't!" This has been such a helpful, fun, eye-opening experience. We hope to join you on your next cruise!

Thanks a ton for this cruise! I love your bubbly personality. It's so refreshing and contagious. Thanks for sharing your expertise with us! You're the best!

As much as I love your book and your podcasts and everything else you do you are also a wonderfully sweet person. I appreciate how you seem to make everyone feel like a friend. We can't say thank you enough for what you have done for our marriage. See you on your next cruise!

Thank you for being so brave to tackle the tough questions! I love your sense of humor and common sense. You are not afraid to disagree in a non-disagreeable way. This has been a wonderful and eye-opening experience! 

As a former skeptic I thank you for putting this Couples Cruise together and for writing your helpful book. No one seems to think they need this type of advice or therapy, nor did we. Even though we had the book, we hadn't read it until we decided to go on your cruise. We then read it in preparation and found it to be very helpful and something every couples should read! Thank you for what you do!

Thank you! This was exactly what we needed. Thank you for our one-on-one session too. It felt like a huge breakthrough for me. I am grateful we have you as a resource for strengthening our marriage. 

You have been a joy to listen to and learn from. We are better from being around you and your husband!
Related Resources