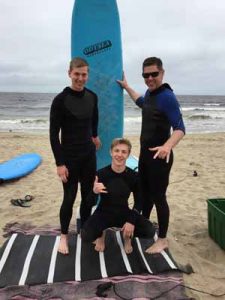 In honor of Father's Day and my husband's birthday tomorrow, I wanted to repost this tribute to "daddywork," and add a few new daddywork photos to the collection…
~~~~~~~~~~~~~~~~~~~
It's hard to find many things sexier than a daddy who loves his kids. They say men doing housework is a great aphrodisiac for women, but I think "daddywork" is way up there on the list as well.
Roses and chocolates and romantic candle-lit dinners have their place for stirring the heart, but it's hard to beat the feeling that comes from seeing your husband play with the kids, or help them with homework, or teach them something, or tuck them in at night. Now that's a turn on!
Some men might find it strange that their wives would experience any erotic effect from them being actively engaged with their children, but when women make a point of nurturing sexual feelings towards their spouse, daddywork is a great reservoir from which those feelings can flow.

Prince Daddy
One day I was walking through a quaint arts and crafts fair in a small town when I saw this framed statement that said it all for me. It said, "My prince has come…His name is Daddy!" My prince is a daddy. He's my kids' daddy.
I loved the statement because it perfectly captured one of the best things I love about my husband–that he's a great dad! It wasn't until later that it dawned on me that the meaning I gave to the statement was probably not what was originally intended, but it works perfectly for me.
Tribute to My Kids' Daddy
Given that it's Father's Day I hope you'll forgive me for indulging in a personal tribute to my kids' daddy. Below I share some of my favorite daddy photos of my good husband from over the years. He's not perfect, but he's perfect for me!
Happy Father's Day Kevin, and Happy Father's Day to all you other good daddies out there as well. I know there are many! I see them all around…
NOTE: For more information about "Daddywork" as a great aphrodisiac see Knowing HER Intimately, Chapter 3 – Tenderness, pgs. 89-90).
~~~~~~~~~~~~~~~~~~~~~~~~~~~~~~
Daddy Tribute to My Honey