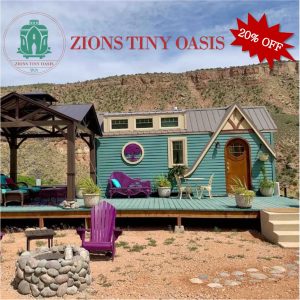 Here's a super fun Date Night or weekend getaway for a truly unique experience!! You'll find the Zions Tiny Oasis (tiny homes) right near the breathtaking Zion's National Park. If you need a getaway from all of the craziness going on in the world, this is another one of my FAV places!
And just for our followers we have an awesome 20% OFF DISCOUNT!!
Nestled on the west side of Zion Park near North Creek, there's a wide variety of activities for all kinds of adventure, including hiking, guided tours, rock climbing, mountain biking, canyoneering, shopping, relaxing, dining, and much more.
Visit zionstinyoasis.com to check out all the cute tiny houses and make your reservation. Use discount code "oasis20" to receive our SPECIAL 20% OFF discount!
Check out some of our fun pics from a recent trip!
(Click on any image to enlarge and arrow through…)