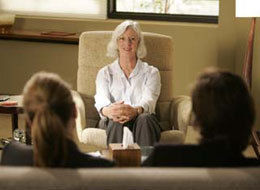 In a recent sex therapy training I attended at The Institute for Sexual Wholeness (ISW), it was a bit disturbing to hear that some people have very mistaken ideas of what sex therapy is all about.
Just to be sure that everyone is clear on what sex therapy is and what it isn't I thought I'd share a few things to dispel any fears or misconceptions that may be lurking out there.
Sex Therapy and Ethics
Some may have the mistaken idea that a sex therapist will be physically present or directly involved in any way with a couple's sexual experiencing. This is incorrect. All professional counseling organizations have strict ethical guidelines against any sexual intimacies between therapist and client(s).
For example, according to the Code of Ethics for the American Association for Marriage and Family Therapy (AAMFT) the following are the strict ethical guidelines for such behavior:
Sexual intimacy with clients is prohibited. Sexual intimacy with former clients is likely to be harmful and is therefore prohibited for two years following the termination of therapy or last professional contact. In an effort to avoid exploiting the trust and dependency of clients, marriage and family therapists should not engage in sexual intimacy with former clients after the two years following termination or last professional contact (AAMFT, 2001, Sec. 1.4, 1.5).
Rest assured that no sexual contact will occur between an ethical (and moral) sex therapist and a client(s).
Sex Therapy – Common Concerns
Sex therapy is a specialized form of talk therapy for individuals, couples, and groups focused on sexual and relational issues. Some of the common concerns addressed in sex therapy include the following:
Intimacy issues — time factors, energy, behaviors, attitudes/inhibitions, communication, etc.
Relationship issues — trust, commitment, communication, childrearing, finances, etc.
Desire issues and desire discrepancies
Female arousal and orgasm issues
Painful intercourse
Body image issues
Male erection and ejaculation difficulties
Infidelity
Infertility
Sexual abuse and trauma
Issues with singles and sexuality
Sex and aging — erectile issues, changes in lovemaking, ejaculation issues, etc.
Sex and disability — the effects of illness, disability, disease and/or medications on sexuality
Gender/sexual identity concerns
Sexual addictions — pornography, and other compulsive sexual behaviors
Therapeutic Approach
The therapeutic approach taken by sex therapists can vary widely, but most tend to be very solution-focused, cognitive-behavioral, and educational. It's really a collaborative process. You are the expert on yourself and your story while the therapist is the expert on the therapeutic process–bringing added sexual understanding to the table.
Given the nature of sexuality for men and women, sex therapy will inevitably include marital or relationship therapy as well. The areas that are often explored in the context of sex therapy are:
Individual biological and psychological issues — strengths, resources, difficulties, etc.
Relational issues
Family of origin issues
Societal, cultural, historical, and religious issues
The Client(s) Story
Since most sex therapists interweave the therapeutic process with getting to know the individual's and/or couple's story it may be helpful to understand what areas may be addressed:
The sexual problem or difficulties they are experiencing
Current patterns of sexual function
The couple's sexual practices
Affectionate behavior in the relationship
The relationship between spouses (the intimate/emotional connection)
The history of one's sexual development/experience (childhood, puberty, adolescence, adulthood)
Medical history
Professional Backgrounds
Sex therapists can have many different professional backgrounds from marriage and family therapy, social work, and medicine to psychology and psychiatry. Seeing a sex therapist rather than a general counselor is akin to seeing a gynecologist rather than a general medical practitioner.
Professional Sex Therapy Organizations
There are organizations that "certify" sex therapists, but some counselors may call themselves sex therapists without actually being trained and/or certified. The current professional organizations that certify sex therapists include:
Both the AASECT and ABS organizations are very liberal in their beliefs and practices. It is very important for anyone considering sex therapy to find out as much as they can about the therapist and their practices in order to find someone that will be most appropriate and therapeutically beneficial.
What is Christian Sex Therapy?
I was recently asked what the difference was between a Christian sex therapist and other sex therapists. With a Christian sex therapist you are generally more assured that the therapist shares a view of marriage as a divinely ordained institution between a man and a woman, and that sex is reserved for the intimate relationship between a husband and wife.
A Christian sex therapist can be very comforting to a client who already has concerns about sex therapy in general and what might be suggested therapeutically. Common differences in values and beliefs are likely to come into play in matters concerning pornography, masturbation, gender and sexual identity, divorce, infidelity, and appropriate inhibitions.
Finding a Sex Therapist
I do wish there were a lot more Christian sex therapists out there for those who hold more conservative and religious beliefs about sex and marriage. Many couples are in need of sex therapy, so the challenge of finding a good and suitable sex therapist makes getting this intimate help even more challenging. Even secular sex therapists are pretty difficult to find in a lot of areas.
You can certainly check the therapist directories of AASECT, ABS, ABCST for certified sex therapists. (You might even check AAMFT for good marital therapists who can help.) I'd suggest coupling that with some research of your own. Talk to local therapists for referrals to find therapists who may not necessarily be certified, but who may specialize in intimacy issues. Finding someone that understands, respects and/or shares your values may be of utmost importance.
I have begun a Marital Intimacy Therapist Registry of those I know who have at least some specialized training, knowledge, and comfort in the area of sex and intimacy. Members of the Church of Jesus Christ of Latter-day Saints may also want to contact counselors found through The Association of Mormon Counselors and Psychotherapists (AMCAP) for referrals to those who specialize in sexual issues.
At some point after I finish my graduate work and become licensed as a marriage and family therapist and sex therapist I will be doing private practice counseling, phone consultations, group therapy, and engaging in preventative/educational efforts through additional articles, books, couples cruises, workshops and seminars, etc.
Walking on Sacred Ground
I like what one of our instructors had to say about the private and sacred nature of sex therapy. He said that he often tells his clients that he will be asking questions, and they will be discussing things that are technically none of his business, but that it may be necessary for such discussions in order to help the couple.
I too concur with the understanding that sex therapy is incredibly private and sacred work. I feel that I am walking on sacred ground when I am allowed into such a personal and private domain of a couple's relationship.
The Need for Sex Therapy
I hope this clears up any misconceptions or fears anyone may have had regarding sex therapy. It's certainly a delicate domain for clients and therapists.
Sex therapy is one of the most complex forms of therapy given the many contributing factors to one's sexuality and one's sexual relationship in marriage. It is my belief that prevention and education can do much to help people avoid therapy. But the truth is that couples often need someone to share their story with, so that specific insights and interventions can be collaboratively determined.
I encourage couples to begin somewhere in addressing the exquisitely important intimate relationship in their marriage. Most every couple can benefit from some kind of sexual instruction and education. I'm biased, but a good place to start is to read and discuss the book And They Were Not Ashamed–Strengthening Marriage through Sexual Fulfillment with your spouse.
From there I hope you will consider marriage education classes or workshops and even sex therapy if you want to nip problems in the bud before they become nearly insurmountable. The sexual relationship in marriage is one of God's great gifts to mankind. It is our responsibility to understand and embrace this gift for it's maximum enjoyment in marriage.
Information compiled from: The Institute for Sexual Wholeness, "Basic Issues in Sex Therapy" course taught by Dr. Douglas Rosenau, Dr. Mike Sytsma, and Dr. Mark Yarhouse.