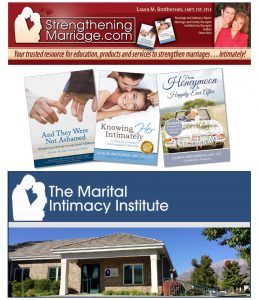 Please submit your information by Saturday, Dec 7, 2019 if you are interested!
ATTENTION! We are currently looking for another fabulous virtual assistant to work 10-15 hours/week to help us strengthen marriages! We already have two assistants but they both work part time and we need a little more help. This would almost be an asst position to my main executive assistant Beth doing similar stuff based on who has what skills. Potential responsibilities and tasks include things like:
Drafting and updating various logs and other simple publications and presentations (expertise with MS Word, Excel, Powerpoint)
Basic graphics design for flyers/ signs/ posters (experience with MS Publisher)
Help prepare our monthly newsletter (familiarity with Constant Contact)
Reading/ responding to emails for Strengthening Marriage, Inc. & The Marital Intimacy Institute (TMII)
Updating content on the front end of our websites – StrengtheningMarriage.com and Maritalintimacyinstitute.com (experience with WordPress) (i.e. blog posts, Event page, cruise page, updating handouts on our TMII website, etc.)
Manage Laura's counseling schedule and wait list
Adding videos to our YouTube channel
Writing/editing/proofreading (articles/ books/ blog posts/ newsltrs, etc.)
Social media marketing (Facebook, Instagram, Twitter, Hootsuite, etc.)
Other tasks and projects that arise…
Must have experience with Microsoft Word and Excel and would be beneficial to know some basics with WordPress, Publisher and the social marketing platforms mentioned. Enthusiasm and/ or knowledge of the work we do is definitely a plus!
We're looking for someone that is quick, thorough, detailed, has good communication skills, excellent follow through, and has as many of the technical skills mentioned above as possible or can learn quickly. If you or someone you know might be interested, please email us with the following information:
Feel free to do a bit of research on us.
Include a cover letter highlighting what you think you will bring to the table regarding our business.
Copy each of the tasks mentioned above and comment on your experience with each item.
Why you want to work with us.
How long you imagine being with us.
Include a resume.
Include links to any of your own social media pages so we can get to know you a little.
Thanks so much! We look forward to hearing from you! 🙂 Please share with anyone you think might be interested! 🙂
Please submit your information by Saturday, Dec 7, 2019 if you are interested!