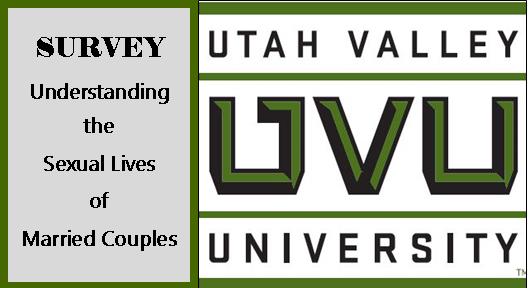 Are you married? You're invited to take part in this anonymous research study on the sex lives of married couples sponsored by Utah Valley University (UVU). They even based a part of it on our description of the Good Girl Syndrome from Chapter 1 of our book And They Were Not Ashamed–Strengthening Marriage through Sexual Fulfillment.
Update: The survey is now closed. Thank you to those who participated.
Here is the official invitation to participate in this survey:
You are invited to take part in an anonymous research study that seeks to learn more about the sexual lives of married couples. We hope that the information obtained from this study might inform therapists, family life educators, and family scholars. If you are at least 18 years old and married, you will be asked to complete a survey that will take approximately 20 minutes. At any time during the survey you may terminate your involvement if you choose.
This study has been approved by the Utah Valley University Institutional Review Board (IRB #01077). Please follow the link provided below to the consent form and survey. It is recommended that you take the survey on a computer rather than a cell phone or other hand-held device in order to see the questions accurately. Thank you for your participation.
TAKE THE SURVEY — Newlywed participants are still needed (Oct 2014) for this study, so if you have been married less than five years and can talk your spouse into possibly taking it as well then CLICK HERE!
Related Resources: