Thought I Was Broken — Sexual Success Story #5 — Strengthening Marriage.com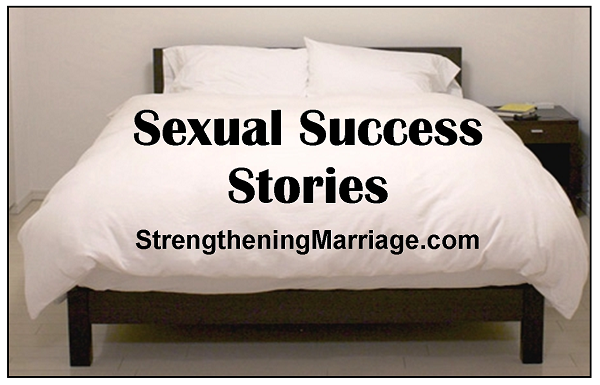 I thought I was broken…now I'm very satisfied!
I got your book "And They Were Not Ashamed" on CDs last week and my husband and I have been listening to them. We've been married for 30 years. Your book has brought a new dimension to our marriage I did not think or even imagine was possible. I have found answers to many prayers in regards to my own sexual fulfillment in our marriage and I cannot thank you and the Lord enough for this inspired book.
Thanks for breathing new life and hope for true fulfillment into our marriage. We are happily married and enjoy each other in so many other ways, but the sexual dimension was one area that wasn't so good even though I often make suggestions for us to have sex. After so many years of not being interested, I have felt a desire to repent and do better, which I have thankfully. But I was still coming away feeling like my ability to be aroused and climax were "broken" because I rarely found any pleasure in the sexual experience even if my husband put a lot of effort into helping me.
Now I am strongly desiring him so much more often and I am coming away completely satisfied too. Thanks for your frankness and being able to express your ideas in such a way as to build our confidence in it being from God. I have heard some of the same talks and quotes for years that you mentioned and never understood them to mean what you are saying. However, now that I am understanding the male sex drive better, I am coming to realize our church leaders have been addressing the issue in a very delicate and subtle way. I just wish I had known there were safe places to go to find out "how tos" and that it was okay to learn what to do.
At a local LDS bookstore I tried to find some books with real answers about what is okay and is not. They were pretty vague, yours seems to be the only one that really gets in and addresses what to do and how to figure out what's okay. I learned things about men and women that I did not know before! While listening to your book, my husband says, "Uh huh" at parts about how men think and I do the same for the parts about women. It's great that we finally get each other so much better.
I was shocked that a number of times after writing in my journal about my struggles on these issues, I would then listen to your book and hear you say the very things I had expressed in my journal. I had been thinking I was the only one feeling that way. I felt so alone and thought there was no one but the Lord that I could turn to. Now I know I am not alone in struggling with sexual issues in my marriage. He led me to your book, and now I feel I have found a dear friend in you.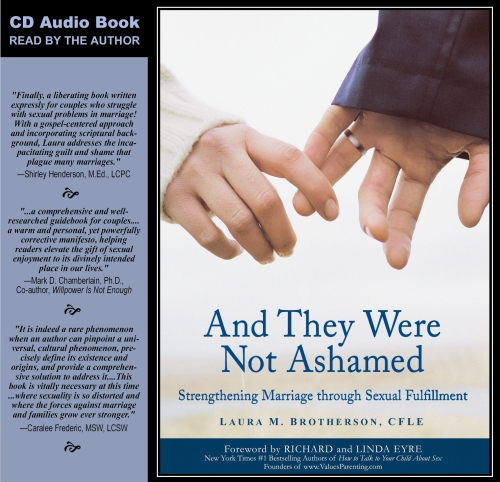 Over the last few days, since starting to listen to your book on CD, my husband and I have grown closer than we have ever been. I have suffered for years feeling ashamed after being intimate with my husband. I would feel guilty and yet I knew it was okay. I am finally realizing I don't have to feel that way anymore. I am pursuing every opportunity to educate both me and my husband.
This morning, in our couple prayer, I told the Lord how much I loved my husband and how much joy he was bringing into my life and to our family. I was weeping as I did so. I thanked the Lord for that great blessing. Afterwards, my husband thanked me numerous times for that. He told me I was the kind of wife that makes him want to do better. He is not a demonstrative person. He rarely says what he feels about me. It is hard on me. But, since listening to your book, he has started telling me how I am the best wife in the world and how glad he is he found me. He told me last night, how lucky he was to have found me all those years ago. Thank you again for all your help.
————————————
Share Your Sexual Success Story
We're excited to provide a helping of hope to our readers through these success stories. We'd love to hear your stories of success in improving your own intimate relationship. You can email them to us here with "Success Story" on the subject line. Please keep them brief and anonymous (change names or identifying info). They will be posted here on our website, and some of the stories will also be shared during our "Sexually Speaking — Live Q&A with Laura" online teleconference calls.
Click here — to read all Sexual Success Stories!
————————————