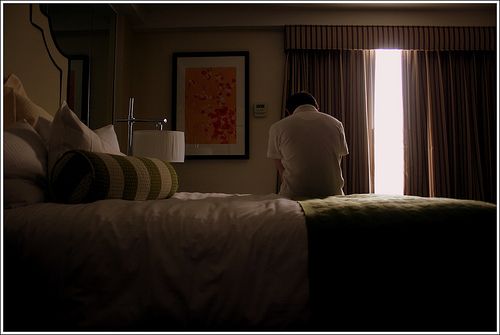 Reflections from a Sexual Desert
The following writings were sent to me by a man who has spent many years in a sexual desert in his marriage. He has agreed to let me share some of the heart piercing and profound reverie he has had regarding the intimately starved marriage in which he is living. This stuff is the sacred ground of the soul. What an awesome and humbling thing it is to glimpse into the soul of another.
He has graciously consented to let me share these personal writings in hopes that it may bring hope to others who find themselves in similar situations. His hope is that through his pain maybe he can be an instrument for good somehow.
I hope these writings will be received in the manner in which they were written. I know his words profoundly affected me. These writings and the many others like it are the reasons I see it as such a high priority to strengthen marriages sexually.
In recent months I've begun to use the phrase "involuntary celibacy" to describe my current sexual status. I keep the phrase (and the truth behind it) mainly to myself (and my journal) with an occasional exception, when I find a listening ear.

It's really quite tragic. But the term is rather fitting, since I have about as much of a sex life as a typical priest. I like to joke to myself that the difference between me and a priest is that the priest wears a collar. But it's also that the priest entered his lifestyle willingly. On the contrary, part of the reason I married was because I knew I couldn't bear to be celibate. What a sick twist of fate.

The part that's a real clincher is that I took a vow about "til death do us part". And since my wife will probably outlive me, I'm pretty much looking at living the balance of my life, which could easily be four more decades, in this condition of involuntary celibacy. At least single people have the hope that one day they might get married and have a lover. For me, every month void of intimacy just reinforces the pattern as less likely to ever change.

And one thing that's taken me years of "sex deprivation" to realize is that it's not just orgasm that I crave. You can have those on your own and still feel void. And it's not just "sex" per se, either, that I need. It's an emotional intimacy, a bond, a joy-filled exchange of love; being with another person who wants to be with me and wants to please me and desires me to please them.

I don't really care for the song very much, but Cheap Trick definitely captured the essence of how I feel with these words: "I want you to want me; I need you to need me." Most men never get this. They're programmed to think that all they want and need is sex. But for all but the coldest-hearted men, there's a need to be needed. And so the years after years of being reinforced that my interest in my wife is unwelcome, and that there's apparently nothing desirable about me in her eyes, it has really beaten down on me emotionally. It's enough to destroy a person.

I won't go into all the 101 things that I have tried and that we together have tried over the past 17 years to "fix" the situation, except to say that they've ranged from "exercises" to psychotherapy to medication to laying on of hands.

The point that needs to be clear is that if God wants you to NOT be in a sexually intimate relationship for some reason, He can thwart your efforts to the contrary to make sure it doesn't happen.

God might have let me give in to having an affair with someone, but He didn't. Sometimes I feel it's a miracle that I haven't. Sometimes, perhaps when He's most concerned with the outcome (or perhaps when He's dealing with a particularly stubborn subject), God will intervene in our lives, for our own good, despite all our efforts to the contrary.

Look what happened to Jonah when he tried to hop on a ship headed for the other side of the world when he knew God wanted him in Ninevah. God was on his tail. You can't run from God. So when He has your attention, you might as well try to listen. Maybe He's trying to tell us something. And maybe only when we hear it will He let us go. Maybe there is still something I need to learn before I can experience the sexual relationship I so desire.

God could have allowed me to find the solution to whatever is causing my wife and I to not have a love life, so that it would be fixed, since we've certainly done enough searching that one would think we'd find an answer by now. The fact that we haven't has me wondering if there's a higher purpose He's trying to achieve by preventing the answer from being found.

Maybe He wants to make sure that I'm not going to let sex "turn my heart away" from Him, like all those foreign wives did to Solomon. Maybe He wants me to be a more mature recipient of that blessing, so it doesn't replace my passion for Him.

Maybe I have been running away somehow. I've been sort of whining and complaining to God about wanting a lover for so long, while I have perhaps been "running" from a deeper spiritual relationship with Him. Maybe that must come first.

Perhaps I have turned my desire for intimacy into an idol. I'm sure I want it more than I want God, which violates God's greatest commandment to love Him with all my heart, soul, mind, and strength. Perhaps instead of seeking first for the kingdom of God and His righteousness, I'm seeking first for sex. Whatever it is, I need to try to sit still and listen.

I think God does want me to have a good sex life. (Man…that was really hard to say! I've never said this before and have spent more time journaling as if I'm Job and that God's trying to kill me. I need to focus on the truth…) But if I've begun to want sex more than God, He might take the drastic step of holding back the sex to prevent me from idolatry, while trying to lure me to truly love Him first.

Now, do I think this life of celibacy is God's original plan for us? No. I think the sexual dysfunctionality of my marriage will, when all comes to light someday, be attributable to a combination of my sin, her sin, the impact on us of a world of sinners living around us, and the Devil himself. It's not unlike the forces causing sickness, war, and all the other griefs of this world. And I have to believe that in heaven there will either be perfect sex or something much better yet.

So what now? Well, my latest theory is that, at the core, my wife's problem is really spiritual. Her sexual "shutdown" is part of an emotional shutdown, which itself comes from a spiritual shutdown, and the indications support my theory. (I have, after all, had a lot of time to think about the matter, time when I would have rather been rolling under the covers.)

And so it has to be fixed in the appropriate order, starting with the spiritual. Seek *first* God's kingdom, and let God take care of meeting our personal needs.

I just think it's important for God's children to realize that sex isn't a right, even for married people. It's a gift from God. And I think that having the right attitude of humility before God should be our first step in reaching that wholeness.

I certainly don't have things figured out; if I did, I probably wouldn't feel like the 40 Year Old Virgin. Like Job, I want to be able and willing to receive counsel from anyone God puts in my path. God created us to grow in the context of community. Lord willing, I will continue to be open to learning as I continue to seek for answers.

For now I'm going to focus on my wife's needs and try to show her God's love. I have to believe it can break through even the hardest of hearts.