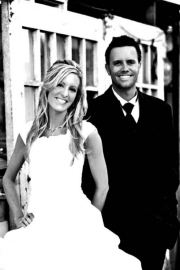 Jamie and Tara's Story (According to Tara)
Married 2 Years
It was a warm Saturday night and the Salt Lake Valley was alive with barbecues and college parties. The date was May 20th, 2005 and I was with the ultimate party girl, my cousin — Kristen Miasnik, making appearances at each of the parties. I must admit…I was NOT in the best mood. I wasn't feeling that great. I was tired, and I wanted to go home.
Kristen convinced me to go to one more party before calling it quits. We showed up at the birthday party and headed straight for the kitchen. I was feeling a little anti-social, and I was more interested in eating than meeting new people. So, there we were…two blondes…standing in the kitchen snacking on licorice and chips! (Who wouldn't want to hit on us? I mean, we DID have the best breath at the party!)
I was about ready to go home, when a guy that Kristen knew, walked into the room. They saw each other and exclaimed, "Hi! I haven't seen you in forever!" They hugged and began catching up on each other's lives.This guy's friend (Jamie) was standing right in front of me at that point and I decided that I needed to change my attitude for the night and have a little fun. (I guess the fact that he was pretty dang cute also helped my quick attitude adjustment!)
I turned to Jamie and exclaimed, "OHMIGOSH! It's been SO long! I haven't seen you in forever!" He immediately went along with it saying something like, "I KNOW! How have you been?" He then proceeded to engulf me in a giant hug and then we just kept playing along.
I told him that it was hard keeping in contact with him when HE was the one who broke MY heart! He came back with, "No! YOU were the one that broke MY heart!" We were SO convincing that both Kristen and Jamie's friend, Chris, stopped talking and began to watch us in awe. It was hilarious!
THAT is how I met Jamie Carson! For the record, I would like to point out, that although I WAS the first one to initiate the conversation…Jamie was the one who asked for my phone number…thus starting us down the path of dating.
The next day at church, Kristen asked me, "Now, how do you know Jamie again?" She was so surprised when I told her that the night before really was the first time I had ever met him. I had a great time talking to him and he told me that he was pretty impressed with how I just didn't care and jumped right into a conversation.
Jamie is a hopeless romantic, just like me! On our first date, he stopped the car overlooking a gorgeous view and cranked up the music in his car. Pulling me out, we danced on the side of the road while he sang the entire song to me on perfect pitch! I was on cloud nine that night when he dropped me off.
That date was only the beginning! He's the perfect man for me, and I am completely head-over-heels in love with him!
We have been married for about a year and a half….and are still acting like TRUE newlyweds!
~~~~~~~~~~~~~~~~~~~~~~~~~
This is one of the "How We Met" stories featured here on "Laura's Strengthening Marriage Blog." You can enter to win a Romantic Getaway to The Anniversary Inn by sending us a favorite photo of you and your spouse, and/or a wedding or engagement photo, by Saturday, February 14th, 2009. Tell us the story of how you met, how many years you've been married, plus something you do to strengthen your marriage (500 words or less). Send your photo and story here. We'd love to receive your story and your photos even if it is after February 14th!
~~~~~~~~~~~~~~~~~~~~~~~~~